Fortnite earns $2.4 billion in 2018, tops free-to-play chart
Battle royale juggernaut Fortnite rakes in billions and conquers the competition.
Published Jan 16, 2019 11:33 PM CST
|
Updated Tue, Nov 3 2020 11:49 AM CST
2 minutes & 32 seconds read time
Epic's global sensation Fortnite amasses a new yearly record in global game revenues.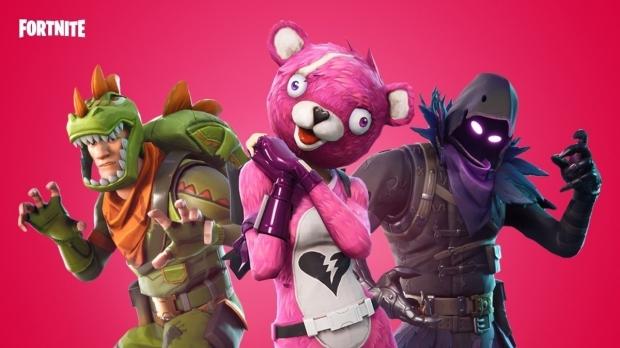 Fortnite continues its skyrocketing success with $2.4 billion earned in 2018 across consoles, mobiles and PC, analyst firm SuperData reports. With these revenues Fortnite towered above all other free-to-play games like League of Legends, Dungeon Fighter Online, and Pokemon GO, and was a substantial driving force in the $87.84 billion free-to-play market. With this numbers Fortnite has grabbed more than 2% of total F2P digital earnings, which is pretty big given the market is typically ruled by Asian dominance.
The game's success hasn't gone unnoticed and major publishers aim to mimic the titan with battle royale games of their own; Call of Duty's new Blackout mode is faring extremely well, and Rockstar even added two BR modes to Red Dead Online. EA's Battlefield V will also get its own 64-player battle royale mode called Firestorm.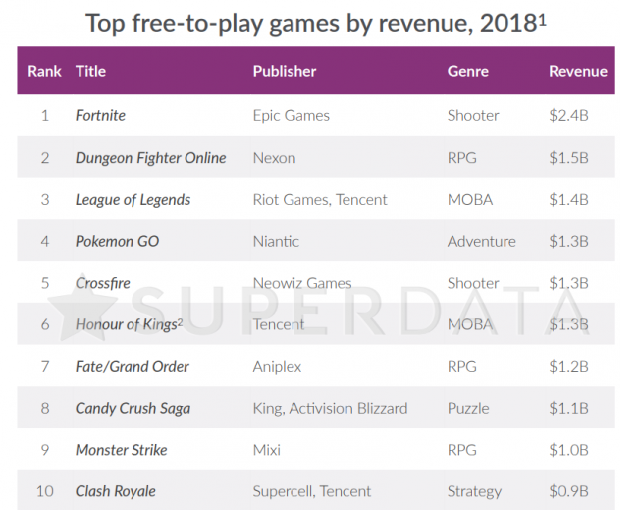 More important than the battle royale mode itself is Epic Games' successful engagement monetization. The company was also a major force in a new kind of free-to-play monetization with its battle pass, a strategy originally implemented by DOTA 2 and brought into the limelight by Fortnite. Black Ops 4 and Rocket League have since adopted the battle pass tactic for recurring revenues in their live service games.
SuperData notes that 34% of all Fortnite players in the U.S. bought into the Fortnite battle pass system.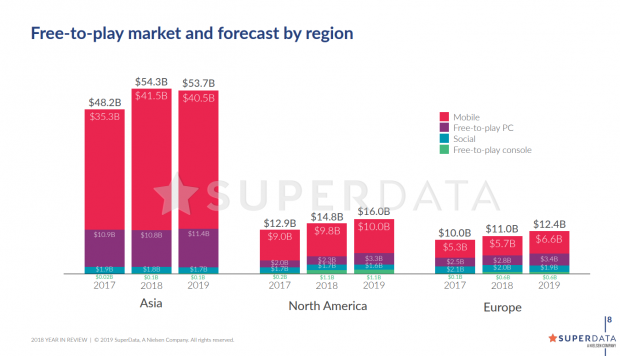 Armed with its successful engagement structure that sees tons of updates roll out over time, paid cosmetics, and the successful battle pass system, Epic's Fortnite also helped the free-to-play console segment revenues spike by an incredible 458% year-over-year to $2 billion.
"The rise of Fortnite greatly increased the visibility of free-to-play console games, causing their overall revenue to explode by 458% year-over-year. Free-to-play console revenue underwent the most rapid growth, but all digital games segments rose in 2018 with the exception of online social games," the firm said in its latest report.
Total 2018 F2P digital revenue segment breakdowns are as follows:
Mobile - $50 billion, or 62.42%
Free-to-play PC - $15.9 billion, or 19.85%
Social - $5.5 billion, or 6.9%
Free-to-play Console - $1.8 billion, or 2.25%
These metrics come at an interesting time. Sources say that Epic Games made over $3 billion in profit in 2018, most of which was gleaned from Fortnite's staggering success.
But as major AAA companies enter in the marketplace we could see Fortnite wane over time, similar to how PUBG was overshadowed by its competitors--something we predicted long ago.
Related Tags