Battlefield V battle royale: 64 players, team-based
Battlefield V's battle royale mode called Firestorm, features 16 teams of four players.

Published Tue, Sep 4 2018 2:10 PM CDT
|
Updated Tue, Nov 3 2020 11:50 AM CST
Today DICE reveals more details about Firestorm, Battlefield V's new battle royale mode.
Battlefield V's BR mode is actually team-based rather than free-for-all and has a max of 64-players on a massive in-game map. "In Firestorm, 16 teams of four will fight it out to become the last squad standing on the largest Battlefield map ever: a sandbox filled with destructible buildings, weaponry, and vehicles. This is royale done the Battlefield way," DICE said in a new video. Interestingly enough DICE won't be making the battle royale mode.
"Multiplayer will deliver all-out warfare with unrivaled intensity and scale across eight multiplayer modes."
Final Stand

Airborne

Breakthrough

Domination

Frontlines

Team Deathmatch

Conquest Assault

Conquest
The trailer also talks about Grand Operations, which spans multiple MP gametypes in sessions that last up to 4 days, and new gameplay mechanics like crouch-sprinting and side-sliding, both of which add new possibilities to every gunfight. Destruction has also been tremendously amped up in Battlefield V; gamers can unload a fusillade of bullets into an edifice and watch it turn to Swiss cheese, or smash a tank through its walls to crumble it to the ground.
But the new Fortifications system also lets players re-build areas and use them as safe havens against bullet-flying chaos.
"Every soldier is equipped with a toolbox that can build fortifications in specific areas. Dig foxholes, lay down sandbags, build bridges, barbed wire, tank stoppers, and more. Reinforce buildings that've been destroyed and create chokepoints to gain the advantage, even open up new routes to flank opponents."
Last but not least we have War Stories, which will serve as Battlefield V's campaign mode. Taking players through various theaters of war throughout WWII, War Stories are smaller slices of singleplayer missions that will consist of four main chapters (three not including the prologue) as well as a post-launch chapter.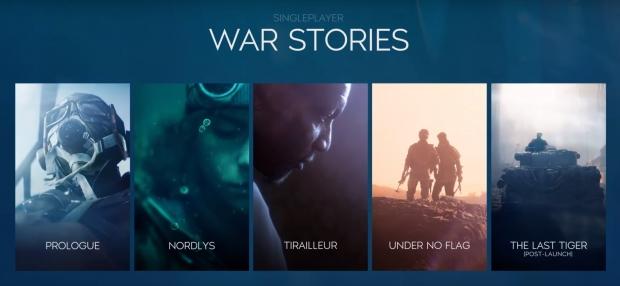 Tides of War is still slated to release post-launch and will be DICE's big new engagement system with rotating events and a huge combination of all of Battlefield V's gametypes.
Battlefield V's post-launch content will be completely free and the game won't have a Battle Pass. Instead DICE is monetizing the game via cosmetic-only microtransactions in its new customizable Company system, and the Tides of War mode will be a big driver for continued engagement and long-term play.
Following a delay, Battlefield V is now slated to release on November 20, 2018 on PS4, Xbox One and PC. The open beta is now available to download and play.
Related Tags