Intel has hosted its event in New York City to unveil their new 9th generation Core range of processors, with the introduction of the new 9th Gen Core and Core X-series CPUs.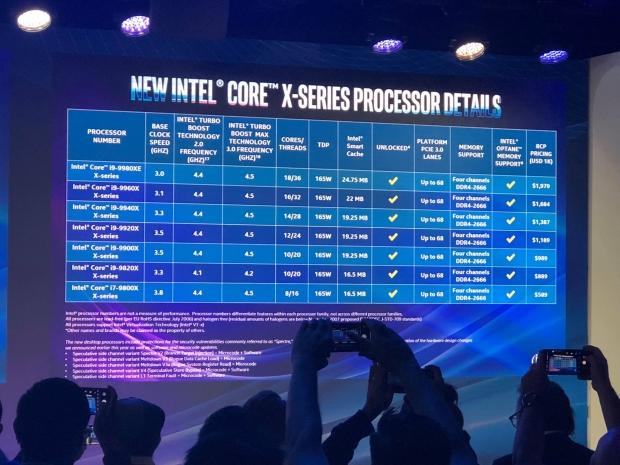 The new flagship Core i9-9980XE is a beast, offering 18C/36T of CPU power with a base CPU clock of 3GHz and boost of up to 4.5GHz. There's a whopping 24.75MB of L3 cache on it, with a huge 68 PCIe 3.0 lanes and 165W TDP. Intel is pricing the new Core i9-9980XE at $1979, and it'll be available in the coming months. The company unveiled a full stack of Core X-series processors, ranging from 18C/36T down to an 8C/16T processor.
Under the flagship Core i9-9980XE we have five more Core i9 processors with the 9960X, 9940X, 9920X, 9900X, and 9820X. The last CPU in the Core X-series of processors is the Core i7-9800X. There's a lot of Xs here, especially when you consider its the Core i9-9980XE X-series CPU. X marks the spot, I guess.
All of the new Core X-series processors will work on current X299 motherboards as long as you have the correct BIOS update. This is a big deal, as it means you won't need to update your motherboard if you're upgrading from the current Core i9-7980XE. Just make sure your motherboard has the right BIOS update to take the new Core X-series and you're good to go right up to 28C/56T at up to 4.5GHz with the new Core i9-9980XE.
Having up to 68 PCIe 3.0 lanes will offer power users some seriously flexible systems, with 4-way GPUs able to each have 16 lanes each. The ability to throw multiple 10GbE PCIe cards becomes a reality, as does Thunderbolt 3 and other PCIe-based expansions.