There were a few glaring issues in the Battlefield V open beta such as the ridiculous length of dying in the game, but the developers at DICE have been tweaking the game leading up to its now-delayed launch.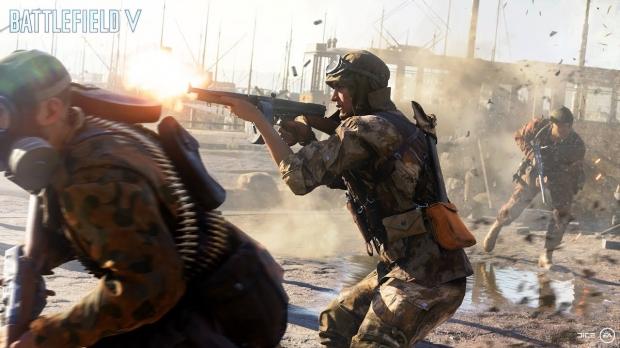 DICE recently posted about some of the tweaks they've been working on with Battlefield V, with one of them tied to making "a tighter death experience". DICE addresses this by bringing up that if you played the open beta you "might have found it took a while to get back into the action after having been downed by an enemy. This has been tweaked; bleeding out now goes much faster than before. Also, the time spent in the squad follow camera - AKA the "parrot camera" - will be reduced. The revive icon and audio for revive shouts will be polished to make it easier to see and hear squad mates calling for help".
The bleed out time on the Battlefield V open beta was so bad, but the developers at DICE have been improving that. DICE said: "When shot down, the length of your bleedout time will be taken into consideration when you get to the squad follow camera screen. If you've spent a lot of time bleeding out, the waiting time in the squad follow camera before spawning will be shorter. This will make for a tighter experience and benefit Medics, since players won't hesitate to shout out for help".
DICE is aware that you can't just respawn instantly as it pushes the game out of balance, adding: "It's important not to overdo alterations to respawn and bleedout times, since they affect how busy a match is. If players were able to come back to the battlefield immediately, there would be chaos on the map, so moderation is key".
These are just some of the things DICE said it was working on in Battlefield V:
Squad play and Matchmaking - Several changes are already in place and additional improvements will be made to secure the best possible launch experience.
Attrition - Scarcity of ammo and health is something we want to get just right, and the Open Beta gave us a lot of info on how to balance it.
Visibility - Distance haze, lighting, general contrast and other visibility aspects are being tinkered with, letting you see your enemies better in the world.
Death Experience - We're adjusting bleed out and spawn times to make your virtual deaths as good as virtual deaths can be.
Vehicles - Damage states, movement, and weaponry of tanks and other vehicles are being tweaked.
TTK and TTD - We're adjusting automatic weapons to make the Time to Kill and Time to Death as fair and fun as possible.
Progression and Customization - We're working on making the user journey one that's smooth and personal.
Chat Profanity Filter on PC - We are evaluating the Open Beta feedback and are making many adjustments for launch.
Battlefield V launches on the PC, Xbox One and PS4 on November 20.