Fallout 76's multiplayer is 'loose and fluid'
Fallout 76's post-apocalyptic wasteland is about survival, but it's also about freedom.

Published Wed, Aug 29 2018 1:18 PM CDT
|
Updated Tue, Nov 3 2020 11:50 AM CST
Fallout 76 isn't your typical online multiplayer game: co-op isn't forced, and players are free to come and go as they choose.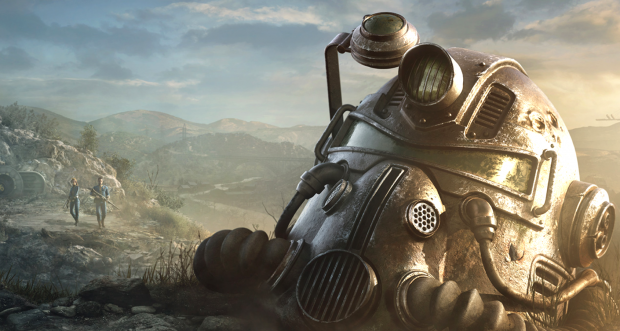 One of the core tenants of Fallout games has always been freedom. Gamers have always made choices on what quests to tackle, who to save and who to doom, where to go, and ultimately how they shape their destiny. Although Fallout 76 is quite different as an online engagement-driven service game, this focus will continue, and thanks to the game's online framework players will have tons of options as the game evolves over time. But that freedom will always remain intact.
According to Bethesda's Pete Hines, Fallout's freedom will be preserved in the big new online-only entry even when users group up with their friends or randoms across the West Virginia wasteland. Multiplayer team-ups aren't forced and co-op is more languid than rigid in that you can simply drop out and go do your own thing on a whim.
"It's kinda loose and fluid, and whatever you want to be, as opposed to no, you're all together, so you can't be more than a hundred feet from each other at any given point," Mr. Hines said in a recent interview with IGN.
"It's not like grouping up means all four of us have to walk around the map together and do stuff. The game is like, 'look, just do whatever you want.' If he decides to go off here and start base building, he's doing quests...the game doesn't care."
It's true that Fallout 76 will change over time as Bethesda learns what its community does and doesn't want. But this sense of player choice will assuredly remain in the forefront as it always has, even as the studio rolls out fresh content and updates for players to digest.
Bethesda will go through its first major player-driven learning cycle with Fallout 76's upcoming beta test this October. The studio will glean tons of valuable feedback that will shape the game immediately before launch and in the months--and possibly years--after.
Fallout 76 will release on November 14, 2018 on PS4, Xbox One and PC. It won't be sold on Steam and will instead be exclusive to the Bethesda.net storefront.
KEY FEATURES:

You will Emerge!

Multiplayer finally comes to the epic open world RPGs of Bethesda Game Studios. Create your character with the S.P.E.C.I.A.L system and forge your own path in a new and untamed wasteland with hundreds of locations. Whether you journey alone or with friends, a new and unique Fallout adventure awaits.

Mountain Splendorland!

All-new graphics, lighting and landscape technology brings to life six distinct West Virginia regions. From the forests of Appalachia to the noxious crimson expanses of the Cranberry Bog, each region offers its own risks and rewards. Post-nuclear America has never looked so beautiful!

A New American Dream!

Use the all-new Construction and Assembly Mobile Platform (C.A.M.P.) to build and craft anywhere in the world. Your C.A.M.P. will provide much-needed shelter, supplies, and safety. You can even set up shop to trade goods with other survivors. But beware, not everyone will be quite so neighborly.

The Power of the Atom!

Go it alone or with fellow survivors to unlock access to the ultimate weapon - Nuclear Missiles. This destruction also creates a high-level zone with rare and valuable resources. Do you protect or unleash the power of the atom? The choice is yours.

B.E.T.A. (Break-It Early Test Application) Access!
Related Tags