RAGE 2 will be a singleplayer-driven game, developer id Software says, but it will have some sort of online social interaction.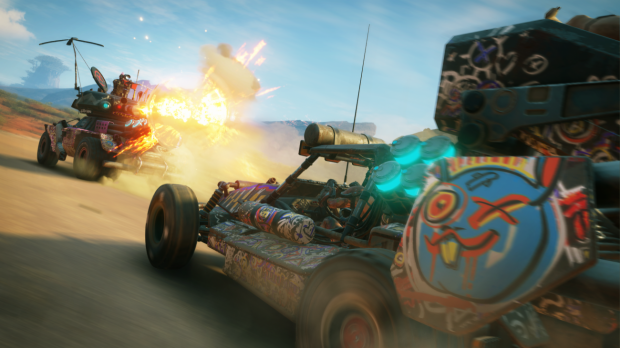 When I first saw RAGE 2 I thought its open-ended chaotic sandbox made a good blueprint for a potential online service game. My thoughts were amplified once I heard RAGE 2 would be monetized in some fashion and follow the traditional live service engagement-revenue model. It turns out my predictions were wrong: it's not actually an online multiplayer game...well at least in the traditional sense. RAGE 2 will indeed have some sort of player-based interactivity, but don't expect drop-in/drop-out co-op akin to Borderlands.
id Software was quite busy at QuakeCon 2018. We saw Doom Eternal footage, tons of Fallout 76 info, and some clarification on RAGE 2's social-not-multiplayer tactics. "We will have a social component but it's not your typical multiplayer," id Software studio director Tom Willits told Eurogamer in a recent interview.
Willits says that the radical post-apocalyptic shooter isn't geared towards gaming's typical multiplayer fare, ie teaming up with friends to take down hulking monstrosities or battling randoms in PVP. id sees that RAGE 2 has enough value on its own in terms of game time that it doesn't necessarily need that kind of online hook--yet it may tap the live service business model.
"We're not quite ready to talk about it but we understand community is important, and we understand connecting with other gamers is important. But there's not a true what I call classic multiplayer, so you're not running around together with your friends because we feel we have enough hours of entertainment for your money. We feel like we have a good offering."
RAGE 2's monetization remains unclear at this point. It could just have extra DLC and leave it at that. We could see smaller slices of singleplayer action being sold under a season pass banner, similar to Wolfenstein II: The New Colossus or even Far Cry 5.
But if microtransactions are in--Willits says the team still isn't sure yet--it's likely the game will have convenience options similar to Assassin's Creed: Origins, or maybe optional cosmetics. I'm thinking we'll see weapon mods, weapons, and even vanity items up for sale in the game. Or Bethesda could use its Creation Club program as a means to host and sell player-created mods, possibly built on Doom 2016's SnapMap program.
Bethesda will be quite careful about it, though. This means no bandying about the dreaded "lootbox" phrase in any fashion. I expect everything players can buy can be earned in-game too. Hell we may even see some cross-franchise stuff jump into the mix too. Maybe some Prey or Fallout skins will make the cut.
RAGE 2 is slated to release Spring 2019 on PS4, Xbox One and PC.
WELCOME TO THE SHOOTERVERSE - idSoftware's shooter pedigree and AvalancheStudios' open world prowess isd ream-team-made-real for RAGE 2.

THE WASTELAND AWAITS - Seamlessly traverse a vast and varied landscape, from lush jungles and treacherous swamps to sun-scorched deserts in your pursuit of The Authority.

PEDAL TO THE METAL - From monster trucks to gyrocopters, use an assortment of rugged and wasteland-ready vehicles to speed across the badlands. If you see it, you can drive it

THE LAST RANGER - Bring the pain using a collection of upgradable weapons, devastating Nanotrite powers, and Overdrive, the ability to push your guns beyond their mechanical limits.

FACTIONS & FOES - Fight against ferocious factions for control of the wasteland, each featuring a rogue's gallery of madmen, mutants, and monsters hungry for blood.