Bethesda's excellent-looking new shooter RAGE 2 is primed for the long haul, and should have many a DLC, cosmetic, and/or player-created mod storefront to offer.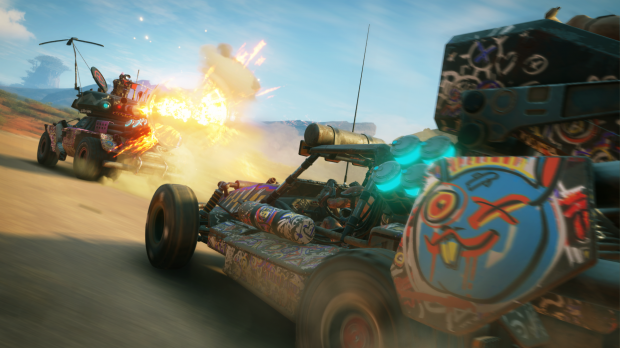 When I first saw the teasers for RAGE 2, I thought about the current landscape of gaming (microtransactions, long-term revenues via live services, etc) as well as Bethesda's past trajectory (Fallout/Skyrim Creation Club). While RAGE 2 by itself may not instantly bring to mind big online gaming, the title's sandbox has been called quite huge and everything looks pretty dynamic insofar as interactive vehicles and enemies. This alone is a nice little stage for an online service game. Throw in some online co-operative and competitive play and we have all the trimmings for a live service game.
I recently made the prediction RAGE 2 would have online elements of some sort that are possibly monetized, and now id Software creative director Tim Willits confirms that first part. In a recent interview with GameStar, Willits says RAGE 2 will embrace the Games-as-a-Service model to ensure a longer lifespan for gamers. "We want people to play Rage 2 longer, and we think we can bring some fun stuff that makes it possible, but we'll talk about it in more detail as we move closer to the release of Rage 2," he said.
But how will RAGE 2 be monetized? Successfully attaching a sustainable revenue model ensures strong engagement can continually churn out money to not only fund new updates, but fund future projects.
Thankfully RAGE 2 won't feature lootboxes.
"We will not have any lootboxes I can say for sure. We have this novel approach: You buy the game and then you play it."
Since id Software is attached I think that RAGE 2 could feature a kind of monetized, community-driven SnapMap style create-your-own mode storefront of sorts. It's possible gamers could also buy skins and cosmetics considering the world is massively stylish and colorful for a post-apocalyptic setting. RAGE 2 could have a premium currency associated with it as well. The live service market pulls in billions a year via subscriptions, piecemeal purchases, and lootboxes, so it makes sense that big games are typically aligning with this model despite player frustration.
There's also another possibility that Bethesda's hotly contested Creation Club storefront could be linked with the aforementioned SnapMap-style store. id could host a free toolset that allows gamers to create unique modes, playstyles and vehicle combos--all complete with rulesets, weapons, etc--across both co-op and competitive online play.
WELCOME TO THE SHOOTERVERSE - idSoftware's shooter pedigree and AvalancheStudios' open world prowess isd ream-team-made-real for RAGE 2.

THE WASTELAND AWAITS - Seamlessly traverse a vast and varied landscape, from lush jungles and treacherous swamps to sun-scorched deserts in your pursuit of The Authority.

PEDAL TO THE METAL - From monster trucks to gyrocopters, use an assortment of rugged and wasteland-ready vehicles to speed across the badlands. If you see it, you can drive it

THE LAST RANGER - Bring the pain using a collection of upgradable weapons, devastating Nanotrite powers, and Overdrive, the ability to push your guns beyond their mechanical limits.

FACTIONS & FOES - Fight against ferocious factions for control of the wasteland, each featuring a rogue's gallery of madmen, mutants, and monsters hungry for blood.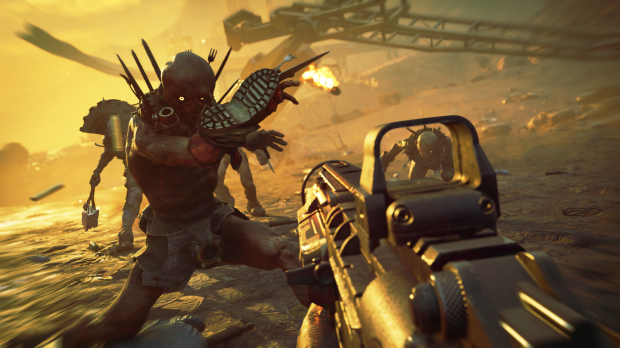 I'm thinking that most of the community content will be created and hosted for free, but Bethesda could even sell big slices of user-created singleplayer DLC similar to its Fallout 4 and Skyrim Creation Club models. The publisher could simply just sell a la carte DLC packs as well.
That's really me thinking out loud and there's been confirmation that Creation Club is anywhere attached to the project. But remember Bethesda made Creation Club for a reason, and mods themselves massively extend the lifespan of any game. However this extension typically works best for singleplayer-only games like Fallout and Elder Scrolls franchises.
It'll be interesting to see how Bethesda chooses to monetize RAGE 2 and we'll likely get a huge blowout of details about its online content offerings at E3 2018.
RAGE 2 will release Spring 2019 for PS4, Xbox One and PC.