Creation club is something new says Bethesda (and it is)
Bethesda asserts Creation Club is something new, and they're actually not wrong.

Published Wed, Sep 6 2017 4:23 PM CDT
|
Updated Tue, Nov 3 2020 11:54 AM CST
Bethesda's PR head Pete Hines spoke briefly about the publisher's overwhemingly unpopular Creation Club, asserting that it's something new for the company. And he's not wrong.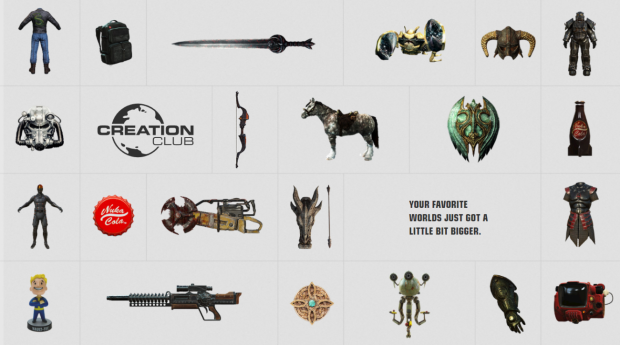 Here at TweakTown I've discussed the Creation Club at length, and even highlighted how the marketplace could be beneficial to gamers, mod-makers, and of course Bethesda themselves. But the Creation Club launched with disappointing results, offering paltry content fare that's mostly available for free and is overpriced to boot. But there's still a lot of potential with the service: if you're unfamiliar, Creation Club allows mod-makers to pitch their creations to Bethesda, and if approved, the content is sold for a set price on the storefront and a portion of the proceeds go to the creator--however most of the content sold on the marketplace is made by the publisher.
But what does Bethesda have to say about all of this? I've reached out to my PR contacts for quotes and haven't heard anything back yet, but Bethesda's own VP of Public Relations Pete Hines briefly discussed the service on Twitter. Mr. Hines asserts that Creation Club is the company "trying something new," and yes, it is something new: it's not paid mods--although it resembles paid mods right now, and may continue to do so in the future--the actual business model is indeed something new for Bethesda. Essentially what the company is trying to do is monetize The Elder Scrolls and Fallout, Bethesda Game Studios' most popular franchises, in a way that's feasible and provides recurring value. Bethesda is simply taking a queue from the games industry's shift towards microtransactions and other in-game content purchases that fuel future endeavors and major content updates.
(Article continued below)
Read Also: Bethesda Creation Club pricing analysis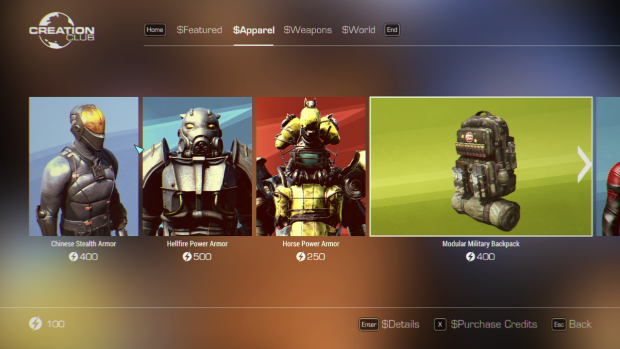 Like it or not, microtransactions are becoming increasingly popular simply because full game sales aren't enough to sustain profits any more--unless of course you're selling PlayerUnknown's Battlegrounds. Gamers' appetites have shifted from many AAA-priced games to a few core titles, and that's because of the monetization strategy that's sustained by microtransactions. Games like Overwatch and Call of Duty and even PUBG, are--or will be in the case of the latter--monetized via in-game purchases, which of course fuel a bevy of updates, content patches, tweaks, and other such changes that ensure the strong userbase is continually engaged and fed with content.
Bethesda simply wants to monetize BGS games and join their peers in recurring revenues. Up until now Bethesda Game Studios has mostly made its money from full game sales and DLC add-ons, and Creation Club simply allows for another option: recurring digital revenues.
Yes, Bethesda tried to institute paid mods, and yes, that backfired explosively hard. But Creation Club isn't paid mods, not just in semantics, but it's model has some differences: not only does Creation Club include consoles now, the service has a premium currency which effectively allows for more revenue on Bethesda's side.
There are similarities, of course, but Creation Club is indeed something new and represents a wide attempt to monetize some of the publisher's most popular games. Mr. Hines went on to say that free mods aren't going anywhere.
"We have doing a lot of work to create and support a mod community for more than 15 years. Mods are and will remain free," he said.
Despite all of this, despite the differences, the similarities still have gamers perturbed. Many players are pushing back against the service, especially given Creation Club auto-downloads the paid content even if you have no desire to buy it--buying it simply unlocks it for use on your hard drive.
We've reached out to Bethesda for clarification on this and other topics, and will update this and other posts once and if we hear back.
Related Tags