Following yesterday's confirmation announcement, Bethesda made good on its promise to show off RAGE 2 gameplay...and it looks pretty great.
In a very real sense RAGE 2 looks like a mashup of so many different great things that play into the dev teams' existing strengths: there's dystopian themes and visuals from Fallout and Mad Max (and of course the first RAGE game), a huge fleet of drive-able vehicles straight out of Avalanche's excellent Mad Max game, and the smooth, blistering-fast shooter mechanics that id infused into Doom 2016. RAGE 2 is a huge open-world game that's filled with chaos and mayhem, and has a very Destiny-like feel with its powers...plus there's a possibility my online co-op prediction was right on the money.
Apart from its style and visceral, speed-filled FPS action, RAGE 2 seems to have a very Fallout-esque story. In the game you play as Walker, the last Ranger, on his quest to topple an evil regime. On your quest you'll leave a bloody trail across the badlands, gunning and running down all the teeming hordes of enemies in your wake. One other really interesting thing about RAGE 2 is its vehicle selection: according to the company's press release, if you see it you can drive it (and consequently use it as an implement of total havoc).
RAGE 2 is slated to release Spring 2019 on PS4, Xbox One and PC. This move is quite interesting as Bethesda's game reveals typically only happen if the title will launch that year.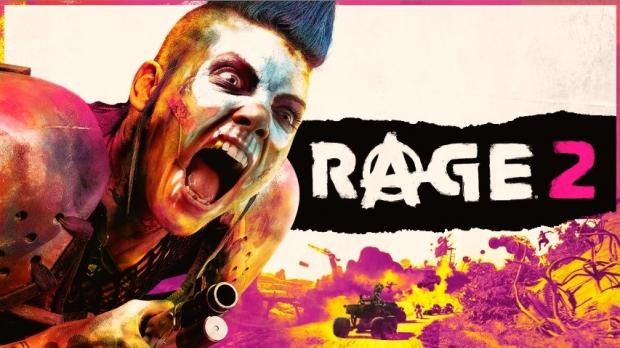 Check below for a bunch of tidbits about RAGE 2:
In RAGE 2, you'll dive headfirst into a dystopian world devoid of society, law, and order. You can go anywhere, shoot anything, and explode everything. The game brings together two studio powerhouses - Avalanche Studios, masters of open world mayhem and id Software, gods of the first-person shooter - to deliver a carnival of carnage.

In the year 2185, humanity's numbers are dwindling. Ruthless and bloodthirsty gangs roam the open roads and the tyrannical Authority seek to rule who remains with an iron fist. You are Walker, the last Ranger of the wasteland. Robbed of your home and left for dead, you'll tear across an unforgiving wasteland battling bloodthirsty gangs to find the tools and tech needed to take the fight to The Authority and crush their oppressive rule once and for all!

WELCOME TO THE SHOOTERVERSE - idSoftware's shooter pedigree and AvalancheStudios' open world prowess isd ream-team-made-real for RAGE 2.

THE WASTELAND AWAITS - Seamlessly traverse a vast and varied landscape, from lush jungles and treacherous swamps to sun-scorched deserts in your pursuit of The Authority.

PEDAL TO THE METAL - From monster trucks to gyrocopters, use an assortment of rugged and wasteland-ready vehicles to speed across the badlands. If you see it, you can drive it

THE LAST RANGER - Bring the pain using a collection of upgradable weapons, devastating Nanotrite powers, and Overdrive, the ability to push your guns beyond their mechanical limits.

FACTIONS & FOES - Fight against ferocious factions for control of the wasteland, each featuring a rogue's gallery of madmen, mutants, and monsters hungry for blood.