GTA Online and digital drive Take-Two's quarterly earnings
GTA Online keeps breaking barriers and propelling microtransaction earnings for Take-Two.

Published Thu, Feb 8 2018 11:33 AM CST
|
Updated Tue, Nov 3 2020 11:52 AM CST
Rockstar Games parent company Take-Two Interactive keeps cresting new heights thanks to GTA Online and its slate of successful digital-driven games.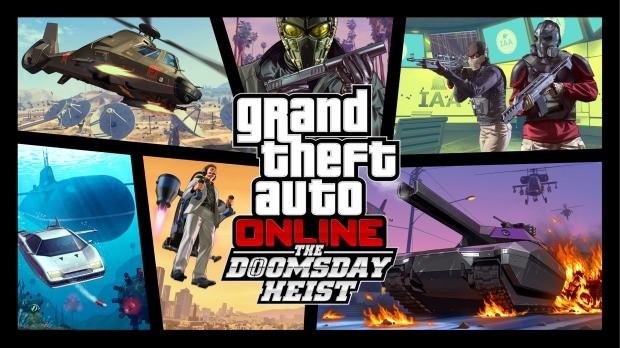 In its third quarter earnings filings Take-Two Interactive shows just how important recurrent consumer spending and digital-based earnings are for the company--but that shouldn't come as a surprise to anyone. In the three-month period from October through December 2017, Take-Two earned $480.8 million in net revenue, up 0.9% year-over-year. That might not sound too big of an increase, but there's more to the story: 32% of that total, or $153.6 million, was made from recurrent consumer spending in games like GTA Online and NBA 2K18.
In fact Take-Two says its recurrent consumer spending for fiscal Q3'18 has grown by 64% year-over-year, meaning it pulled in $93.66 million from microtransactions, virtual currency, add-ons and DLC in last year's third quarter.
As digital becomes more and more important to games-makers like Take-Two, big players are finding new ways to tap the online market with lucrative strategies (such as season passes, in-game purchases, etc). Digitally-delivered net revenue jumped by 8% YoY in Fiscal Q3'18 to $258.4 million, and accounted for a big 54% of total net revenue earnings.
"The largest contributors to digitally-delivered net revenue in fiscal third quarter 2018 were Grand Theft Auto Online and Grand Theft Auto V, NBA 2K18, WWE 2K18 and WWE SuperCard, and Sid Meier's Civilization VI," Take-Two wrote in a press release.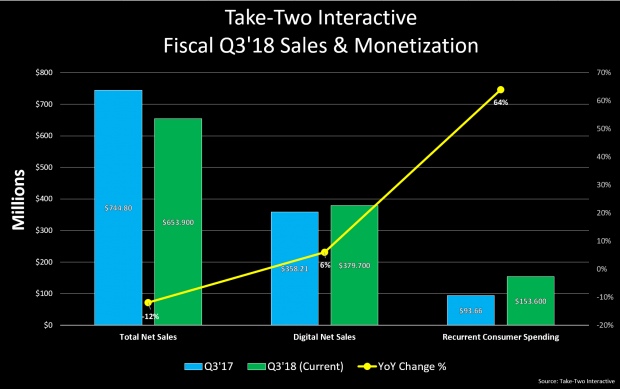 Insofar as sales, or net bookings, the publisher actually earned 12% less than last year's Q3 due to the lack of big games such as Mafia III and Civilization VI, which both released in FY Q3'17.
However, net bookings from recurrent consumer spending was up a mighty 44% year-over-year to $261.56 million, or 40% of total net bookings during the quarter. This highlights just how important of an anchor GTA Online and Take-Two's other service games can be for consistent, long-term earnings flow.
Catalog game sales--ie games that are already released versus new titles--made up 52% of total sales, or $343.5 million. Naturally catalog sales were driven by GTA V.
And of course digital bookings grew about 6% year over year to $379.7 million and made up about 58% of total net bookings for the quarter. GTA Online, NBA 2K18, WWE 2K18 and Take-Two's range of mobile games.
Grand Theft Auto Online has since made over $1 billion in earnings and remains a strong pylon to hold up Take-Two's earnings as Rockstar Games continues work on Red Dead Redemption 2, which is due out late into its Fiscal Q3'19 timeline.
"During the holiday season, we benefited from high consumer demand for our offerings, enabling our Company to deliver another quarter of both strong Net Bookings and net cash provided by operating activities," said Strauss Zelnick, Chairman and CEO of Take-Two.
"Our stellar results were highlighted by record recurrent consumer spending on both Grand Theft Auto Online and NBA 2K18, robust ongoing sales of Grand Theft Auto V, and the successful launch of WWE 2K18."
The new Western game will undoubtedly have key features incorporated from GTA Online, and a new online mode has been confirmed to boot: expect a kind of merged offline-to-online worldstate that players can migrate over to at will, and also expect a bunch of new features and innovative content being woven between the two.
Related Tags