CES 2018 - HTC were rumored to unveil their new Vive Pro headset at CES, and here we are - with the new Vive Pro aimed at fixing some of the problems that the first-gen Vive headset had.
HTC has bumped the resolution of the dual-OLED panels in the new Vive Pro to 2880x1600 (1400x1600 per eye, and 615PPI) which is a huge 78% increase from the 2160x1200 (1080x1200 per eye) of the first Vive. The increased resolution will make text clearer and visuals pop, with HTC now the leader in VR headset resolutions against Oculus and Windows Mixed Reality headsets.
Next up, HTC included something I've wanted since using the retail Oculus Rift: a redesigned headstrap and built-in headphones. The Vive Pro features a headset that has a sizing dial that lets you balance the headset so that it doesn't feel like it's top heavy at the front.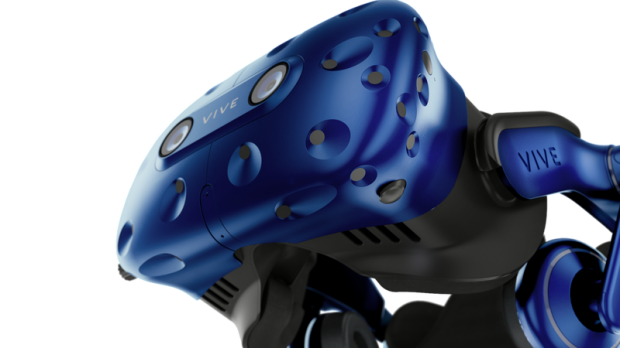 HTC has added dual microphones and dual front-facing cameras to the refreshed Vive Pro, with the new headset looking smaller than its predecessor.
The new Vive Pro is backwards compatible with v1.0 and v2.0 SteamVR tracking, allowing VR users to pack their rooms with up to four base stations for room tracking. HTC adds that the current-gen Vive headset will still be on sale this year, with Vive Pro headset standalone packages to be made available to existing Vive customers in the next couple of months.
HTC will have full details on Vive Pro bundles, pricing, and more later this year.