Despite coming out just two months before 2017 ended, Sledgehammer Games' latest Call of Duty entry storms the download charts on Sony's PlayStation Network.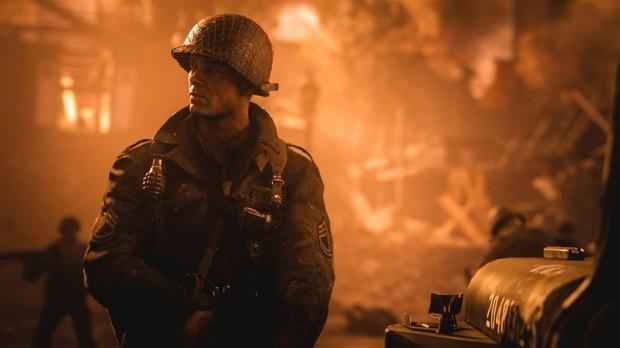 Per recent figures on Sony's PlayStation Blog, Call of Duty: WWII was the top downloaded PS4 game of 2017, which says a lot about what gamers actually want in the series. While Activision was quick to tout the game's huge sales figures--CoD: WWII made over $500 million in its opening weekend, putting it close to Black Ops II's astronomical numbers--other sources have corroborated the title's massive success. NPD analyst Mat Piscatella affirmed Call of Duty: WWII is the best-selling game of 2017 in the U.S., and Activision has since confirmed the game has made over $1 billion in earnings just a month or so after launch.
"Call of Duty WWII was November's best-selling game overall, and instantly becomes the best-selling video game of both 2017 year-to-date as well as the rolling 12 month period ending November 2017," NPD Group analyst Mat Piscatella wrote in a recent report.
Activision holds the two top PS4 game download spots with Call of Duty: WWII and Destiny 2, but what's pretty interesting is that Grand Theft Auto V holds the fifth top spot despite coming out in 2013. GTA Online is a huge boon for Take-Two and churns tons of new game purchases as well as millions in revenue every quarter...and we're betting Red Dead Redemption 2 will one-up the game in more than a few ways.
Here are the top downloaded PlayStation Network games of 2017:
PS4 Games
1 Call of Duty: WWII
2 Destiny 2
3 Friday the 13th: The Game
4 Horizon Zero Dawn
5 Grand Theft Auto V
6 NBA 2K18
7 Rocket League
8 Minecraft: PlayStation 4 Edition
9 Madden NFL 18
10 Tom Clancy's Ghost Recon Wildlands
PS VR Games
1 Job Simulator
2 Superhot VR
3 PlayStation VR Worlds
4 I Expect You To Die
5 Batman: Arkham VR
6 The Elder Scrolls V: Skyrim VR
7 Fruit Ninja VR
8 Keep Talking and Nobody Explodes
9 Until Dawn: Rush of Blood
10 Driveclub VR
PS Vita Games
1 God of War: Collection PS Vita
2 Adventure Time: The Secret of the Nameless Kingdom
3 Jak and Daxter Collection
4 Minecraft: PlayStation Vita Edition
5 Persona 4 Golden
6 Salt and Sanctuary
7 Need for Speed Most Wanted
8 Ratchet & Clank Collection
9 Star Wars: Battlefront II
10 PlayStation All-Stars Battle Royale
PS Classics
1 Grand Theft Auto: San Andreas
2 Bully
3 Twisted Metal: Black
4 Grand Theft Auto: The Trilogy
5 Destroy All Humans! 2
6 The Warriors
7 Destroy All Humans!
8 Psychonauts
9 Jak and Daxter: The Precursor Legacy
10 Grand Theft Auto: Vice City
PS4 Add-ons
1 Call of Duty Black Ops III: Zombies Chronicles
2 Destiny 2 - Expansion Pass
3 Call of Duty: WWII - Season Pass
4 Horizon Zero Dawn: The Frozen Wilds
5 Battlefield 1 Premium Pass
6 Black Ops III - The Giant Zombies Map
7 Tom Clancy's Rainbow Six Siege - Year 2 Pass
8 Call of Duty: Infinite Warfare - DLC1 Sabotage
9 Diablo III: Rise of the Necromancer
10 Call of Duty: MWR Variety Map Pack
PS4 Themes
1 Legacy Dashboard Theme
2 Friday the 13th: The Game Theme
3 For Honor Dynamic Theme
4 Tom Clancy's Rainbow Six Siege Ops Theme
5 Assassin's Creed Origins - Dynamic Theme
6 The Last of Us Part II Stop Sign Theme
7 The Last of Us Outbreak Day Theme
8 Blue-eyed Wolf Theme
9 Rasta Reggae Skull HiQ Dynamic Theme
10 Skeleton Dance HiQ Dynamic Theme