EA adjusts Battlefront II again
EA makes good on its promise to continually evolve Battlefront II over time.

Published Mon, Dec 4 2017 3:11 PM CST
|
Updated Tue, Nov 3 2020 11:53 AM CST
In wake of the heated pay-to-win lootbox controversy, EA today revealed a slew of new changes coming to Battlefront II.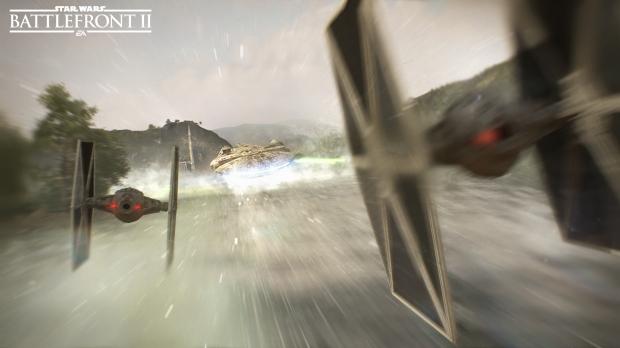 Publisher Electronic Arts has been adamant that nothing about Battlefront II is set in stone: even EA CFO Blake Jorgensen says the company made a few mistakes regarding monetization, and says the company will learn from these errors. Now after the first wave of changes that adjusted Star Cards, EA is altering a few other things about the contested Star Wars shooter.
The big new changes including adjustments to "economy and progression", ie how fast you earn credits and the like. Every match you complete nets you more credits that can be redeemed for lootboxes, and if you do better in the session, you earn more credits. Arcade Mode earnings has also been boosted, and EA confirmed a new singleplayer DLC pack for the game's campaign mode.
Now how soon until cosmetic-only microtransactions come in? Oh wait...
Here's what EA and DICE said in a recent update:
Today, an update went live that includes some adjustments to the economy and progression. While these are only some initial steps toward making much larger changes, some of these are ready to roll, and are available starting today.

The end-of-round payout has been increased. This is an area we agree needed to be buffed a bit, especially when it comes to rewarding players for doing well in-game. We're upping the number of Credits you get for a match across the board, and specifically bumping the top players on each team by even more.

Earn 3X more Credits daily in Arcade Mode. It's been made clear that you were hitting the Arcade Mode Credit cap faster than we expected, so we wanted to alleviate that by increasing it to 1500 Credits. While we're still looking into ways to add more content into it the mode in the long-term, we think that this should help in the near-term for those who want rewards for completing the different scenarios.

Daily Login Crates will now provide more crafting parts than before. You'll notice the change right away when you log in. Crafting the Star Cards you want will help make sure you're progressing in the direction you want, and we absolutely wantto empower that. This should help you get where you want to go faster when it comes to crafting and upgrading.

Things kick into high gear over the next few weeks, during the Star Wars™ Battlefront™ II The Last Jedi Season, with free* heroes, maps, and vehicles. Stormtrooper-turned-hero Finn joins the fight for the Resistance and Captain Phasma steps on to the battlefront for the First Order. New locations and vehicles will also arrive: you can fight on the ground on the salt-covered planet of Crait in Galactic Assault mode, or take to space in the Starfighter Assault map of D'Qar (flying Tallie Lintra's RZ-2 A-wing, a vehicle you'll be seeing in the film).

And, of course, Iden Versio returns in Star Wars™ Battlefront™ II Resurrection during the days of the First Order's rise to power. These new chapters of Star Wars™ Battlefront™ II's single-player story mode will be available December 13.
Related Tags