EA on why Battlefront II doesn't have cosmetic monetization
EA CFO Blake Jorgensen discusses why Battlefront II didn't just have cosmetic microtransactions.

Published Wed, Nov 29 2017 1:39 PM CST
|
Updated Tue, Nov 3 2020 11:53 AM CST
Electronic Arts' CFO Blake Jorgensen talked in length about Battlefront II's microtransactions, features, and the future of EA's live-service games...but most importantly he discussed why the game didn't have entirely cosmetic monetization like Path of Exile or Overwatch.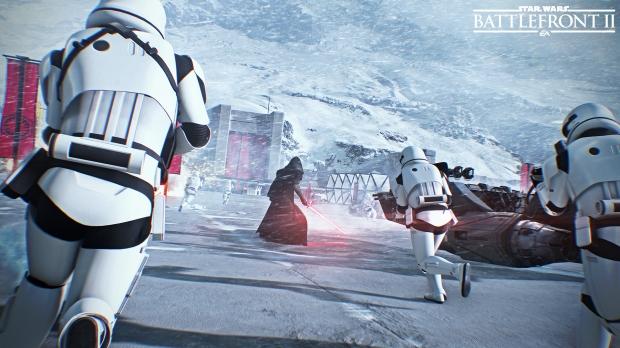 A bit ago we reported that sources close to Battlefront II's development team told Venture Beat that the game originally had cosmetic microtransactions only. Of course the full game launched with what gamers feared was a pay to win scheme that required tons of grinding--something we actually predicted before confirmation. Now an EA exec discusses why that plan wasn't instituted how the publisher is learning from its community.
I've transcribed most of the tidbits from EA CFO Blake Jorgensen's talk at the recent Credit Suisse technology conference below:
"We did some testing around the microtransaction model, but not enough to really understand the reactions that we ultimately got," EA Chief Financial Officer Blake Jorgensen said during Credit Suisse's 21th Annual Technology, Media, and Telecom Conference. "I'd say for us it's a great learning experience. We're trying to run the company with an ear to the consumer at all times, both in a testing phase and when the game is up and running. We're trying to build games that last for years, not for months. And when we want people to play those games we add content and events around them for years to come. And so listening to the consumer when they start playing the game six months from now or six years from now is very important to us.

"We certainly might be able to do that. Going into the game development--we worked very closely with Disney and Lucasfilm. That's a fabulous partnership. The one thing we're very focused on and they're extremely focused on is not violating the canon of Star Wars. It's an amazing brand that's been built over many many years. And so if you did a bunch of cosmetic things, you might start to violate the canon right? Darth Vader in white probably doesn't make sense--and you probably don't want Darth Vader in pink.

"So there might be things we can do cosmetically and we're working with Lucasfilm on that. Coming into it it wasn't as easy as if we were building a game around our own IP where it didn't really matter. It matters in Star Wars because Star Wars fans want realism. But Star Wars fans might also want to tailor things, a different color lightsaber, things like that. So you might see some of that.

"But part of the reason we went down the path we did was because of the Star Wars canon and our desire to make this realistic. People want to live inside Star Wars. So we spent a lot of time building a character, building out things that never existed in Star Wars with Lucasfilm, and that's an exciting piece of it. People are loving that.

"Trying to stay to the trueness without violating the canon is probably where we'll continue to stay in terms of MTX."

"And I would say if we're not making some mistakes along the way and learning from them, then that's when you should worry about us. But our view is these are great opportunities for us to continue tune a game, to adjust things, and we pulled off on the MTX (microtransactions) because the real issue the consumer had was they felt it was a pay-to-win mechanic.

"The reality is there's different types of players in games. Some people have more time than money and some have more money than time and you want to always balance those two. And we will continue to look and listen to our consumer base, continue to look at the data about the game, and learn from that and try to find the best ways to create a game that's deeply engaging and that players will play for a long time. We want everyone to enjoy the game whether they grind in the game or pay in the game or do both.

"And we'll see how that evolves. We don't know yet because we're just seeing the gameplay. The great news is this is one of the best games we've ever built. We're hearing that from the players who are actually playing the game and engaging every day. The day-over-day retention in Battlefront II is almost better than we've seen in any of our games, and we'll be adding in the next couple of weeks more content than we've ever added in a game before."

"The most important thing is listening to the consumer and designing events and live services to keep people playing that game for a very long period of time."
Related Tags