Gaming wins big in Sony's second quarter FY17 earnings
Sony's games and network services segment pulled in more revenue than other branches, showing how important gaming is to the company.

Published Tue, Oct 31 2017 9:02 AM CDT
|
Updated Tue, Nov 3 2020 11:53 AM CST
As per the company's latest second quarter earnings, PlayStation gaming continues driving significant growth for Sony.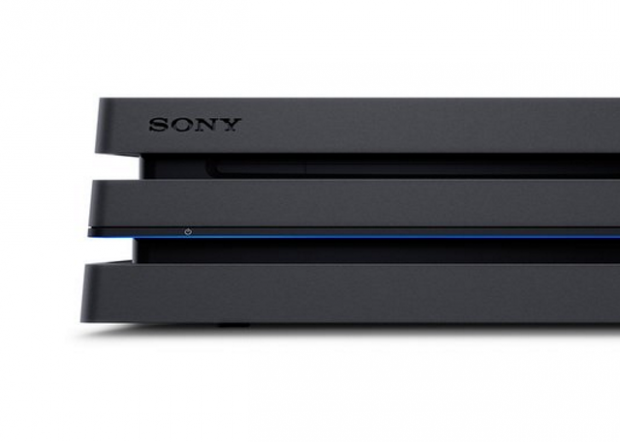 In recent decades, gaming has been an asset for Sony's multi-segment corporation, especially now. Sony's PlayStation 4 sits at the core of its layered subscription and digital gaming and network services strategy, and as a result of the titanic sales growth across the globe, the company has pulled in big revenues quarter after quarter. The Japanese conglomerate just released its fiscal Q2'17 earnings and the results are quite good--especially for the Games and Network Services segment.
Sony's lucrative Games and Network Services segment, which includes PS4 hardware, software, subscriptions and digital PSN sales, made the most out of any other segment in fiscal Q2'17 revenues and operating income. This performance is due to strong hardware and software sales and currency fluctuations.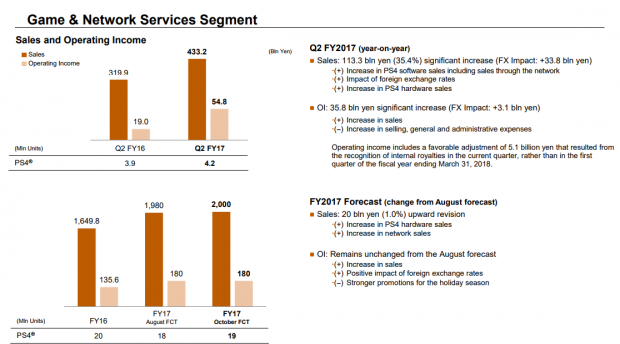 Relevant: Sony Q1'17 profits spike with strong segment growth
G&NS pulled in 21% of Sony's total quarterly sales and operating revenue, and 26% of total quarterly operating income. In the three-month period, the G&NS segment generated $3.83 billion (433.2 billion yen) in sales and operating revenue, up 35% year-over-year from Q2'16. Operating income saw a dramatic YoY spike by 188% to $484.95 million (54.8 billion yen).
As of September 30, Sony has now shipped (aka sold-in, not sold or sold-through) 67.5 million PS4 units to retailers across the globe. In the three-month period from July to September the company shipped 4.2 million units, up 27% from Q1'17's 3.3 million shipments.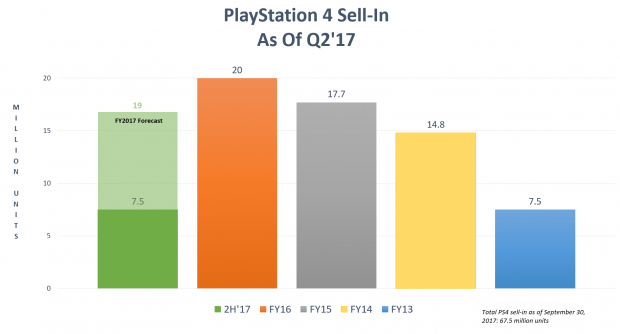 As a result of strong hardware shipments and sales, Sony has adjusted its total Fiscal Year 2017 PS4 shipments by 1 million units to 19 million, which will push the lifetime shipments to 79 million at the end of the fiscal year in March 2018. The bulk of these are likely to move in Q3 during the calendar holiday season.
The company also boosted its fiscal guidance for the gaming and network services branch, which indicates Sony has strong confidence in the segment. The adjusted forecast sees G&NS pulling in 2 trillion yen in sales and operating revenue, up 1.0% from the previous 1.98 trillion. Operating income forecasts remain static.
"Sales for the quarter increased 35% year-on-year primarily due to an increase in PS4 software sales, the impact of foreign exchange rates and an increase in PS4 hardware sales," said Sony Corp Chief Financial Officer Kenichiro Yoshida during the earnings call.
"Operating income increased 35.8 billion yen year-on-year to 54.8 billion yen, primarily due to the increase in sales. As I will explain later, operating income for the quarter includes the positive impact of an adjustment of the accounting for internal royalties between subsidiaries in the segment.
"We have upwardly revised our PS4 unit sales forecast compared with the August forecast by 1 million units to 19 million units. As a result, our sales forecast has been upwardly revised to 2 trillion yen; however, because we expect to strengthen our sales promotion activities for the holiday selling season, we have not changed our operating income forecast."
Related Tags