BioWare's new online shooter Anthem will have beta tests
Anthem is a massive open-world online shooter so it's only natural it'll have a beta test (hopefully a few)

Published Fri, Sep 29 2017 3:16 PM CDT
|
Updated Tue, Nov 3 2020 11:54 AM CST
Anthem is the most ambitious game BioWare has ever made, and it's only prudent that the online shooter will have a beta test to provide feedback and gain invaluable data.
Any major online-based game needs a beta test. Online games like World of Warcraft or Destiny have infinitely complex systems that must all properly align at all times to ensure hundreds of behind-the-scenes infrastructures work at all times, and devs are constantly gathering and analyzing data to ensure their online gaming experiences are in tip-top shape. BioWare's new game Anthem, which sounds and looks like the developer's unique answer to Destiny, is no different--it needs a beta test (many of them in fact). While it shouldn't be a surprise to most gamers, Anthem game director Jonathan Warner confirmed the shooter will have a beta. Just don't expect it any time soon.
As far as official details, we have a nice idea of what Anthem is. We know that BioWare has been working on it for years and years now, and that it represents a massive turning point for the company as a brand new IP. We know that Anthem is a direct result of Electronic Arts' new focus on action-based games.
We know that the game features mech suits that players step into and fly around a beautiful, open world and blast fearsome baddies with third-person shooter mechanics. Anthem is a shared-worlds shooter like Destiny where players can team up into squads of four and tackle enemies. Anthem isn't sci-fi like Mass Effect, but sci-fantasy, like Star Wars. It isn't any one genre, though: it's what's described as genre-melding and BioWare says it'll incorporate action, shooter, RPG and deep story and lore the studio is known for.
(Continued below)
"We're trying to build a fictional world that feels real and is alive and is constantly changing."
"You are part of humanity and you're a member of the Freelancers, who are out there to save and protect humanity on an alien planet far away. It's in a genre we call science fantasy, very much like Star Wars and the Marvel Universe where you see lots of amazing things happen but you don't worry too much about how or why they're happening or the science of it."
"Mass Effect is our real hard-core science fiction IP, and this one is much more about having fun in a game world that is lush and exotic and really sucks you in," BioWare's ex-General Manager Aaryn Flynn said in an interview with Edmonton's CBC Radio.
I've also pieced together clues from BioWare's original IP confirmation back at E3 2014. You can read more about Anthem here.
Shortly after Anthem was announced, BioWare's Aaryn Flynn left the studio after 17 years. Studio alum Casey Hudson was called back in to return as BioWare's acting general manager.
Anthem is expected to be released during Fall of 2018 on PS4, Xbox One and PC, but it may be delayed into 2019 or even 2020. This is a staggering new project for BioWare and will take some considerable time--especially given the online multiplayer elements.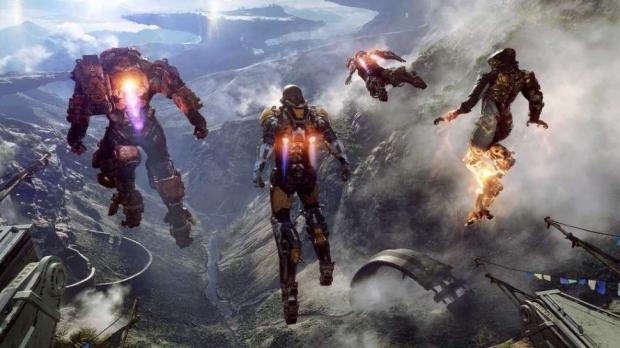 Related Tags