EA recommits to Frostbite-powered action genre focus
EA strongly indicates its new games will be action-based first and foremost--but what about the new Dragon Age?
Published Jul 29, 2017 3:20 PM CDT
|
Updated Tue, Nov 3 2020 11:54 AM CST
4 minute read time
EA is rolling forward with its plan to integrate the Frostbite engine and the action genre into all of its games.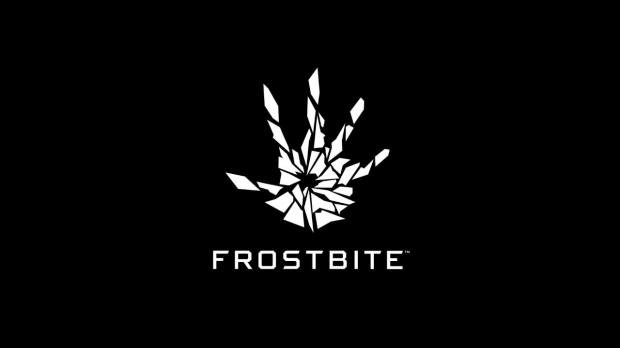 In May 2016 I predicted that BioWare's then-secret new IP would be action-based. Fast-forwarding to today and Anthem, BioWare's newly announced IP, indeed puts action first above RPG and adventure elements. Before Mass Effect: Andromeda was released, I predicted the game would have heavy action elements instead of the beloved tactical squad-based content the series was known for; lo and behold, the game delivered just that.
In a May 2016 Investor's Day Presentation, Electronic Arts confirmed it would start focusing heavily on the action genre in a bid to leverage an untapped market. Now in 2017 the games giant has reinforced that initiative with confirmations it will continue pushing an action focus for its new games.
When discussing research and development spending during a recent EA quarterly earnings call, company Chief Financial Officer Blake Jorgensen said EA will continue pushing more action-oriented games to tap the genre's lucrative market.
Action games are seen by publishers and key industry movers as the most accessible form of gaming, thus making it mainstream and less targeted then specialized niche genres such as strategy, and medieval RPG.
"...We're very confident that we can drive new revenue around the action genre and continuing live service build-out across all of our products," Mr. Jorgensen said during the call, going on to highlight just how much EA is willing to spend on R&D expenses throughout the new fiscal year.
"We're continuing to invest across all of our network and platform activities. I don't see any of those going beyond the targets that we've talked about, trying to keep R&D expense in the 21% to 22% of revenue range, but it is -- the goal is to drive new revenue."
To get an idea of how much EA is comfortable in spending on R&D this year, I've done some simple math. EA expects to earn $5.07 billion in net revenue for Fiscal Year 2018. If EA spent 21% of its revenues on R&D during this period, it'd spend $1.06 billion; if it spent 22% of total revenues, it'd spend $1.11 billion on R&D. Keep in mind R&D isn't just for games, far from it, especially now that EA has announced its new SEED division which researches new areas like VR & AR, AI, and virtual humans.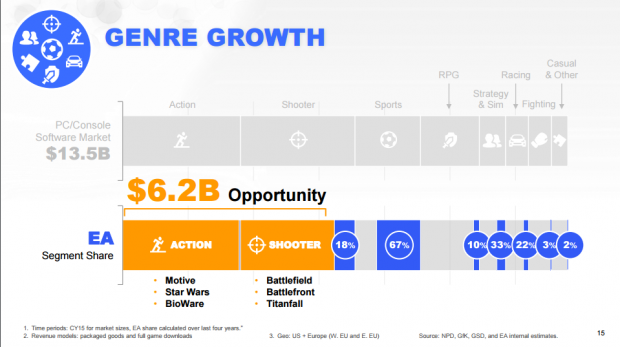 Not only will EA's new games be action-based, they'll mostly be powered by its in-house Frostbite games engine--which, as we wrote before, doesn't play very nice with RPGs.
During a fiscal Q1'18 earnings call, EA CEO Andrew Wilson confirmed that Frostbite is powering a smattering of new games. "Our industry-leading Frostbite engine is now powering development of a dozen new titles across our portfolio," Mr. Wilson said.
Wilson also affirmed that Frostbite isn't static: it's more of a platform rather than an engine, and every team is constantly contributing in their own way to make it better. So just because Frostbite didn't play well with RPGs when, say, Dragon Age: Inquisition was released doesn't mean it's the same today.
"And at some level, because we have a dozen teams building on top of the platform and a core team feeding all of that development back into the mainline of code, that engine is actually making leaps and bounds faster than many engines would, which is 1 or 2 games working on them," Mr. Wilson said during the earnings call.
"And so we are very, very happy with our core strategy of moving to a single engine. We're starting to see real leverage in the engine, not just in terms of our ability to build wonderfully large and creative and entertaining new games efficiently, but because we're able to do things that are far more innovative than things we're seeing anywhere else in the industry."
Why this matters: the bottom line
I know what you're thinking: why does all of this matter? What does it mean?
Essentially it means that all of EA's new games will focus on action first, with the exception of proven tried-and-true breadwinners like shooters. This means all other genres--RPG, tactical strategy, adventure, you name it--will be put on the back burner. Games will be tailor-made to be as accessible as possible to mainstream gamers.
We've already seen this with Dragon Age: Inquisition and Mass Effect: Andromeda, and this trend will continue. Every single new Star Wars game is action based, including Star Wars: Battlefront II, and Visceral's and Respawn's respective Star Wars games.
EA will indeed mix genres together in what they call "genre-melding", but the core tenant and ethos of the game will be action. Anthem is a good example of this "genre-melding" practice, as it will incorporate third-person shooter action with open-ended online multiplayer adventure and "deep RPG progression and storylines."
What about BioWare's new Dragon Age game? Will that be action-ized too?
This brings me to my last real point: how will this affect BioWare's new Dragon Age game?
Will the game, which is likely a big new AAA endeavor, devolve the series' mechanics the same way Final Fantasy 15 devolved Final Fantasy's unique squad-based turn-based battles? Or is this a new evolution, a new change that's for the better?
Only time will tell, but I just hope BioWare's Edmonton team isn't being held back because of EA's new Frostbite-first and action-first strategies.
Just don't ever expect a new Dragon Age game to be like DA: Origins simply because those games aren't catered to the whims of a mainstream market.
Related Tags