Anthem is sci-fantasy, not sci-fi like Mass Effect
BioWare's new IP is less like Mass Effect and more like Star Wars.

Published Tue, Jun 27 2017 11:11 AM CDT
|
Updated Tue, Nov 3 2020 11:55 AM CST
Anthem, BioWare's new IP, is a massively ambitious genre-melded online multiplayer shooter, but don't expect it to be like Mass Effect.
BioWare unveiled Anthem at E3 2017 to global fanfare, kicking off a big turning point for the studio. Known for making mega blockbusters like Mass Effect and Dragon Age, Anthem is a different sort of game than we're used to seeing from the Edmonton-based studio, and BioWare General Manager Aaryn Flynn asserts that Anthem will be more like Star Wars' science fantasy than the high-concept science fiction found in its high-tech Mass Effect series.
"You are part of humanity and you're a member of the Freelancers, who are out there to save and protect humanity on an alien planet far away. It's in a genre we call science fantasy, very much like Star Wars and the Marvel Universe where you see lots of amazing things happen but you don't worry too much about how or why they're happening or the science of it."
"Mass Effect is our real hard-core science fiction IP, and this one is much more about having fun in a game world that is lush and exotic and really sucks you in," BioWare General Manager Aaryn Flynn said in an interview with Edmonton's CBC Radio.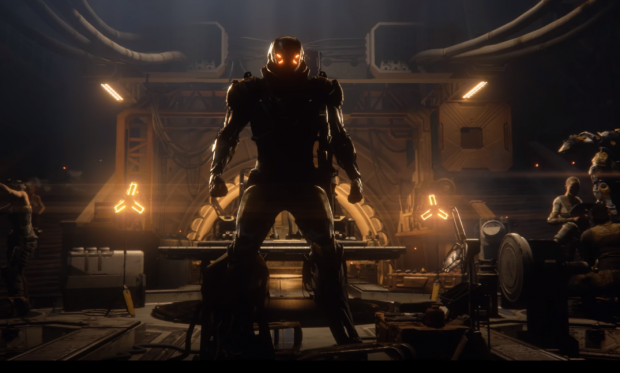 So what does this mean exactly?
Expect more rustic environments and visuals that you'd see in Star Wars, including small details like chipped paint, recycled old technology, and this sense of rebellions being built off of ramshackle remains of greater civilizations--similar to the styles and themes of Star Wars. Anthem's teaser trailer exemplified this focus quite clearly.
Mass Effect, on the other hand, is more like Star Trek: clean and sterile and sophisticated, with advanced technology and a higher air of professionalism and top-tier discipline and structure.
Read Also: New BioWare IP might be EA's unique answer to Destiny
"We're trying to build a fictional world that feels real and is alive and is constantly changing."
Mr. Flynn goes on to highlight some of the main mechanics that Anthem will offer. Electronic Arts has already confirmed that BioWare's new IP is a "genre-melded" mashup that's primarily action-based, but also incorporates third-person shooter and RPG elements in an entirely online-based co-operative experience.
"There are shooting mechanics in [Anthem], and it's also an action game and a role-playing game, and it has a lot of those elements to it that just let you become a character in this. It's co-operative, and it's our first game in a long time that you're going to play with your friends natively through the whole experience."
"That makes it a lot more fun nowadays. We know there's lots of players out there who really want to play with their friends."
Anthem, or "Dylan" as it was previously codenamed (known for wanting to be the "Bob Dylan of video games") has been in development for almost five years now. We've covered BioWare's new IP for some time now and our previous coverage really chronicles just how big this game is for BioWare and Electronic Arts.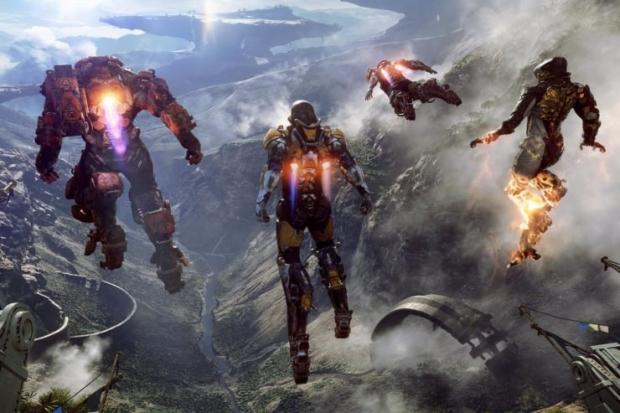 "This is the first out of more new IP you'll see from us, and massive, hugely, hugely ambitious - almost to the point of too ambitious, but I like that - and I'm very bullish on it. I love it. I've been very personally involved in it and maybe that's why I'm biased, but I hope people are going to like it," Executive Vice President of Electronic Arts Patrick Soderlund told Engagdet.
EA CFO Blake Jorgensen goes on to heavily hint the IP will have strong online-based multiplayer elements, not unlike an MMO.
"This game has the potential to fundamentally disrupt the way people think about an action title, bringing friends together to play in exciting new ways. We're very excited about the future of this new franchise and its ability to attract a larger global audience."
Anthem is a massive undertaking on both EA's and BioWare's part, and it could be a major game-changer with a 10-year journey just like Bungie's latest Destiny MMO-style FPS.
Mr. Flynn affirms that Anthem will release Fall 2018 in EA's FY2019 roadmap, but a delay is also possible.
Related Tags