EA wants to use DICE's Frostbite 3 engine for everything these days including sports games, shooters, and its new affinity towards-action based games. While the engine is quite powerful, it doesn't play well with certain types of experiences--namely RPGs.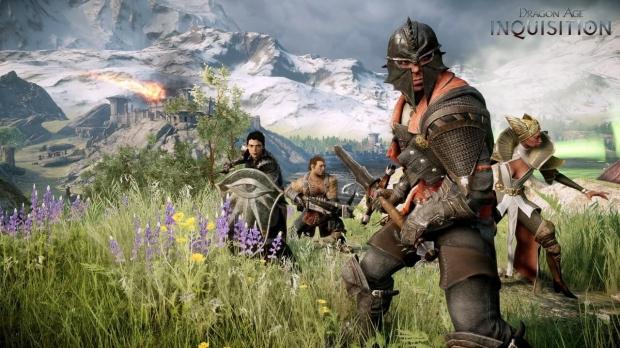 In a recent featured piece on why Mass Effect: Andromeda fell apart, Kotaku's Jason Schreier made some interesting points on EA's Frostbite engine--particularly how BioWare had to build both Dragon Age: Inquisition and Mass Effect: Andromeda from scratch because the engine hadn't ever been used to build RPGs before. "In the video game industry, Frostbite is known as one of the most powerful engines out there-and one of the hardest to use," Schreier writes.
Key BioWare developers spoke out on their experiences with Frostbite, explaining how the engine has evolved over time--and how developers like BioWare's Mass Effect and Dragon Age teams were forced to adapt by making their own tools completely from scratch.
"When BioWare first got its hands-on Frostbite, the engine wasn't capable of performing the basic functions you'd expect from a role-playing game, like managing party members or keeping track of a player's inventory. BioWare's coders had to build almost everything from scratch."
Back in November of last year, BioWare Montreal confirmed that Mass Effect: Andromeda was built from scratch. As Schreier notes, this was a bit setback for the development team as the studio had to carve out their own set of features to ensure the game played nicely with the complicated--yet powerful--Frostbite 3 engine.
BioWare Montreal had to build its tools, systems, features, assets and other content completely from scratch, which certainly explains the long 5-year development cycle.
"It's been painful," an anonymous developer told Schreier. "The pain started with Dragon Age: Inquisition and continued on with Andromeda as well."
"Frostbite is a sports car. Not even a sports car, a Formula 1. When it does something well, it does it extremely well. When it doesn't do something, it really doesn't do something," another dev told Kotaku.
"Whenever you're trying to do something that fits the engine-vehicles, for example-Frostbite handles that extremely well," the developer said. "But when you're building something that the engine is not made for, this is where it becomes difficult."
I've long been concerned about EA's forcing developers to use its Frostbite engine, and the engine's penchant towards shooters and action-based games is one of the main factors that let me to believe BioWare's new IP (codenamed Dylan) is action-based.
Of course we know this now, but my prediction was made in May of last year.
Not only is EA driving its owned development teams towards adopting Frostbite, which doesn't play nicely with certain gametypes and genres and forces devs to adapt by making a rigorous re-tooling of their development infrastructure, but the publisher is actively pushing developers towards adopting what Frostbite was really made for: shooters and action games.
And it's already happening. In fact it's been happening for quite some time.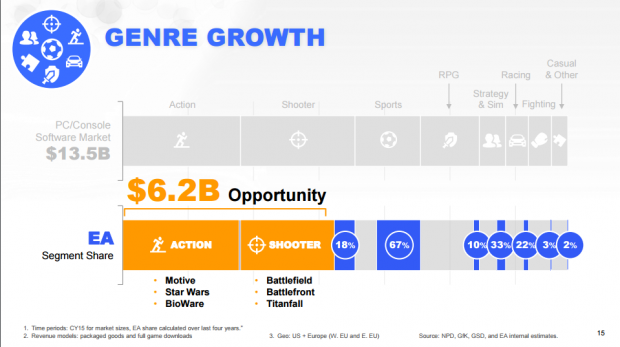 All of EA's new Star Wars games are action-based, and Mass Effect: Andromeda was action-based. Even BioWare's new IP, Dylan, is action-based too.
And BioWare's new Dragon Age game could be an action-based spin-off of some sort as well--but it's also possible that the game could be built from Dragon Age: Inquisition's framework, which BioWare spent four years making.
Now EA's new major emphasis on the action genre makes sense, and Frostbite is the foundation for this push.
Now EA's emphasis on genre-melding makes sense, too: RPGs are typically "niche", so publishers like to throw in features from other genres to "meld" the experiences together. That's what BioWare's new Dylan IP will be, after all: a weird melding with action-adventure infused with BioWare's storytelling prowess, all wrapped up in a massive online experience akin to Destiny.
"[Dylan] is action-adventure, not RPG. So what we're starting to see more and more in games is kind of genre-melding, which is great components of a number of different genres really coming together in a single game," Electronic Arts CEO Andrew Wilson said during a conference call.
"So when you're thinking about this game you should be thinking about the great RPG character development and storyline progression that BioWare is known for, but in a world of greater action and greater adventure. Which is growing to be the largest categories of games. It will be a wholly-owned IP and we're very excited about it and we'll share more in the year to come."
The point I'm driving at is this: EA has long been pushing towards this weird genre-melding action-based initiative, and its traditional RPG experiences might actually be dead.
That means old BioWare, the BioWare we knew and loved, the team who made games like Dragon Age: Origins and Star Wars: Knights of the Old Republic, might be stamped out at the behest of EA's forced adoption of Frostbite.
After all, action games are the best-sellers.
Just look at how Mass Effect's RPG mechanics devolved with Mass Effect: Andromeda, which now feels like an action shooter instead of a grand space opera action RPG like its forebears. That's not a coincidence: it feels like a shooter because it was adapted into what EA wants now--genre-fused experiences primarily based on action.
This is the future of EA games, for better or worse.