PlayerUnknown's Battlegrounds continues titanic growth
PlayerUnknown's Battlegrounds breaks the 5 million copies sold barrier and continues to grow; here are insights on the game's mounting success.

Published Mon, Jul 24 2017 6:44 PM CDT
|
Updated Tue, Nov 3 2020 11:54 AM CST
PlayerUnknown's Battlegrounds continues its massive growth on Steam, selling another 1 million copies in a single month to bring the total to 5 million copies sold.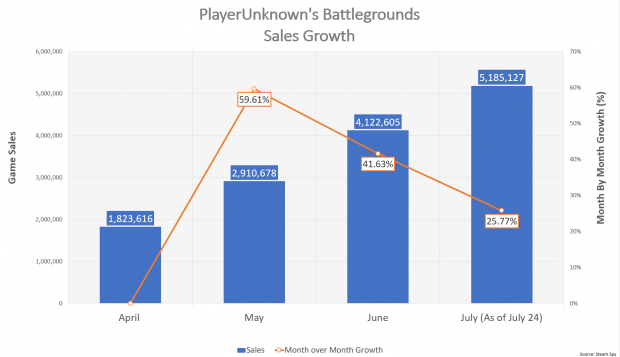 Bluehole's battle-royale survival shooter is an early access juggernaut. Armed with massively engagement from Twitch streams and an exclusive deal with Facebook, PlayerUnknown's Battlegrounds is fast becoming one of the most popular Steam games of the year. Just last month we reported PUBG sold 4 million copies and raked in $100 million in earnings, but the massively popular multiplayer game just keeps one-upping itself: now PUBG has broken the 5 million sales milestone.
Besides the game's mighty 1 million units per month sales trend, PlayerUnknown's Battlegrounds also has very strong recurring player counts. Owners of the game are jumping in rather than abandoning it in favor of other popular PC games, indicating PUBG's massive long-term potential as a big moneymaker. In fact, PUBG recently surpassed GTA V in peak players and its average players continue spiking month-over-month as well.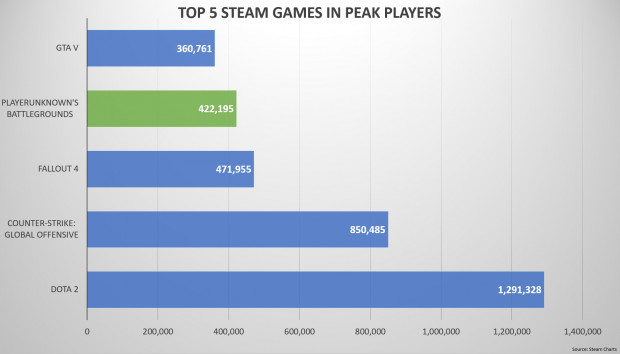 I've drawn up a few graphs above and below to illustrate just how much PlayerUnknown's Battlegrounds has grown since its release in March, and why the game is getting attention from big publishers like Ubisoft.
Wedbush Securities analyst Michael Pachter even went so far as to say PUBG will actually be a system-selling for Microsoft's new $499 Xbox One X console when the game launches on the platform later this year.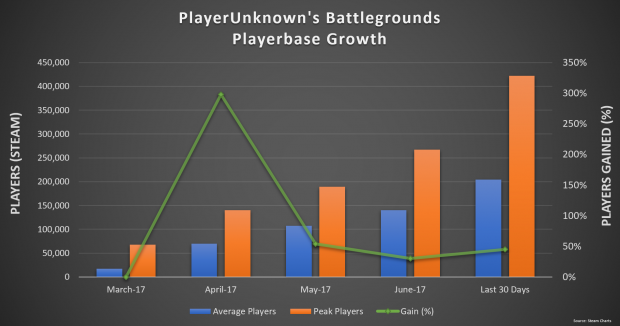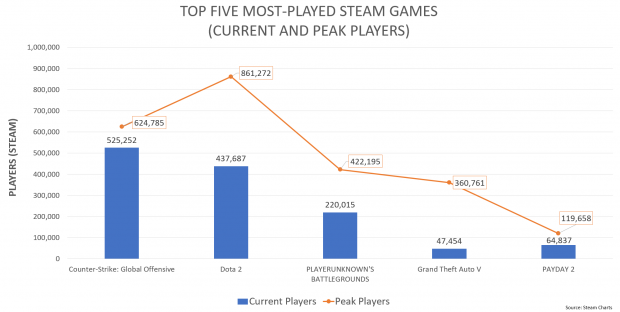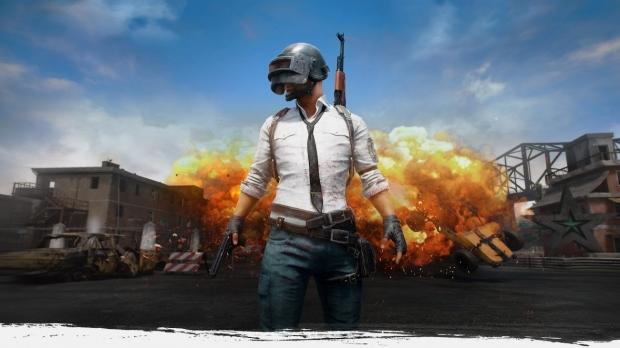 Related Tags