Oculus has confirmed that its premium Rift VR headset is getting a permanent price drop in a bid to fill out the headset's install base and pull more gamers into the Oculus ecosystem.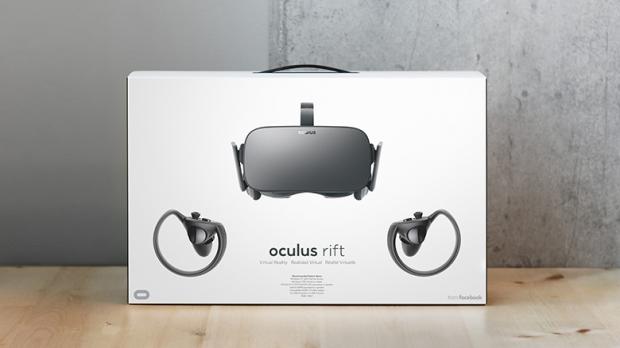 After the Oculus Rift's big $399 sale ends in six weeks, the Facebook Inc.-accelerated headset and its accompanying Touch controllers will be sold in a bundle for $499. Oculus affirmed this price drop is permanent, and the bundle includes: Rift headset, two sensors, Touch controllers, cables, and six free titles when you activate Touch-Lucky's Tale, Medium, Toybox, Quill, Dead and Buried, and Robo Recall. We reached out to Anshel Sag, Associate Analyst at Moor Insights and Strategy, for further insight on the Rift's price drop.
"Dropping the price to $499 indicates that Facebook isn't happy with sales (and they shouldn't be). They also desperately need to reach at least 1 million users so they have a compelling user base size to attract more developers. They can't pay for all the content on oculus home, so they're going to need to attract unpaid developers," said Moor Insight's Mr. Sag, who analyzes key trends in the technology sphere such as VR and AR.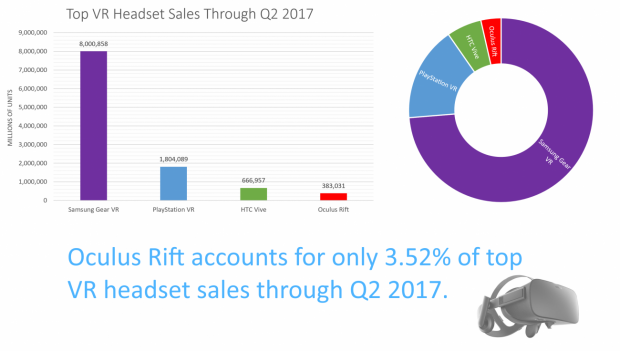 As we reported, the PC-powered Oculus Rift VR headset is the least-popular in terms of HMD sales and hardware revenues, and is fourth in line behind the HTC Vive, Sony's PS4-powered PlayStation VR, and the mobile titan Samsung VR.
But the Facebook Inc.-owned company has taken queues from market performance and reportedly plans to release a $200 wireless standalone Rift headset powered by Qualcomm's new efficient Snapdragon processor--a chip that typically is used in modern mobile phones.
It appears Oculus wants to build its own consolidated cross-platform hardware ecosystem that incorporates high-end and high-cost PC-powered virtual reality gaming for the enthusiast segment while also tapping the low-cost mobile market with its new $200 wireless headset. This hardware ecosystem would be tethered to Oculus' storefront of games and VR entertainment content, with Facebook serving as a dynamic social infrastructure to boost engagement and awareness within the services 2 billion-strong userbase.
In a way, I see this strategy as Oculus' take on Microsoft's merging of Xbox console and PC hardware using Xbox LIVE and Windows 10 as the glue that holds it all together. Suddenly Oculus' insistence on a closed-off exclusive-based ecosystem makes a lot of sense, and I predict the Facebook-owned company will follow in Microsoft's cross-platform unification footsteps in various ways.
"Making a $200 headset won't be easy when you consider the prices of today's headsets. But if they can pull off a standalone at that price, it'll be a game changer," Mr. Sag said, iterating that this new approach could be big for sales and accessibility--two of the Rift's biggest problems to date.
"It'll enable easy gifting of VR to people and make it accessible to virtually everyone. Then again Samsung's headset is $99 and most of their volume of 6 million headsets were bundled for free."
Analysts currently predict that AR (Augmented Reality), which powers mobile games like the wildly successful Pokemon GO, will significantly outperform virtual reality in earnings. Analyst firm Digi-Capital predicts that mobile-based AR could become the dominant mover of a $108 billion mixed reality market by 2021, with AR pulling in the bulk of earnings at $83 billion versus VR's $25 billion.
It will be interesting to see how this move affects Oculus' performance in the future, and whether or not gamers will pull the trigger on a $200 mobile-powered VR headset. It's possible that Oculus will make a move on the AR space too, especially on the heels of such big earners as Pokemon GO.