Oculus Rift price slash spurred by low sales
Oculus Rift's recent $399 price cut is Facebook's attempt to kickstart more sales.
Published
3 minutes & 29 seconds read time
As the sales rift between Oculus' VR headset and its competitors continues to widen, Facebook slashes price in an attempt to spark sales growth.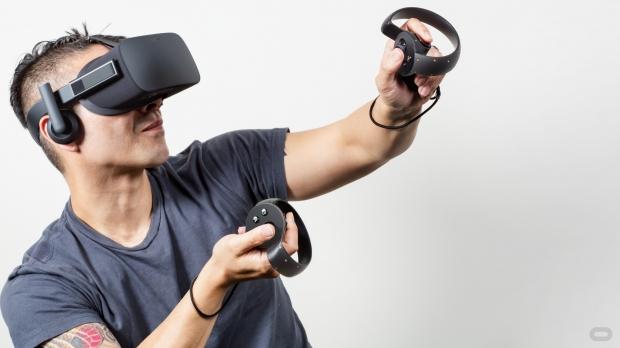 Facebook-owned Oculus recently slashed the price of its Oculus Rift virtual reality headset for the second time in three months. The Oculus Rift now comes bundled with its Touch controllers for $399, down 33% from the headset's current $599 MSRP. Oculus asserts the price drop will last six weeks.
Although the company hasn't said so publicly, the consensus is that the price drop, which puts the Oculus Rift square up against Sony Corp's console-powered PlayStation VR competitor, will boost flagging sales and pull more gamers into the Rift ecosystem.
Adoption of VR headsets like HTC's Vive and the Oculus Rift has slowed due to higher costs. The headsets typically cost up to $700 and require a beefy desktop or laptop PC on top--with PC hardware, headsets, controllers and games, the total price of high-end VR deters many gamers. Sony has enjoyed success by tapping the middle ground between high-cost PC virtual reality and low-powered mobile VR.
With its $399 PlayStation VR, Sony has made virtual reality accessible to core console gamers and has dominated sales of HTC Vive and Oculus Rift. In fact, the PlayStation VR's 1.8 million lifetime sales through 2Q 2017 beat the Vive's and Rift's sales combined.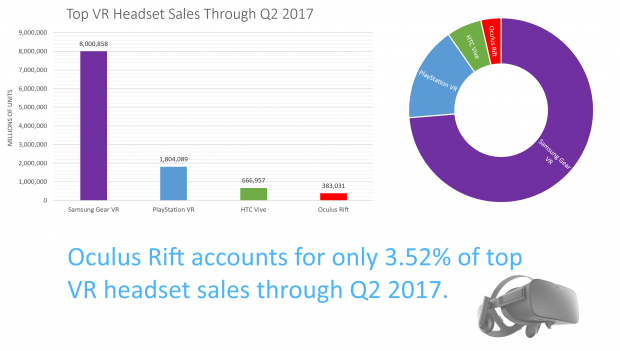 According to the latest figures published by SuperData Research (via The Wall Street Journal) Sony's PlayStation VR, which is powered by company's massively popular PlayStation 4, also dominates its top 3 competitors. The PSVR has pulled $771 million in earnings through 2Q 2017 compared to the HTC Vive's $584 million and the Oculus Rift's $228 million.
The data also shows that Facebook's Oculus Rift accounts for only 3.73% of sales of the top four biggest VR headsets.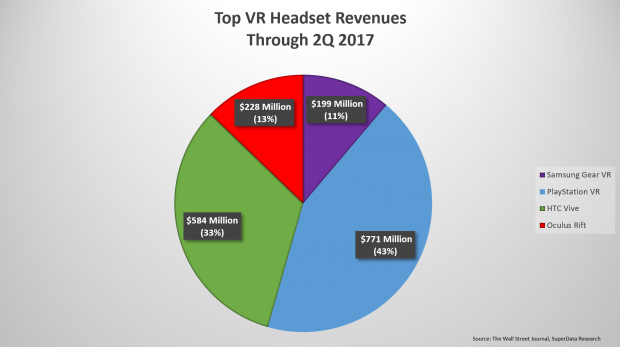 Mining boom yanks entry-level VR-ready video cards off shelves
The current Ethereum cryptocurrency mining craze may also take a bite out of PC-powered VR adoption due to massively understocked GPU market. Both NVIDIA and AMD's low-cost VR-ready video cards have been targeted by cryptocurrency miners for attractive specs like power efficiency, leading to massive shortages in stock worldwide.
Video cards like AMD's Radeon RX 480 and 580 and NVIDIA's GeForce GTX 1060 serve as low-cost entry points to power VR headsets like HTC Vive and Oculus Rift. If those cards aren't available, prospective buyers without VR-capable desktops may think twice about adopting the hardware.
Although Ethereum mining seems to be slowing down due to difficulty and a recent earnings spike, retailers may not get new video card stock for some time. Secondhand markets will likely be deluged with discarded video cards as miners abandon the crypto-mines.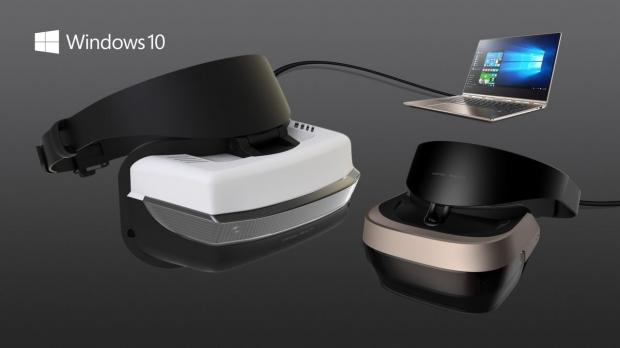 The future of AR, VR and Mixed Reality
Analysts currently predict that AR (Augmented Reality), which powers mobile games like the wildly successful Pokemon GO, will significantly outperform virtual reality in earnings. Analyst firm Digi-Capital predicts that mobile-based AR could become the dominant mover of a $108 billion mixed reality market by 2021, with AR pulling in the bulk of earnings at $83 billion versus VR's $25 billion.
However research firm SuperData has more conservative estimates for the VR and AR markets. In its 2016 Year in Review report, the firm estimates that virtual reality will be the dominant force: VR could rake in $17.8 billion in 2019, and AR may pull in $4.5 billion in revenues during the same year.
Windows Mixed Reality could eat Oculus' and Vive's lunch
High-cost headsets like the HTC Vive and Oculus Rift may soon be outpaced by cheaper mixed reality headsets optimized specifically for Windows.
Microsoft has enlisted key OEMs like ASUS, Dell, Lenovo and Acer to create low-cost VR and AR-enabled headsets to power its new Windows 10-based Mixed Reality platform. Microsoft has said that it wants to help the platforms mature and invest into new technologies to ensure VR and AR becomes more robust over time.
No killer apps
Analysts predictions aside, there's one thing that remains constant about VR: the medium doesn't yet have a killer app.
Bethesda Softworks may be the first to create a system-selling VR game with its Skyrim, Fallout, and DOOM virtual reality adaptations...but until prices come down and stay down, gamers will likely stick with their current gaming platforms.
Related Tags