Nintendo Switch was best-selling console in April
Nintendo's new handheld-console hybrid takes the hardware and software sales crown for April, but hardware and software isn't enough to succeed.

Published Wed, May 17 2017 9:05 AM CDT
|
Updated Tue, Nov 3 2020 11:55 AM CST
Nintendo's new Switch system continues to break sales barriers in both hardware and software.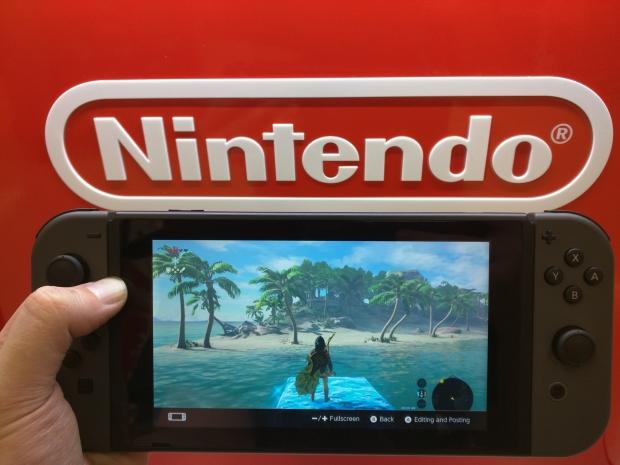 Nintendo today announced that its new Switch handheld-console hybrid was the best-selling console for April, and that Mario Kart 8 Deluxe was the best-selling game for the month as well. According to tracking firm NPD Group and Nintendo, the Nintendo Switch sold more than 280,000 units globally. This is the second month that the Nintendo Switch has topped games hardware sales charts.
The console's must-have racer Mario Kart 8 Deluxe eclipsed hardware sales with an impressive 550,000 units sold globally in the first two days. NPD notes Mario Kart 8 sold 460,000 physical copies on the Switch, and Nintendo says the game sold 90,000 units digitally on the eShop.
Nintendo predicts the Switch will continue this strong momentum throughout the company's fiscal year, and Nintendo President Tatsumi Kimishima has announced the Switch should sell at least 10 million consoles this year.
Due to the console's unique form factor and strong first-party lineup, analysts predict the Switch will actually sell 14.5 million units.
Mr. Kimishima has also said that the Switch will have a "continuous stream of third-party games" to bolster its first-party lineup, which includes ARMS, Splatoon 2, and Super Mario Odyssey this holiday season.
Hardware and software isn't enough: Nintendo needs to double down on online
I personally believe that Nintendo needs to quit tooting its own horn too often with press releases like these; it's a trap that the Japanese console-maker doesn't want to fall in. Yes, it's amazing that the Switch has sold so well since it's launch on March 3, and yes, I think it's important to announce certain performance records...but for the future, Nintendo should be more reticent with its sales announcements.
While the Nintendo Switch is doing tremendously well on hardware and software sales, both of those aren't enough to succeed in the games industry. The Nintendo Switch is still missing its more critical component: the online infrastructure. Without an online infrastructure, big-name publishers have no way to monetize their games--and make no mistake, the games industry is embracing online-based gaming like never before.
Nintendo will indeed roll out its online service to pave the way for online games like ARMS and Splatoon 2, but it absolutely needs to make the right moves to ensure publishers actually want to bring their games over. I even predicted a while back that the Switch's online service was created to attract third-party developers.
Essentially Nintendo needs to make their own Xbox LIVE service for the Switch, and monetize it accordingly, or else it won't ever really be considered by major third-party publishers in regards to major AAA games.
In our recent interview Is Nintendo Switch Ready for eSports, Skillz Chief Product Officer Bill Mooney underlined how important the Nintendo Switch's online service actually is.
"It's essential. We're consistently seeing that players want to play online with friends and have some level of social interaction. At Skillz, we work exclusively with third-party mobile game developers, and one of the core reasons they come to us is because there's such a demand for online-based content and gameplay where you can interact and compete with other real players," Mooney affirmed.
"Nintendo's online services have to be a part of their offering, especially if they want to eventually offer something like Call of Duty or Rocket League on the platform. "
Related Tags