Ubisoft to launch new IP in 2018-2019
Ubisoft confirms it will release a new IP in Fiscal Year 2019, which extends from April 2018 to March 2019.

Published Wed, May 17 2017 12:20 PM CDT
|
Updated Tue, Nov 3 2020 11:55 AM CST
UPDATE: Ubisoft will release three games in FY2019 including the new IP, not four. Coverage has been amended to reflect this.
Ubisoft's latest financials reveal some interesting things about its future plans, including a new IP.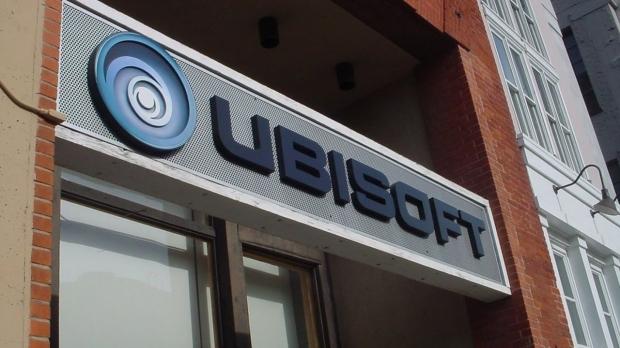 Today Ubisoft released its yearly financial earnings, showcasing some impressive results. As always the company delivered a peek into its future pipeline to reveal a new IP is in the works, alongside two new AAA games. We have a good idea what those games are, and Ubisoft's financials tell us what to expect from the new IP. Like all games publishers Ubisoft is always planning for the future.
The company's new IP will be released in its FY2019, which ends in March 2020. During FY2019 Ubisoft says it will release three total AAA games (the new IP + 2 other AAA's), but what are the other games? I predict that Beyond Good and Evil 2 will be included, alongside Blue Byte's unannounced AAA PC RTS, which could possibly be a Heroes of Might and Magic game.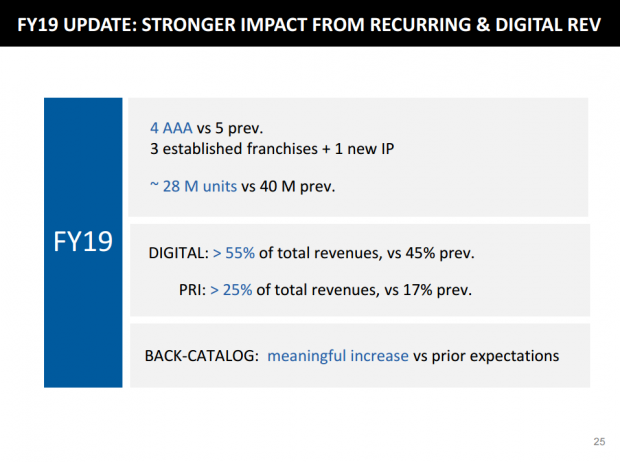 The clues: FY2019 is a big turning point for Ubisoft
Now let's talk about the new IP, and what clues Ubisoft's FY2019 forecasts give us about the game. But first we need a bit of insight on what FY2019 means for the company.
FY2019 (April 2018 - March 2019) will mark the end of Ubisoft's ambitious multi-year digital plan. During this cycle, Ubisoft successfully transformed its business to focus more on digital gaming and recurrent player investment (microtransactions), while successfully monetizing engagement and social interactions with key online games; strong growth in its massive hits like Rainbow Six: Siege, The Division, Ghost Recon: Wildlands and For Honor are proof of Ubisoft's success.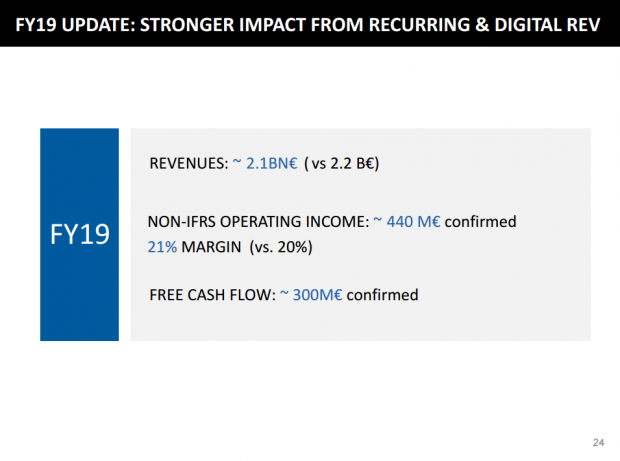 In fact, Ubisoft says that 50% of last year's impressive $1.62 billion (1.459 billion euros) total sales earnings were from digital alone.
Fiscal Year 2019's total earnings are expected to surge by 23% year-over-year; Ubisoft forecasts $2.33 billion (2.1 billion euros) sales earnings for FY2019 compared to this year's (FY18) $1.89 billion (1.7 billion euro) earnings forecast.
That's a pretty substantial jump, and Ubisoft will achieve this with the current strong online games, FY2018's strong releases like new Far Cry and Assassin's Creed games, and FY2019's new games, including the new IP and the two mystery AAA titles.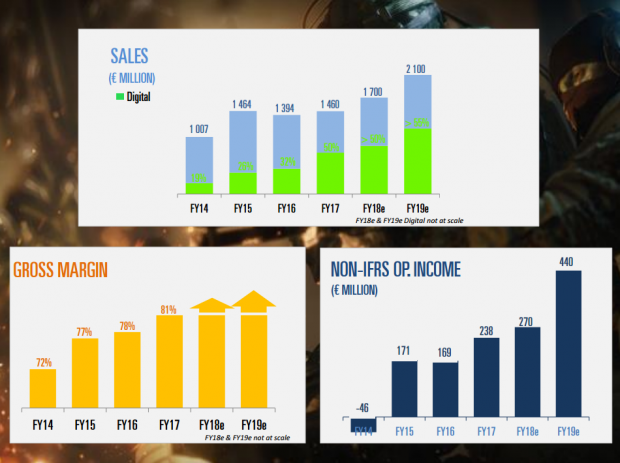 New IP: online-based multiplayer,and social engagement to drive strong player spending
One of the biggest clues about the new IP is from Ubisoft's microtransaction earning predictions. The publisher expects to have "stronger impact from recurring revenue," and raise PRI (player recurrent investment) to a huge 25% from the 17% it earned from FY2017. That means 25% of Ubisoft's revenue streams will be earned from microtransactions and in-game purchases.
So we know Ubisoft loves online-based games with multiplayer, and that it expects to make far more money in microtransactions in FY2019. Based on this data, the new IP should follow the same footsteps as For Honor and The Division: online-only games with strong social-based multiplayer interactions and in-game purchases for maximum monetization.
The new IP will also likely be cross-platform on consoles and PC, but it'll probably miss the Nintendo Switch due to the system's handheld functionality (Ubisoft loves it when you can play always online all the time).
Furthermore, the new IP will assuredly leverage all of the knowledge Ubisoft has gained throughout its digital push. That means all of the most profitable and best features from its back catalog of online-based games released during this transition point (For Honor, The Division, Rainbow Six: Siege, Ghost Recon: Wildlands, etc) will manifest in the new IP.
We have no clue what the new IP will actually be in terms of content and features, but given the market's focus on action-based gaming, we'd expect it'd follow the genre. It could also be a shooter, but Ubisoft already has Rainbow Six: Siege and The Division.
Related Tags