Kingdom Hearts 3 may release in 2019
Square Enix's most anticipated games won't release in 2017, and may not have any announcements until April 2018 and beyond.

Published Tue, Apr 25 2017 2:14 PM CDT
|
Updated Tue, Nov 3 2020 11:55 AM CST
Kingdom Hearts III and Final Fantasy VII: Remake won't release in 2017, and have been adjusted to Square Enix's "beyond" Fiscal Year 2018.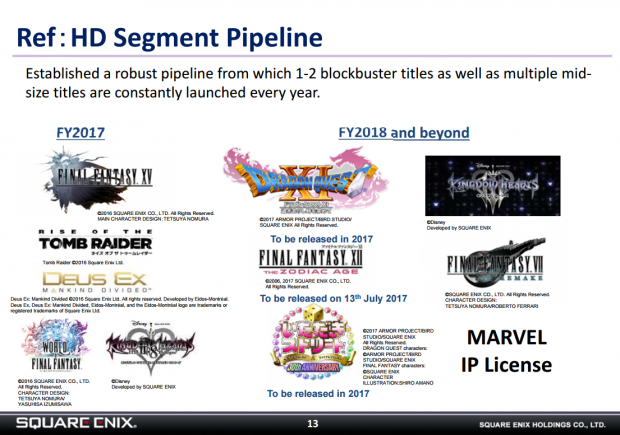 Surprising no one, a February Square Enix investor relations sheet reveals Kingdom Hearts III's actual release may be some time away. The publisher lists both Final Fantasy VII: Remake and Kingdom Hearts III as "FY2018 and beyond." At first the diagram gives hope of a 2017 release, as Square Enix's Fiscal Year 2018 calendar is from April 1, 2017 to March 31, 2018, however both projects are lumped in with the publisher's new Marvel games which won't be announced until 2018.
Essentially this means we shouldn't see any Kingdom Hearts III or Final Fantasy VII: Remake announcements until after Square Enix's FY18 ends on March 2018 at the earliest. Since both games are slated "beyond FY18" that means they should release in FY19, which is held from April 1, 2018 to March 31, 2019, so both games may not be released until 2019.
The Japanese publisher affirms it plans to release one or two big games every year, and 2018's big games should be Dragon Quest XI followed by Final Fantasy XII: The Zodiac Age.
"Established a robust pipeline from which 1‐2 blockbuster titles as well as multiple mid‐size titles are constantly launched every year," the publisher wrote on the February IR document.
Game director Tetsuya Nomura has already said that both Final Fantasy VII: Remake's and Kingdom Hearts III's release "still have a way to go," strongly hinting they won't release in 2017.
"We're steadily progressing on production. While we are making them, I apologize that the wait will be be a bit longer for Kingdom Hearts III and Final Fantasy VII Remake. I am very sorry, but to that degree I will make a game that will meet your expectations," Nomura said in an interview with Famitsu.
"Last year, I didn't put out much information on either title, but this year I want to show our progress at an event somewhere. The release of the titles themselves have still have a way to go. But there are many titles releasing this year, if you can wait for any 'surprises.'"
Square Enix will announce its total earnings for last year's calendar year on May 11, and we'll be sure to update you once we hear more about these upcoming projects.
Related Tags