Arkane's new Prey game looks quite interesting, and I have a feeling it melds some distinct psychological horror-weirdness with old-school first-person shooter action. That sounds like quite a formula, and Arkane is pretty impressed with what they've built.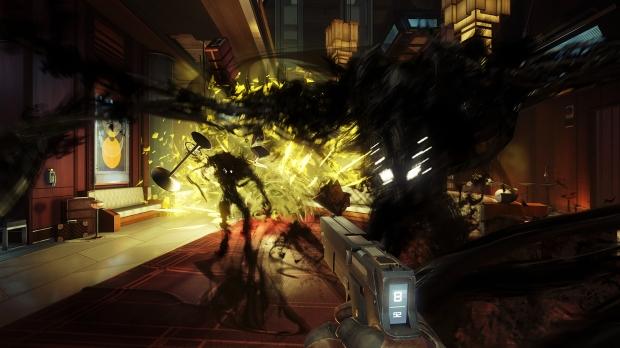 In fact, Arkane's Lead System Designer Seth Shain says Prey is quite mind-boggling. "The sheer audacity of what we have dared to build in this game, it's a little bit mind-boggling to me," Shain said in a recent interview with GameTM magazine.
"The fact that we were able to stuff it all into this package called Prey is kind of amazing; it's a testament to the team and the passion of the developers we have here. Everybody shared in this vision and really wanted to see this thing through the end."
Considering Prey looks to be a cerebral game that has you second-guessing your very identity, the term "mind-boggling" certainly seems apt. From what I've seen, the game looks to be a mix of Twilight Zone and The Outer Limits' sci-fi bizarreness infused with Dead Space's survival horror, all wrapped up neatly in some DIY-style improvised FPS action straight out of an old-school PC shooter.
"The scope of it, the audacity of it, the hubris of it," Shain concluded. "I think we've made a game that is bigger than the team that we have and I think we are pulling it off. I'm thrilled with how this game has come out."
Read Also: New Prey game isn't a sequel or a reboot, it's a re-imagining
"I keep having this dream. I'm staring at the black between the stars. There's something there. I know there is. I can't see it, but it sees me. It sees...everything."
According to Arkane's president, Prey isn't really horror...but it absolutely has some thriller elements to it.
"It's not horror. The psychological thrill dimension is morphed around the theme of identity. You know, who are you exactly as Morgan Yu," Arkane president and creative director of Prey Raphael Colantonio said.
"Prey is not a sequel, it's not a remake, it has no tie with the original. You have to look at it as a re-imagining of the IP," Colantonio affirms.
Read Also: Prey's Typhon aliens feel right out of the Twilight Zone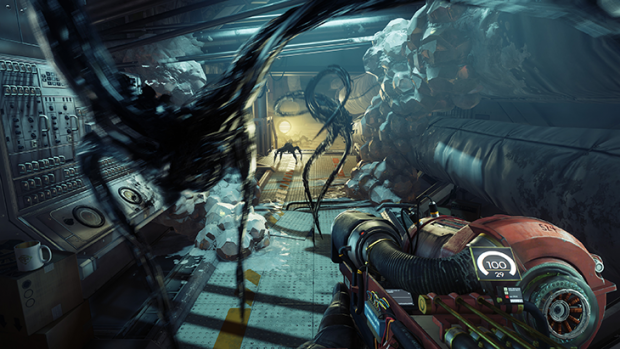 Colantonio goes on to say that players can learn quite a bit from aliens themselves--those murky, inky creatures that seem real but also not, there but also smoky and incorporeal, almost like the X-Files' weird black oil symbiote. In fact, you co-exist with the infection--the Typhon--in a kind of symbiosis: the black oil gives you powers and likely slowly infects your body, spreading its taint throughout the main character Morgan Yu.
"Prey isn't just about shooting aliens. It's more of a hybrid game where narratives mix with action and a little bit of an RPG layer. So you have some weapons, but you have lots of other things too, including powers you can learn from the aliens themselves."
Prey ships on May 5, 2017, and we hope to check it out in a feature-length review when it drops.