Prey's Typhon aliens feel right out of the Twilight Zone
Prey's Typhon aliens are creative and inventive, and genuinely feel like they're straight out of The Outer Limits or The Twilight Zone.

Published Thu, Mar 16 2017 6:04 PM CDT
|
Updated Tue, Nov 3 2020 11:56 AM CST
The more I see and hear about Arkane's new re-imagining of Prey, the more I want to play it. Now we get a nice personal glimpse at the inky shadow-aliens that will be hunting us like the prey we are.
While Arkane doesn't classify Prey as a horror game, it absolutely has cerebral and psychological elements: the game will get into players' heads (quite literally with neuromods) and has a definite Outer Limits or Twilight Zone vibe to it. This feeling is amplified in no small part by the Typhons, which are the vapor-like shadow aliens, who are almost incorporeal like a smoky fog--in many ways they seem like they might not be there at all, and Morgan Yu, the main character, could simply be going insane.
One of the most interesting cerebral mind-bending aspects of the Typhon is the Cacoplasmus, aka the Mimic. The Typhon come in all shapes and sizes, but none are so insidious as the Mimic: this Typhon can disguise itself as any nearby object like a chair or a box or even a coffee mug and patiently wait for its prey to walk by. Then, of course, it strikes.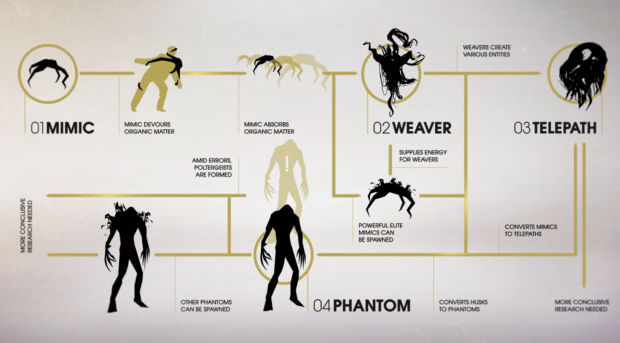 What's even more nefarious is that the Typhon aliens synergize in an ecosystem, and often spawn one another. For example, the Weaver can spawn the Phantom, which is literally a mix of human and Typhon DNA. They can attack with spears of kinetic energy, and smack you around with inky tendrils. They also teleport all over the place, giving a true alien and otherworldly-like feeling.
"Something has gone very, very wrong aboard Talos I. What began as an experiment aimed at bettering humanity has turned into a full-on alien infestation by the previously contained entities called Typhon. Morgan Yu, who is at the center of these experiments, now must fight the Typhon aboard the highly advanced space station owned by the TranStar Corporation.

"With a full ecology, the Typhon aliens are more than just shadowy creatures hell-bent on destroying the human race."
All in all I'm quite impressed with the Typhon. In an age where aliens are usually always the same, it's great to see Arkane think outside the box and create some unique and truly extra-dimensional beings that transcend what we'd normally think an alien should be.
Read Also: Prey reboot unleashes psychological FPS havoc on May 5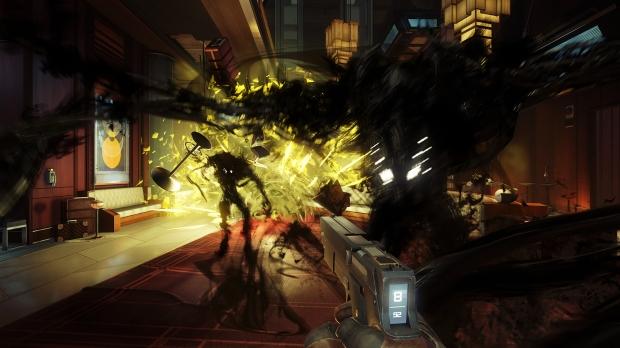 "I keep having this dream. I'm staring at the black between the stars. There's something there. I know there is. I can't see it, but it sees me. It sees...everything."
"Prey isn't just about shooting aliens. It's more of a hybrid game where narratives mix with action and a little bit of an RPG layer. So you have some weapons, but you have lots of other things too, including powers you can learn from the aliens themselves. But Prey isn't horror. Not really--it's more of a psychological thriller."
"It's not horror. The psychological thrill dimension is morphed around the theme of identity. You know, who are you exactly as Morgan Yu," Colantonio said.
Prey will drop on May 5, 2017 on PS4, Xbox One and PC.
Related Tags