Arkane Studios' new Prey game isn't a sequel, a reboot or a remake. So what is it exactly? The devs have some answers.
Ever since the new Prey game was announced at Bethesda's E3 2016 showcase, fans of the original Prey game had a lot of questions. Everyone thought that Arkane's Prey was the long-cancelled Prey 2 sequel, whereas others thought it was a reboot. As it turns out, the new Prey is more like a loose adaptation set in the IP's universe.
"Prey is not a sequel, it's not a remake, it has no tie with the original. You have to look at it as a re-imagining of the IP," says Raphael Colantonio, president of Arkane Studios and creative director of Prey.
"Prey isn't just about shooting aliens. It's more of a hybrid game where narratives mix with action and a little bit of an RPG layer. So you have some weapons, but you have lots of other things too, including powers you can learn from the aliens themselves."
Yes, you get alien powers. But the way Colantonio talks about the game you can tell it's more than just your average "blast enemies into dust" game; it seems much more atmospheric, much more...immersive. You won't be headshotting aliens like in Halo; instead you'll be terrorized by them like in Alien Isolation, and that terror is amplified as you slowly become one of them.
Colantonio goes on to say that Prey, like all Arkane games, will allow players to make specific decisions that make their experiences unique. So Prey will likely have multiple playthrough opportunities with different branching paths, kind of like the Dishonored series.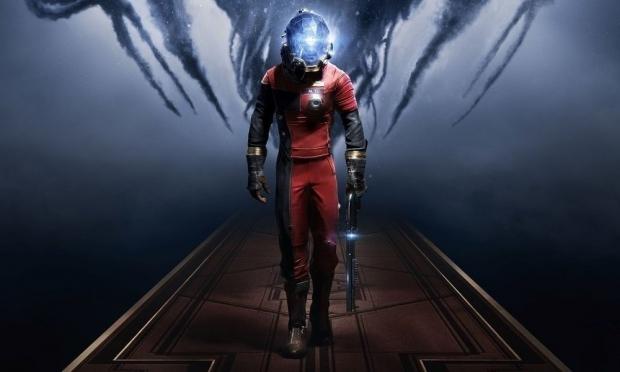 But is it a horror game?
When I saw the Prey reveal trailer, I was instantly pulled into that advanced space-age feel that's tinged with horror. I haven't felt anything like this since the original Dead Space and more recently with Alien Isolation. But as Arkane's president says, Prey isn't just a horror game--it's much more.
"It's not horror. The psychological thrill dimension is morphed around the theme of identity. You know, who are you exactly as Morgan Yu."
Remember how Morgan was infected with the alien virus? I think this whole theme of identity revolves around you as the player having to fight off the alien virus as it slowly corrupts and encompasses your persona, infiltrating your mind and sabotaging your memories. The more you play and use your powers, the more alien you become, slowly eating away at your humanity--think of Wikus van de Merwe in District 9.
Players can also choose whether or not they want to be a female or male character, and the devs chose the name Morgan because it applies to both genders.
In case you missed it, here's Arkane's official description of the new Prey game:
"You are Morgan Yu, the subject of morally dubious experiments designed to improve the human race. You awaken aboard the Talos 1 in the year 2032 and must uncover the secrets hiding in the depths of the space station while being hunted by the mysterious alien force that has taken over. You'll have to rely on the tools you find on the station - along with your wits, weapons and mind-bending abilities - to combat the growing threat and, hopefully, survive."
Prey will launch sometime in 2017 across PS4, Xbox One and PC.