Resident Evil 7's Windows 10 PC port is a big mess
UPDATE: Capcom had fixed the issue on Windows 10 PCs.

Published Tue, Jan 24 2017 6:56 AM CST
|
Updated Tue, Nov 3 2020 11:56 AM CST
UPDATE: Capcom has officially fixed the issues on Windows 10 PCs and has delivered the following statement:
"Our team was made aware of an issue with Resident Evil 7 biohazard on the Windows Store, and quickly resolved it. Thank you for your patience, and you can always check Resident Evil 7 forum on Xbox.com for the most up-to-date information, workarounds, and fixes."
Original story is as follows, but note it's not 100% accurate and was written before the fix was available.
Microsoft has once again botched the release of a big triple-A game on Windows 10 UWP: the platform's latest victim is Capcom's new Resident Evil game, which so happens to be the very first third-party Play Anywhere game.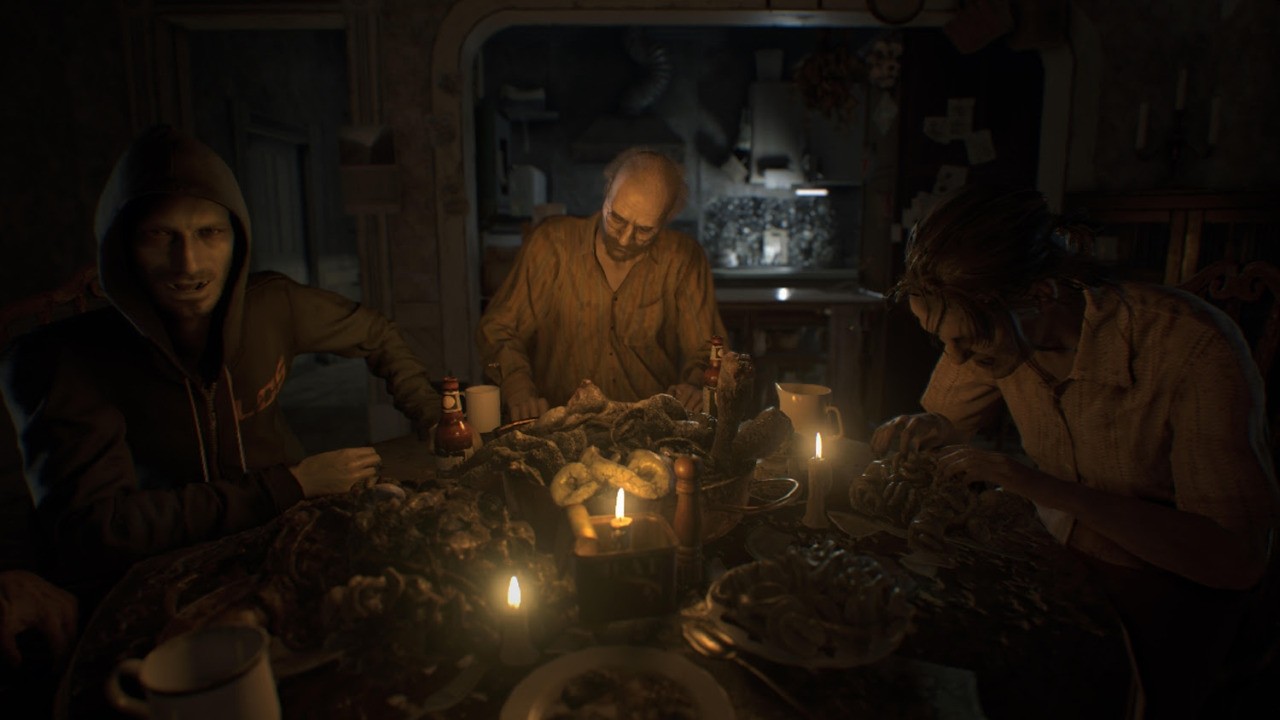 Resident Evil 7 looked quite attractive on Windows 10. If you purchase a digital copy on the Windows Store, you get a free copy of the game for Xbox One too thanks to the Play Anywhere initiative. Everyone likes free games, right? But there's always a hook in that bait, and this time the hook is the festering disease that is the UWP PC gaming platform. I'm being a bit dramatic to keep in line with the Biohazard tone, but Windows 10 UWP absolutely needs more work.
Resident Evil 7 is apparently giant mess on Windows 10 for one very simple reason--it won't work. The game won't actually run on the platform. Instead of firing up as it should, it simply crashes to an error screen. The game's official Windows Store is filling up with one-star reviews (there's 32 now and counting), and a recent Reddit post has gamers sharing their misery.
Read Also: Epic Games calls Microsoft out for 'monopolizing PC games development'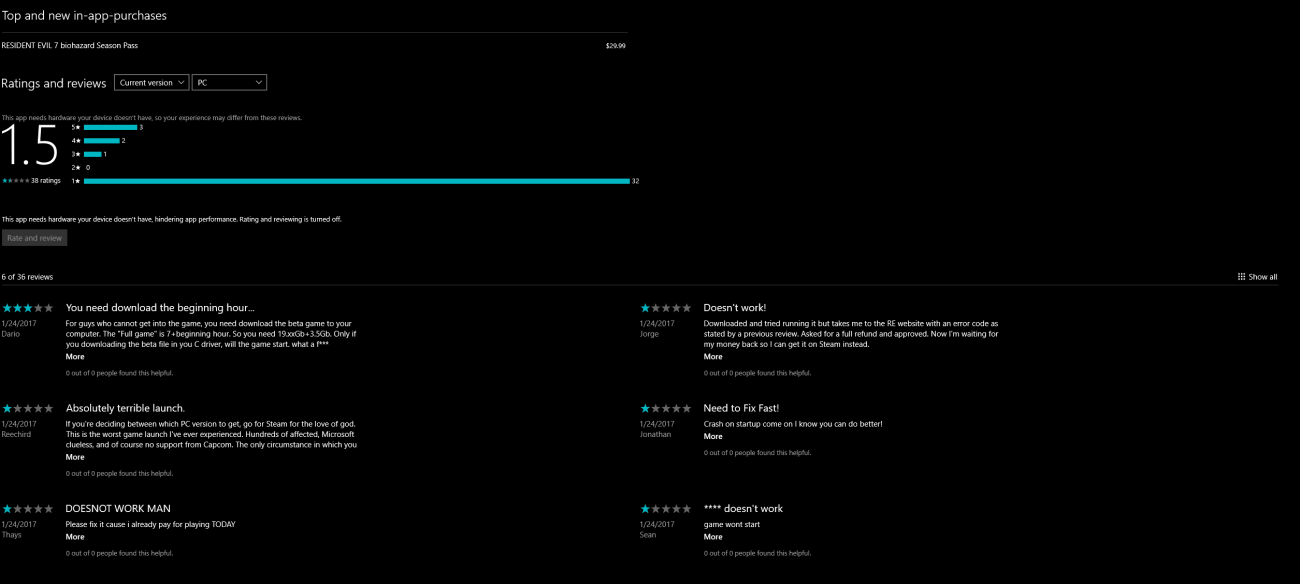 It appears the gamers that took a chance and decided to buy into the Play Anywhere program are getting shafted on day one, which is arguably the most important day for any big game release. I think most PC gamers know in the back of their heads they should go with Steam instead, but...the offering of a free game is pretty tempting.
But we should've known better. Microsoft's Windows 10 UWP track record has been pretty bad when it comes to PC games, and ever since I had to suffer through the catastrophe that was Quantum Break I vowed to avoid the storefront as if it were infectious and riddled with malware.
So if you're thinking about buying into Microsoft's Play Anywhere program, do yourself a favor and buy Resident Evil 7 on Steam. If you have an Xbox One by all means get it digitally, but if you're wanting to play it on PC, go with the tried and true platform that doesn't screw consumers over.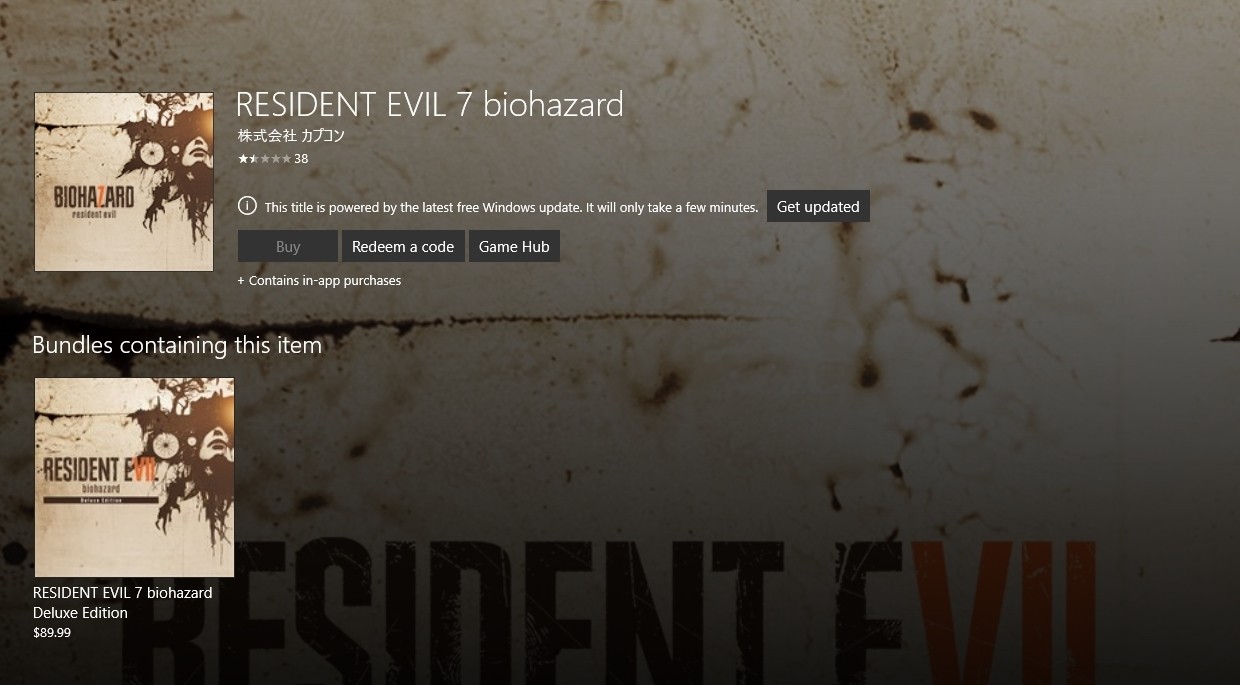 Oh and here's another gnarly tidbit to chew on: the base $59.99 version Resident Evil 7 on the Windows Store requires users to update to the latest version of Windows 10. I haven't updated my operating system for a while, and I noticed that the "buy" box was greyed out. I literally can't buy Resident Evil 7 on Windows 10 without updating my OS.
Yes, really. Resident Evil 7 is only compatible with PCs running Windows 10 version 14393.351 or higher.
I checked to see if any other new games had similar requirements and wasn't able to replicate the issue. Oh, and I was able to add the overpriced $90 edition of Resident Evil 7 to my cart, but not the normal $59.99 one.
In any case, we've yet to hear any response from Capcom or Microsoft regarding this matter. A ton of gamers are upset that they can't play the game they paid $64 for, and rightly so. I've contacted both Microsoft and Capcom regarding this matter, and will be updating this post if and when I hear something back.
Something tells me that third-party publishers and developers will avoid Microsoft's Play Anywhere initiative like the plague from hereon out.
Resident Evil 7 is now available on PS4, Xbox One and PC, and keep an eye out for our incoming coverage.
Related Tags