Origin PC has just announced their upgraded range of gaming laptops, with the EON15-X, EON17-X, and EON17-SLX now available with higher-end NVIDIA GeForce GTX 10 series graphics cards and higher refresh displays, right up to 120Hz. You can check out, and order Origin PC's new gaming laptops right here.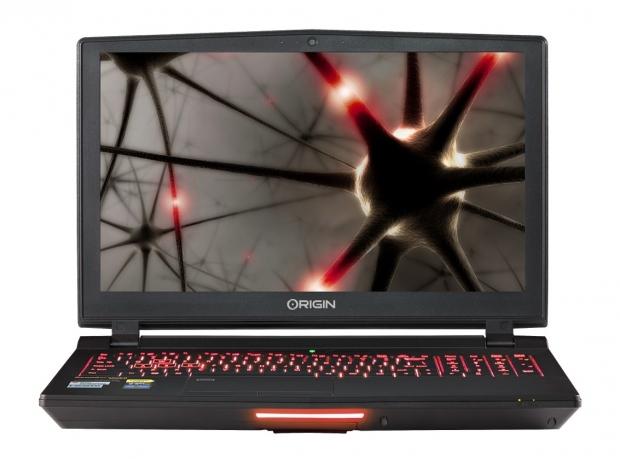 The new EON gaming laptops from Origin PC can be configured with a GeForce GTX 1060, GTX 1070 or GTX 1080 - and your choice of a 1080p 120Hz display for the EON17-X and EON17-SLX laptops, and if the 120Hz refresh rate isn't your thing, Origin offers a 4K display as well. Origin PC CEO and co-founder Kevin Wasielewski said: "ORIGIN PC's EON laptops now offer a ridiculous 3X higher performance over our previous generation of award-winning laptops. Now is truly the best time to own a high-performance laptop. Every single ORIGIN PC EON laptop now offers desktop class graphics, VR Readiness, 4K NVIDIA G-SYNC screens, ORIGIN PC professional GPU and CPU overclocking, and free lifetime 24/7 support based in the US".
Now, what about specs?
The New EON17-SLX Features:
120Hz 1080p Display or 4K Matte Display Options

NVIDIA G-SYNC Support

Up to Dual NVIDIA GeForce GTX 1080 Desktop Class Graphics Cards

VR Ready

Up to an Intel Core i7 6700k Desktop Processor

Professional ORIGIN PC CPU and GPU Overclocking

Up to 64GB of DDR4 Memory

(2) USB 3.1 Gen2 Type-C Ports, (5) USB 3.0 Ports

FREE Lifetime 24/7 US Based Support
The New EON17-X Features:
120Hz 1080p Display or 4K Matte Display Options

NVIDIA G-SYNC Support

Up to an NVIDIA GeForce GTX 1080 Desktop Class Graphics Card

VR Ready

Up to an Intel Core i7 6700k Desktop Processor

Professional ORIGIN PC CPU and GPU Overclocking

Up to 64GB of DDR4 Memory

Up to Dual 1TB PCIe NVMe m.2 Drives in RAID 0

(2) USB 3.1 Gen2 Type-C Ports and (4) USB 3.0 Ports

FREE Lifetime 24/7 US Based Support
The New EON15-X Features:
1080p Display or 4K Matte Display Options

NVIDIA G-SYNC Support

Up to an NVIDIA GeForce GTX 1070 Desktop Class Graphics Card

VR Ready

Up to an Intel Core i7 6700k Desktop Processor

Professional ORIGIN PC CPU and GPU Overclocking

Up to 64GB of DDR4 Memory

Up to Dual 1TB PCIe NVMe m.2 Drives in RAID 0

(2) USB 3.1 Gen2 Type-C Ports, (3) USB 3.0 Ports, and (1) USB 2.0 Port

FREE Lifetime 24/7 US Based Support