NVIDIA unleashes Pascal into gaming notebooks
NVIDIA's new GeForce GTX 1080, GTX 1070 and GTX 1060 have been unleashed into gaming notebooks.
Published
3 minutes & 57 seconds read time
NVIDIA flew a bunch of tech press and YouTubers out to London for the announcement of its Pascal-based GeForce graphics cards making their way into gaming notebooks. During the event, NVIDIA announced that the GeForce GTX 1080, GTX 1070 and GTX 1060 would be finding their way into various gaming notebooks in all different shapes and sizes.
First, the specs: the top of the line GeForce GTX 1080 will feature 2560 CUDA cores and a 1733MHz boost clock with 8GB of GDDR5X at 10GHz. This is the identical CUDA core count and VRAM on the desktop GTX 1080, while the GPU boost speeds are down from the ~2GHz or so on the desktop GTX 1080.
NVIDIA's GeForce GTX 1070 has been slightly bumped up from its desktop counterpart, with 2048 CUDA cores, 1645MHz boost clock, and the same 8GB of GDDR5 at 8GHz that is found on the desktop part. The mid-range GTX 1060 has the same specs as its desktop version, with 1280 CUDA cores and 1670MHz boost, with 6GB of GDDR5 at 8GHz.
The company is positioning the Pascal-based cards against their Maxwell counterparts, replacing the GTX 980 for notebooks with its new GTX 1080. The GTX 1070 replaces the GTX 980M, while the GTX 1060 replaces the GTX 970M - all from a TDP perspective.
If we consider the GeForce GTX 980M and GTX 970M had their VRAM clocked at 5GHz (down from 7GHz on the desktop GTX 980 and GTX 970), NVIDIA has been able to make a huge 50% increase in memory clocks, which is quite the achievement considering these are going into notebooks.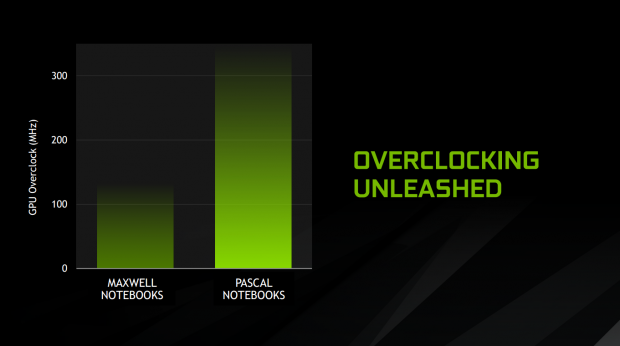 NVIDIA overclocked the GTX 1080-powered notebook it had at the event to over 2GHz, which is yet another display of horsepower and efficiency within the GP104 GPU now that it's being pumped into gaming notebooks. NVIDIA said that factory overclocked gaming notebooks with the GTX 1080 will be made available instantly, while factory overclocked gaming notebooks powered by the GTX 1070 and GTX 1060 would be a little further away.
Tech Specs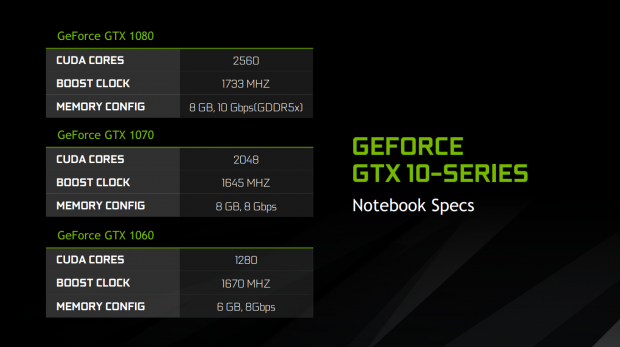 NVIDIA explained that there were numerous changes with the electrical and power designs of the Pascal-based GeForce graphics cards for notebooks, with dual-FET power supply, and more. The dual-FET power supply allows the system to have a much higher power density, which in turn, allows for more power to be used in a smaller area - you know, like a gaming notebook.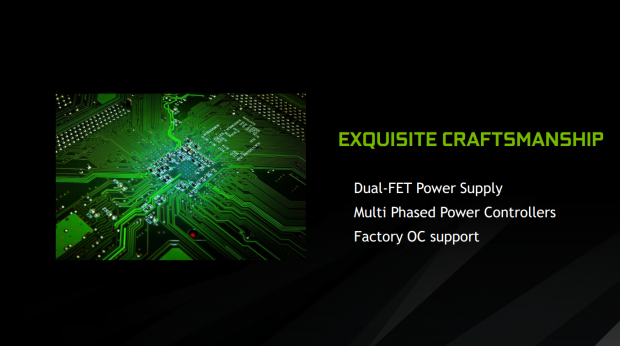 NVIDIA has also used multi-phase power controllers, and includes factory OC support.
What About Performance?
NVIDIA only had a few games for us to benchmark, and strangely only had Tomb Raider, Middle-earth: Shadow of Mordor and BioShock Infinite installed on their gaming notebooks. Performance wise at 1080p, the GTX 1080 was capable of around 117FPS in Tomb Raider, 150FPS in Shadow of Mordor and 180FPS in BioShock Infinite.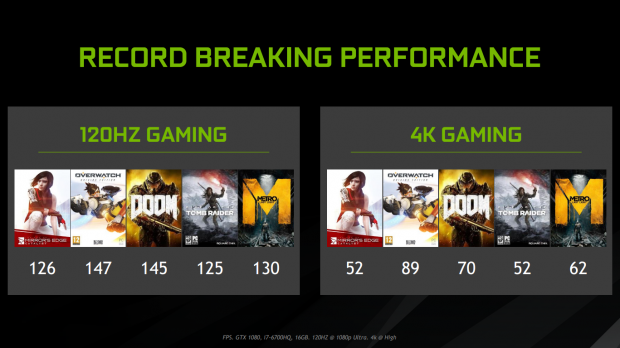 The cheaper GeForce GTX 1070 was not far behind, with 103FPS average in Tomb Raider, 125FPS in Shadow of Mordor and 175FPS in BioShock Infinite. All of the games were run at 1080p, with very high settings enabled. The GTX 1070-powered gaming notebook was running an Intel Core i7-6820HK while the GTX 1080-powered machine was running a Core i7-6700.
We will be securing ourselves some new gaming notebooks in the very near future, so you'll be hearing more from us when we get some hands-on time with the machines.
GTX 10 Series Notebooks In Action
We took a bunch of shots of some new NVIDIA GeForce 10 series powered gaming notebooks, with NVIDIA displaying units from the likes of MSI, ASUS, GIGABYTE and more.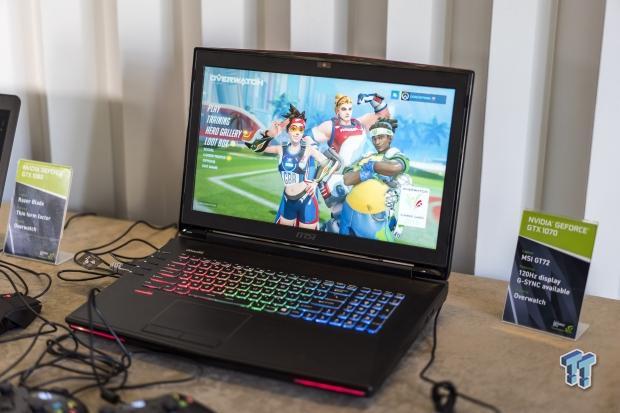 MSI's new GT72 gaming notebook, powered by the GeForce GTX 1070 and rocking a beautiful 17-inch 120Hz display with G-Sync enabled. It was liquid smooth, and as a huge performance and high refresh rate monitor enthusiast, this is one of the most impressive gaming notebooks I've ever used.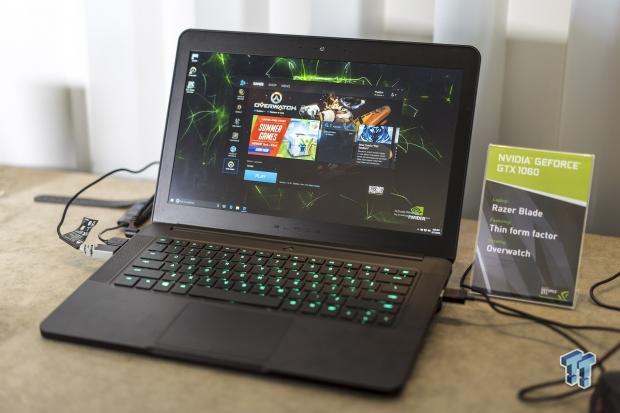 The new Razer Blade, powered by NVIDIA's GeForce GTX 1060. It was just as thin as we've been accustomed to with Razer Blade notebooks, but with the GTX 1060 you can crank all the bells and whistles in your games up to 1080p and still maintain 60FPS.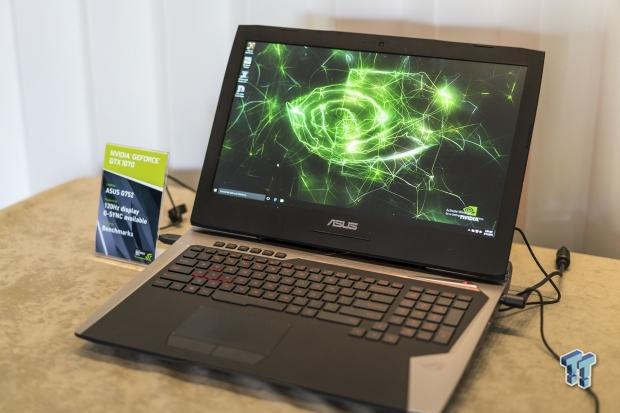 ASUS had their new G752 gaming notebook on display, which also rocked a 120Hz-capable refresh rate and was buttery smooth to use.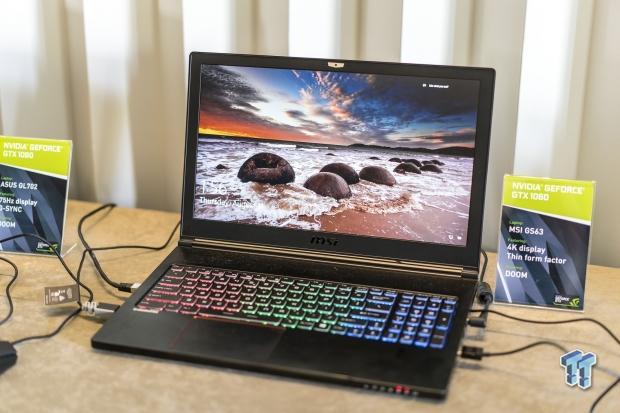 4K gaming isn't going anywhere, with the new MSI GS63 keeping it nice and thin - which I really dug the feel and look of, while using a 4K display.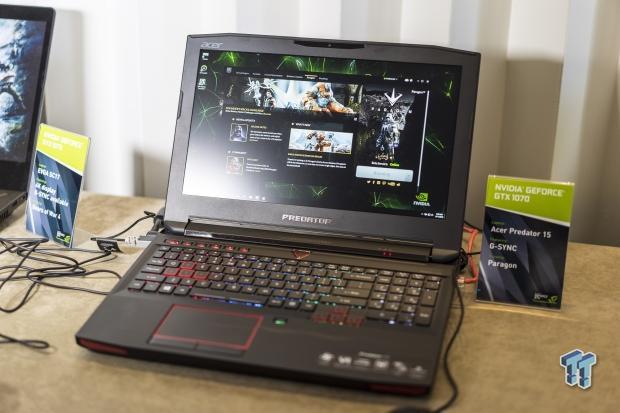 Acer's new Predator 15 gaming notebook was also on display, powered by a GeForce GTX 1070 graphics card.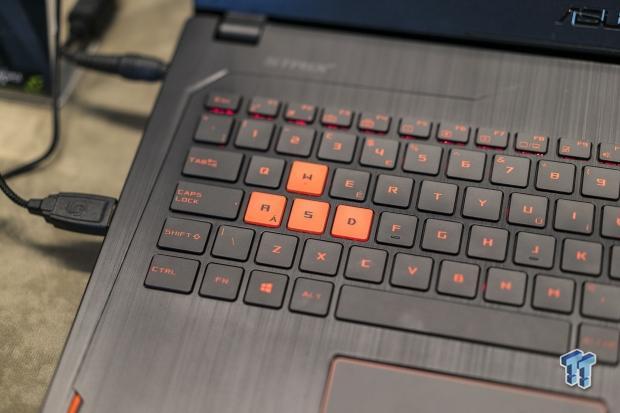 The WASD keys look great, don't they?
Final Thoughts
NVIDIA has done it again, they've shaken up the gaming notebook market with their desktop GeForce GTX 10 series graphics cards with nearly no compromises. We're looking at desktop class performance that will handle 1080p at 120Hz or 4K at 60Hz inside of a gaming notebook.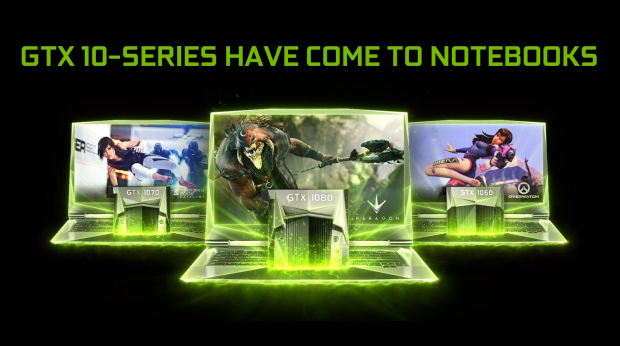 There's one for everyone, so if you can't afford the top of the line GTX 1080-powered notebooks, the GTX 1060-powered notebooks will still be capable of 1080p 60FPS. Not only that, but there are some really slim offerings in the form of the new Razer Blade for example, which rocks a 1080p display and GTX 1060. More than enough to run games maxed out right now, or if you're playing something like Overwatch you could turn on DSR and render 1440p or above, on your 1080p 60Hz display.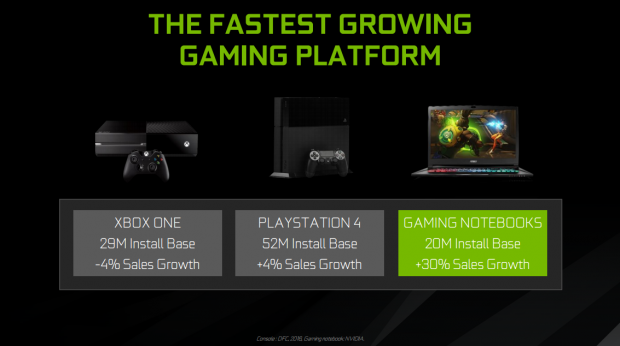 All in all, NVIDIA is really killing it with gaming notebooks right now, commanding a huge 20 million install base. There has been a 30% sales growth over the year, which is great considering even Microsoft and Sony with their Xbox One and PS4 consoles, respectively, are only seeing a 4% sales growth and they're priced at under $400.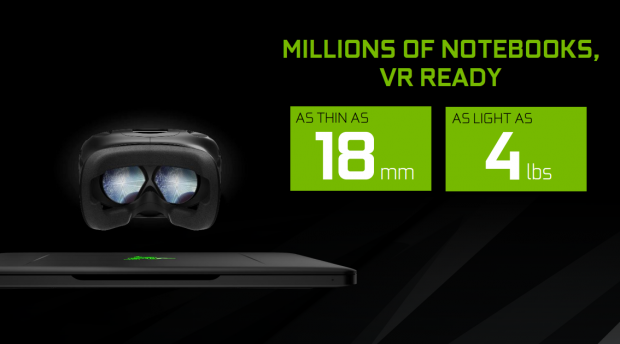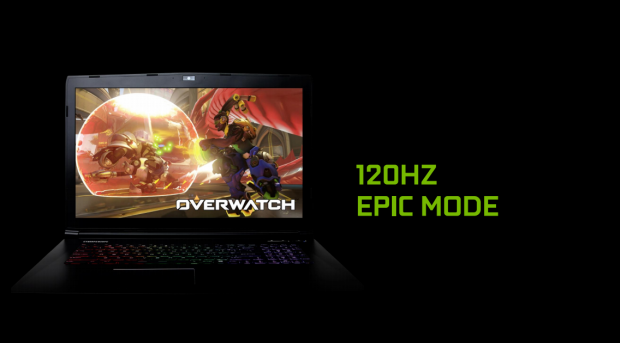 Desktop-class performance, VR-ready gaming notebooks and the 120Hz 'Epic Mode' displays. Oh boy, what a time to be alive.
Related Tags