Final Fantasy 15 possibly delayed until November 29
Final Fantasy 15 could be delayed to November, but it's actually a good thing.

Published Sun, Aug 14 2016 12:10 PM CDT
|
Updated Tue, Nov 3 2020 11:58 AM CST
Despite the publisher hard-locking a September release date ahead of E3 2016, the insanely anticipated RPG could be delayed as much as two months past its initial schedule.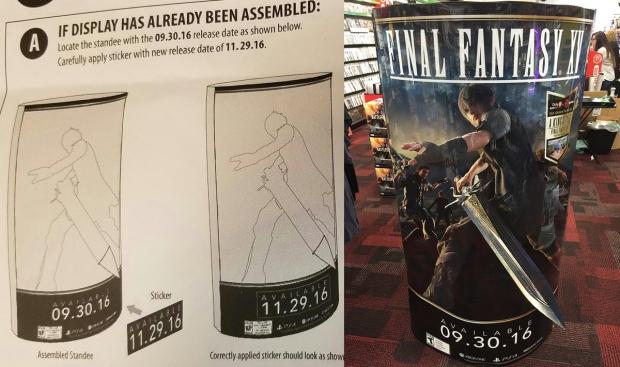 Square Enix has delayed Final Fantasy 15 many times now, and it looks like we're getting yet another one. According to alleged leaks, GameStop employees have received instructions to put stickers over the original September 30 release date on Final Fantasy 15 promo posters. The stickers now list FF15 for a release on November 29, 2016.
Gamenesia reports that GameStop employees have been told not to put up Final Fantasy 15's new release date promos until today on August 14, so expect to see Square Enix reveal the news sometime today or tomorrow. This report has been corroborated by multiple sources, including Kotaku's Jason Schreier and Gematsu.
While I am disappointed about the delay, I want Final Fantasy 15 to be good, and Square Enix should take all the time they need. We've been waiting nearly a decade for this game, and two more months isn't going to hurt our resolve at this point. After pouring hours upon hours in No Man's Sky, I'm all too familiar with the let downs that come with an unfinished game.
Then again gamers have a right to be upset. Too often we're baited by the old "pre-order and delay" scheme. This time around, however, I think the delay was earnestly needed and Square Enix decided to push it back to ensure quality.
Remember what Miyamoto said: "A delayed game is eventually good, but a rushed game is forever bad."
Honestly I was worried about the E3 2016 footage anyway. The Xbox One Titan battle looked clunky and awkward, and I hope that Square can shore up those rough edges before release. The FF15 Platinum Demo was pretty bad too and I really wish the final game would be more like Episode Duscae.
In any case, don't get too surprised when the publisher reveals the new November release date. We'll be sure to keep you up to date with the latest info about FF15, and you can check our past coverage here.
Related Tags