Quake Champions could be free-to-play
The arena shooter's triumphant return may not be so triumphant after all.

Published Mon, Aug 8 2016 3:41 PM CDT
|
Updated Tue, Nov 3 2020 11:59 AM CST
Much to the huge disappointment to its hardcore fanbase, Quake Champions could very well end up being a free-to-play arena shooter.
id Software turned quite a few heads when Quake Champions was announced at E3 2016. The multiplayer-only online arena shooter seemed to resurrect the long-lost art of blistering-paced visceral action, promising "no limitations" 120Hz action with unlocked frame rates. But all of that hype could be crushed by soul-sucking microtransactions.
PC Gamer recently asked id Software's Tim Willits about Quake Champions being retail or F2P, and here's what he said: "I can definitely say that is a really hard problem, and so for us we're trying to figure out exactly what people want more of, and how they perceive it. And I'm not even trying to be cagey! It's not like we know and just aren't trying to tell anybody, we don't know and we're still trying to figure this out."
Considering Quake Champions is "aimed at hardcore fans", going free-to-play for the PC exclusive shooter would be a mistake. At the same time, however, a F2P arena shooter would be infinitely more accessible than a buy-to-play game, and id Software would likely make quite a bit of cash with microtransactions--even if they were just cosmetics. The game is PC only, though, so free to play isn't nearly as attractive since its locked to one platform.
As someone who watched Halo devolve into a virtual casino, I would hate to see this happen to one of the most beloved IPs in FPS history, regardless if it's good for the company or not.
In any case, Quake Champions won't be coming out any time soon. "It's going to come out after a really, really long closed beta. I'm telling people now, it's going to be a long beta," Tim Willits confirmed.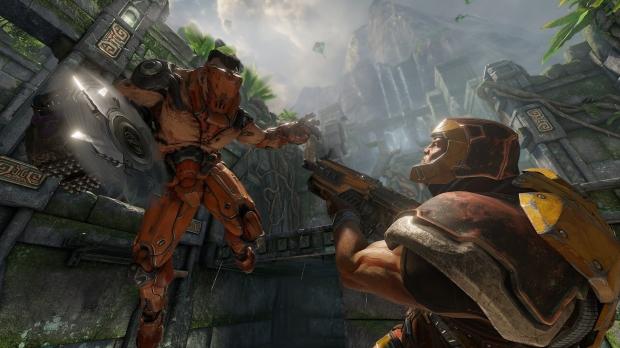 Related Tags