Introduction & A Big Change For Gaming Notebooks
NVIDIA flew us out to Los Angeles to have some one-on-one time with us and an exciting new development for gaming laptops. We had a feeling it was coming. They showed us the GM204 GPU, the same GPU that powers the desktop video card in the form of the GeForce GTX 980, inside of a gaming notebook.
Exciting, right? Well, that's only part of the puzzle.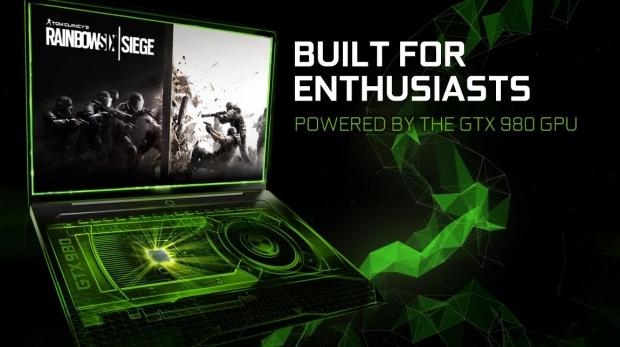 I thought that we would just see a thermally-throttled GM204 GPU being used, but that was only part of it. NVIDIA has unveiled a GeForce GTX 980, minus the M, inside of a notebook that is overclockable. Yes, overclockable. Not only do some of the vendors like MSI, ASUS and GIGABYTE offer up Intel's new Skylake-powered Core i7-6700K so you can overclock your CPU, but the GTX 980 has some huge OC headroom too.
Overclocking a GPU inside of a notebook is something quite new, and furthermore, it's overclockable by 10-15% minimum. NVIDIA showed us in person, overclocking the GTX 980 inside of an upcoming MSI gaming notebook. The overclock was completely stable to around 15-20%, but we'll get to that soon in more detail.
GM204 In a Notebook?! Yeah.
The most surprising thing is NVIDIA managed to put the GM204 GPU, 4GB of GDDR5 clocked at 7GHz and used 4-8 phase power supplies on a small board. The thing that surprised me the most is NVIDIA didn't need to use High Bandwidth Memory (HBM) to get it down this small, unlike AMD with its Fiji-powered range of desktop video cards.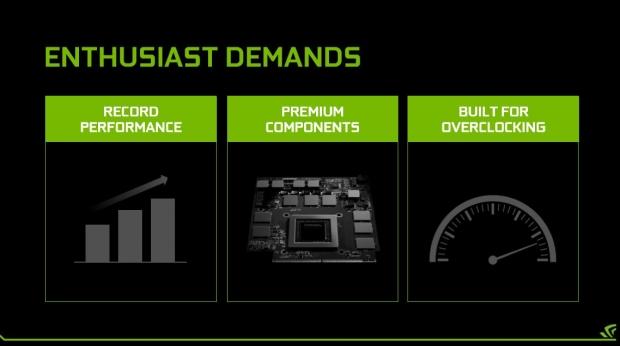 NVIDIA used select GM204 GPUs, the ones that are more capable of being used inside of a notebook while using the same GDDR5 found on desktop counterparts. Nothing but premium components were used, offering some truly insane performance. The GTX 980 for notebooks was built for overclocking, which is truly a first for notebook GPUs.
Performance, Power, and Overclocking
Desktop GTX 980 Performance
Up until now, the fastest mobile GPU that you can find in a gaming notebook is the GeForce GTX 980M. The GTX 980M is a powerful offering, but it's still 30-40% slower than the desktop GTX 980. This is where the new GTX 980 comes into play, as it offers a huge leap in performance over the mobile GTX 980M.
NVIDIA had two systems side-by-side, one of them powered by a reference GeForce GTX 980 while the other was a Clevo branded gaming notebook with a GTX 980 inside. They ran a slew of benchmarks in front of us, including Tomb Raider, Shadow of Mordor and 3DMark. Every single benchmark had the new mobile GTX 980 neck and neck with the desktop GTX 980. The scores were only off by less than 1% or 1-2FPS tops.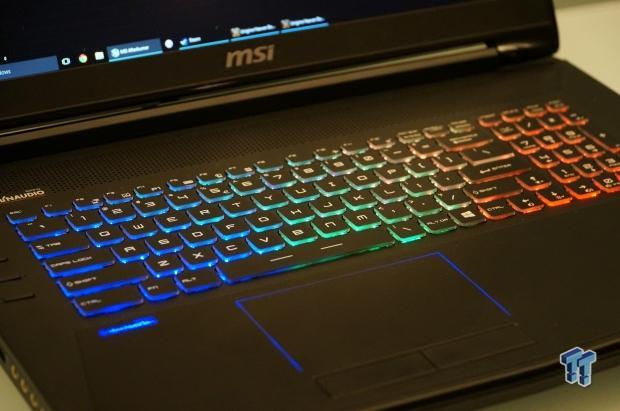 If you were to run a blind test, I could bet good money that no one could tell the difference between the desktop GTX 980 experience, and the mobile GTX 980 laptop.
Just quickly, the desktop GTX 980 in Shadow of Mordor at 1080p scored 91.4FPS while the mobile GTX 980 was barely behind it with 90.8FPS average. The difference would be absolutely nothing to your eye. Moving to Tomb Raider, the desktop GTX 980 scored 80FPS average while its mobile counterpart scored 78FPS.
Power Consumption
Power consumption is something that we'll be going into when we get our first GTX 980-powered gaming notebook, but we should be looking at under 200-250W for the entire notebook. A full desktop gaming PC powered by a GeForce GTX 980 will use 250-300W, but a mobile GTX 980-powered gaming laptop is magnitudes smaller, and even more portable.
Overclocking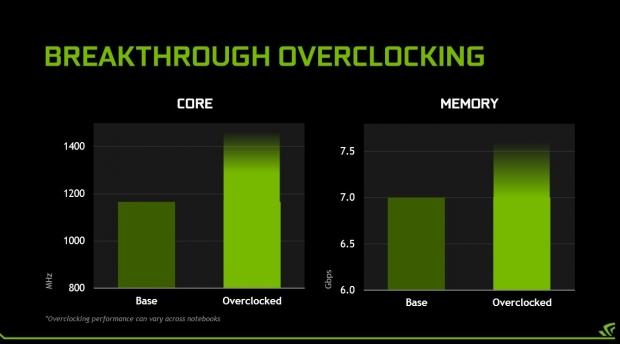 Overclocking is a big step for gaming notebooks. The new gaming notebooks that we'll be seeing float onto the market will have overclockable Intel Core i7-6700K processors, but the GTX 980 is also overclockable, something we witnessed in person.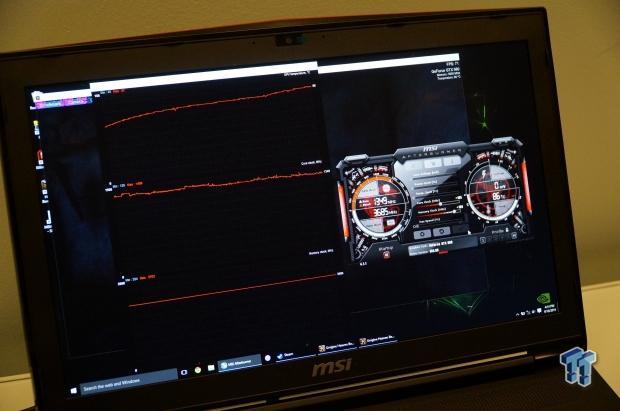 When it came to overclocking, NVIDIA showed off a beautiful MSI gaming notebook that was overclocked from its stock Boost clock of 1215MHz, all the way up to 1349MHz stable. It was simply unbelievable to see in person; a GPU inside of a gaming notebook be overclocked this far and be perfectly stable.
NVIDIA can scale the Base clock of the GTX 980 from just under 1200MHz to over 1400MHz (depending on the laptop) and even the 4GB of GDDR5 has some wiggle room. The GDDR5 is overclockable from its base frequency of 7GHz to over 7.5GHz.
World's First VR Notebooks & Surround Gaming On-The-Go
The World's First VR Gaming Notebooks Are Here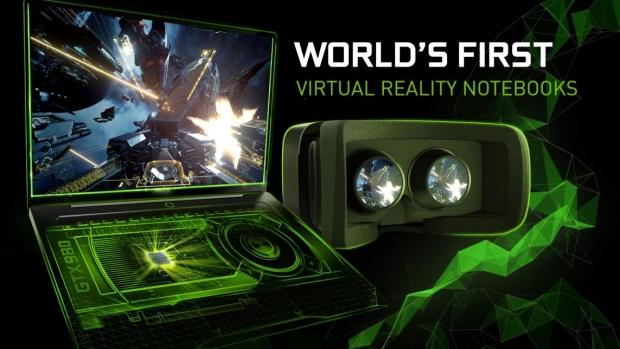 NVIDIA knows that virtual reality is demanding, so for gaming notebooks, you're going to want to grab the GTX 980-powered models. One thing that I noticed is that NVIDIA has shifted away from using the Oculus Rift in its VR recommendations (but still uses the Rift for its VR demos) and moved to the new Valve-backed HTC Vive.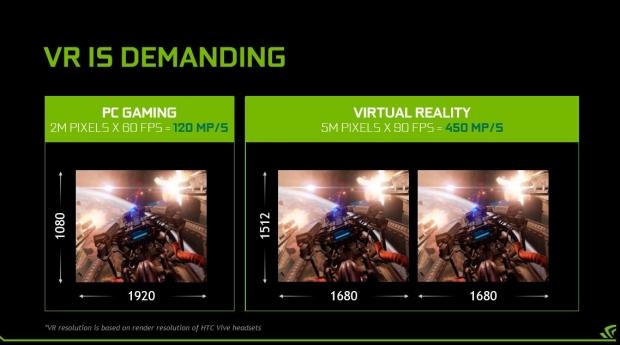 VR gaming is much more strenuous on a gaming PC compared to gaming at 1080p. NVIDIA compared 1080p gaming to the HTC Vive, which features two 1680x1512 screens, requiring 450 million pixels per second being rendered, compared to the 120 million pixels per second being rendered by a 1080p monitor.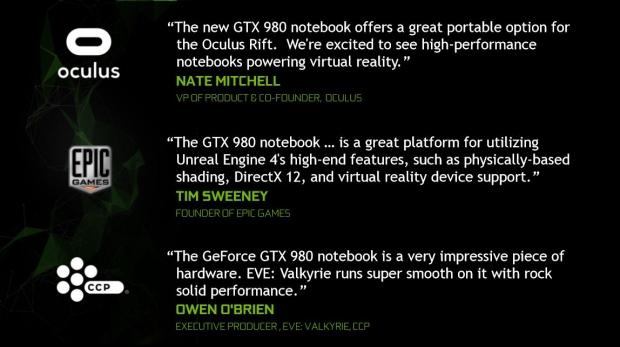 NVIDIA has some quotes from some of the best in the industry for the new GTX 980. Oculus' co-founder and VP of Product Nate Mitchell, Epic Games' founder Tim Sweeney, and the Executive Producer on one of the best VR games so far, EVE: Valkyrie.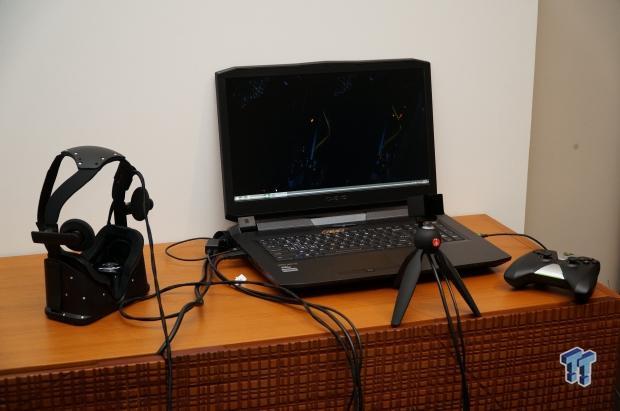 I tried out EVE: Valkyrie on the GTX 980, and it was liquid smooth. Again, if you were playing, and it was a blind test where you couldn't see what was powering the Oculus Rift, you would not guess that this was a gaming notebook.
Triple-Monitor Gaming? No Problem.
Now that gaming notebooks have a much more powerful GPU to work with, NVIDIA is ushering in the world of Surround Gaming with the GTX 980.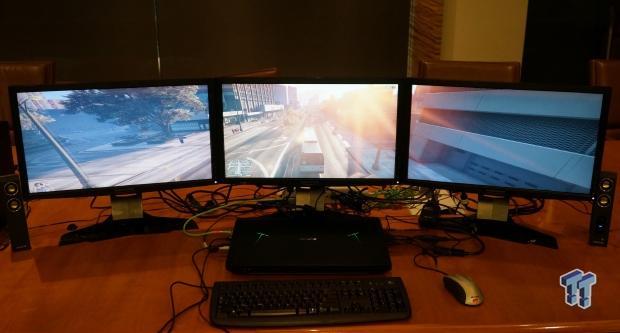 We witnessed a triple-monitor setup on the Clevo-made GTX 980-powered gaming notebook, running Grand Theft Auto V at 5760x1080. This setup is no easy feat, but the GTX 980 carved through it like butter. It was nothing for the mobile gaming powerhouse, which is truly incredible to see. It was only a few years ago that desktops could run triple-monitor setups from a single GPU, and now we're at the tail-end of 2015 seeing it done via a notebook. Impressive stuff.
Introducing the new GTX 980 Powered Gaming Notebooks
These are the new Gaming Notebooks Powered by the GeForce GTX 980
In the coming weeks, we're going to see many new GTX 980-powered gaming notebooks unveiled from various manufacturers. These will include models from ASUS, MSI, GIGABYTE, and CLEVO.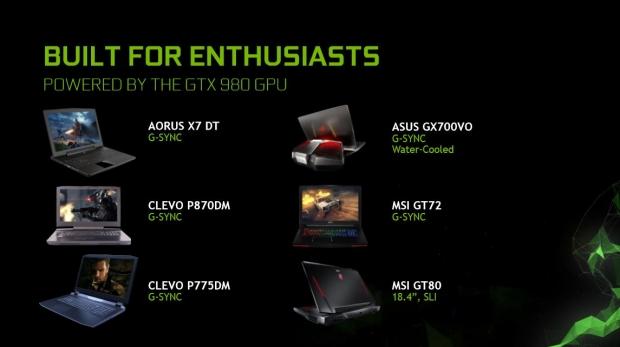 The models that we'll see are the GIGABYTE AORUS X7 DT, and the ASUS GX700VO, which is the water-cooled gaming laptop that we were drooling over not too long ago. CLEVO will have two models, the P870DM and P775DM. MSI will unleash two models; the GT72 and the GT80. The GT80 will be the beast of all beasts, packing an 18.4-inch 1080p display and two of the GeForce GTX 980s in SLI. Oh, YES.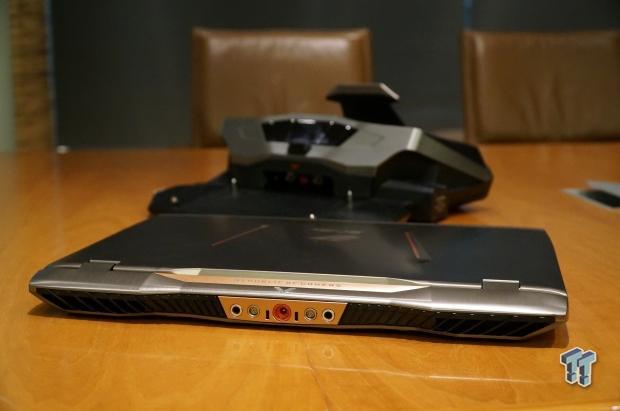 The ASUS GX700VO with the huge docking station that packs the water cooling unit behind it.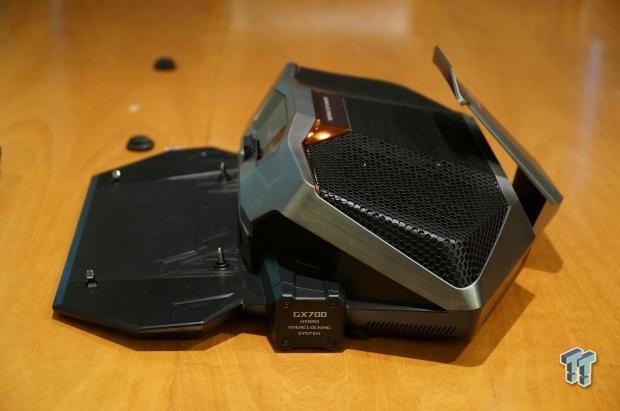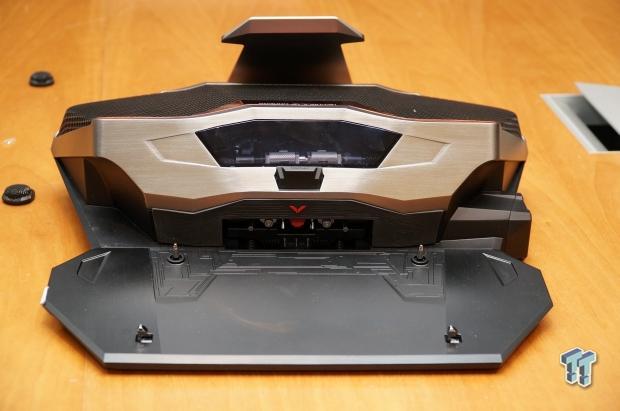 A closer look at the docking station for the ASUS GX700VO.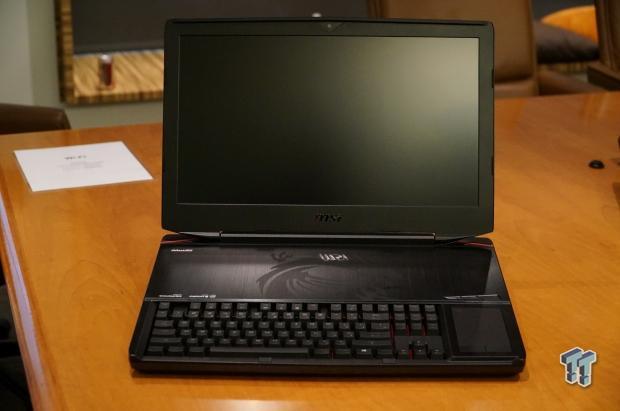 Here we have the insane MSI GT80, which has two GTX 980s in SLI inside.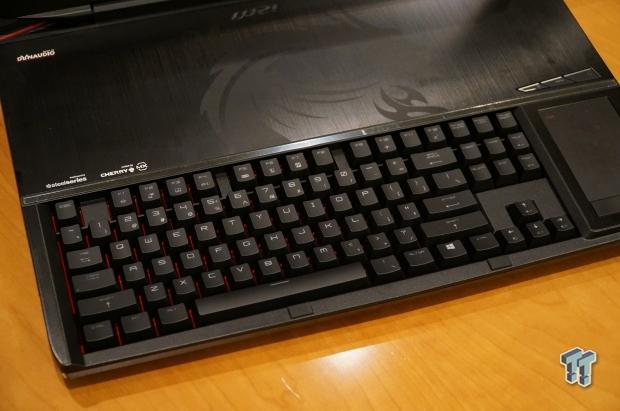 We have a Cherry MX-based mechanical gaming keyboard from SteelSeries on the MSI GT80.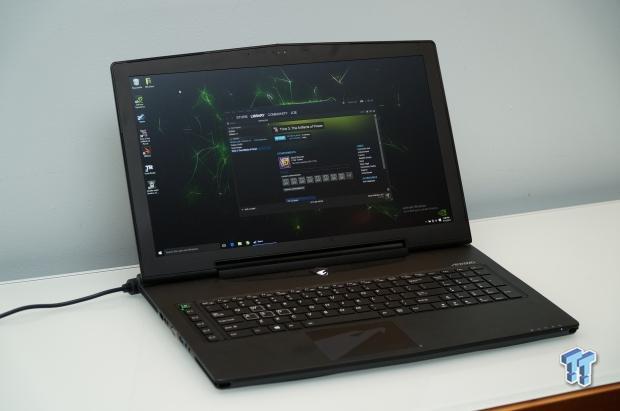 GIGABYTE has the thinnest gaming laptop powered by the new NVIDIA GeForce GTX 980 with its AUROS X7 DT.
The MSI GT72 is a beautiful laptop, with an RGB keyboard that draws your eyes to it.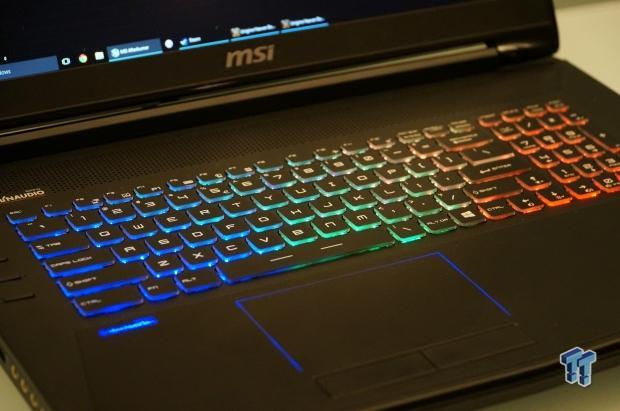 A closer look at the RBG keyboard.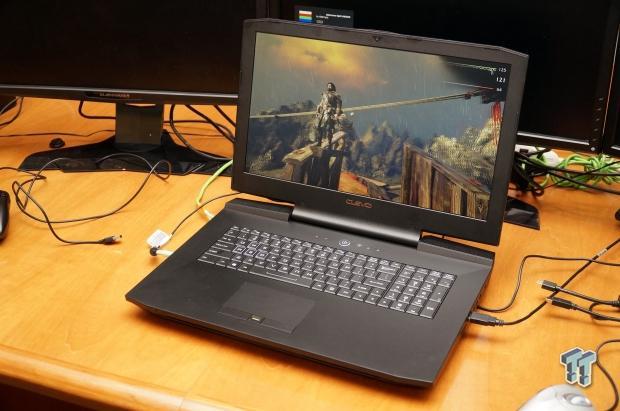 The CLEVO model was powering the triple-monitor setup from the single GTX 980.
Final Thoughts
NVIDIA has made some big strides in its Maxwell architecture because one year ago we were eyeing down the desktop GM204 part, which became the GeForce GTX 980. Now we're looking at the mobile GTX 980 which is just as powerful, inside of a notebook. Hot damn.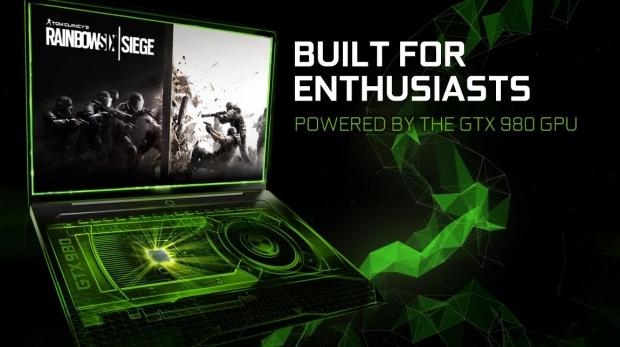 We're looking at desktop GTX 980 performance, enough to handle VR and triple-monitor gaming. It's insane to think where we'll be in a year from now, but I think NVIDIA is only just beginning to scrape the surface of what's capable inside of a small system.
But one thing struck me; NVIDIA had effectively shrunken down its desktop GTX 980 and slapped it onto a much smaller PCB. It has the same performance, the same GDDR5, the same... well... everything. But, it's just insanely small. The engineers over at NVIDIA have to be congratulated on this, as it's a huge achievement.
Something hit me during my trip to LA, though. NVIDIA has done this with GDDR5, and not HBM. AMD was able to shrink a desktop video card by half with HBM on the Fury products and the R9 Nano, but NVIDIA has shrunken it down again, and into a gaming notebook. All the while using the tried and true GDDR5 VRAM. What will NVIDIA be able to achieve with Pascal and HBM2? The future of GPU technology has never been more exciting, folks.
The future for NVIDIA's mobile products is even more exciting. They can now effectively sell gaming notebooks with the same power as desktop gaming PCs, which hasn't been something they've been able to say before. Sure, the GTX 980M mobile GPU was powerful, but it was still 30-40% slower than the faster desktop GTX 980 GPU.
Now NVIDIA can offer VR-capable gaming notebooks, and with the launch of the Oculus Rift and HTC Vive right around the corner, NVIDIA has placed itself into a very, very lucrative position. The question is, where is AMD on the mobile front? Even with HBM, AMD is completely incapable of competing with NVIDIA on the mobile GPU world right now, and that should be something worth writing headlines over.
NVIDIA is making huge inroads with mobile gamers, where they now associate gaming notebooks with NVIDIA and not AMD. While NVIDIA secures 82% of the discrete GPU market, it leaves AMD fighting for scraps. Now that NVIDIA virtually dominates the mobile gaming market, AMD - even with its fan dangled HBM technology - simply can't compete.
If you're in the market for a new mobile gaming powerhouse, you're going to want to wait a few weeks to grab one of the new NVIDIA GeForce GTX 980-powered gaming notebooks.