AMD has been pushing Polaris for the last 6 months or so, leading up to the launch of the Polaris 10-based Radeon RX 480, but that doesn't mean the company is shying away from its next architecture; Vega.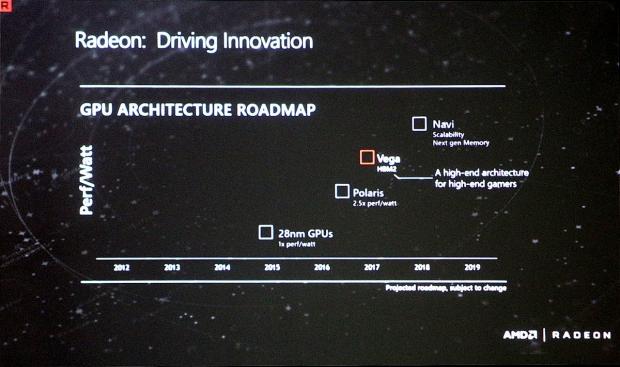 AMD's next-gen Vega architecture is due in 2017, and during the Radeon RX series launch in Australia, the company showed off the same GPU roadmap we've seen at previous events - but also said something interesting. AMD said that the next-gen Vega architecture is a "high-end architecture for high-end gamers".
Remember that Vega will be using HBM2 technology, so we should expect a rather large leap over the Polaris architecture when it comes to specs, speeds, and technology. Vega will continue its rampage into the 14nm FinFET process, while the architecture to succeed Vega, 'Navi', is due in 2018. We don't know much about Navi just yet, but AMD teases that it will feature 'next-gen memory' - which is something I really need to know about. What is 'next-gen memory' when HBM2 is already incredible with 1TB/sec+ bandwidth?