EA shows new Mass Effect Andromeda footage, no release date revealed
Mass Effect: Andromeda gets new gameplay, but we didn't get any real new details or an official release date.

Published Sun, Jun 12 2016 3:51 PM CDT
|
Updated Tue, Nov 3 2020 11:59 AM CST
E3 2016 - BioWare took the stage to showcase one of the most anticipated games in EA's upcoming lineup, but instead of getting a massive gameplay trailer, we only got a small snippet of footage.
Honestly, I expected more from EA's Mass Effect: Andromeda footage. EA has talked more about its eSports focus than it has one of its most hyped future games, and we didn't even get an official release date for the sci-fi RPG. BioWare's Aaron Flynn did talk the game up, of course, promising that Mass Effect: Andromeda will leverage DICE's Frostbite engine to deliver unprecedented freedom and visuals. He also said something that gave me shivers: in this game, you're the alien.
"In Mass Effect; Andromeda, you are part of an ambitious expedition in the Milky Way Galaxy to help humanity find a new home. You travel millions of light years across the galaxy...to wake up. So what now? Everything is new. You encounter new species, new technologies. You have to be among the most courageous to make this journey; because in this galaxy, you're the alien. How far will we go? That question is also at the heart of Mass Effect: Andromeda," BioWare's Aaron Flynn said on stage.
"The original Mass Effect trilogy was an amazing story, and its the heart of what we do. But this...this is a whole new adventure. We're building on the things you love about Mass Effect: amazing stories and gameplay and now we're letting our imaginations run wild. This is a bigger adventure filled with a whole new cast of characters, and more freedom than we've ever given to a BioWare game before. And for the first time, it's all powered by Frostbite."
"This means you're going to see, hear, and feel Mass Effect like never before. That's our promise to you."
Sadly we didn't get any broundbreaking footage, teases, or reveals. BioWare says that more Mass Effect: Andromeda content will be revealed "this fall", so expect a major showcase at this year's Gamescom in September. All in all I'm kinda disappointed--I expected much more from BioWare. I will, however, be taking a closer look at the singleplayer trailer once the EA Play event is over with so we can digest all those new tidbits we were shown.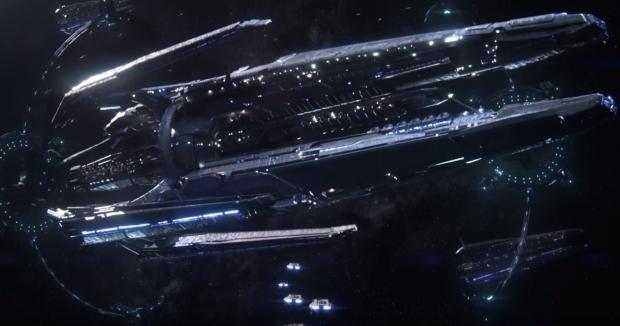 Related Tags