With Computex 2016 a little over a week away, GIGABYTE is getting out and ahead of the competitors with a much bigger tease of its beautiful new X99 motherboards, with its new X99 motherboards that will be compatible with Intel's next-gen Broadwell-E processors.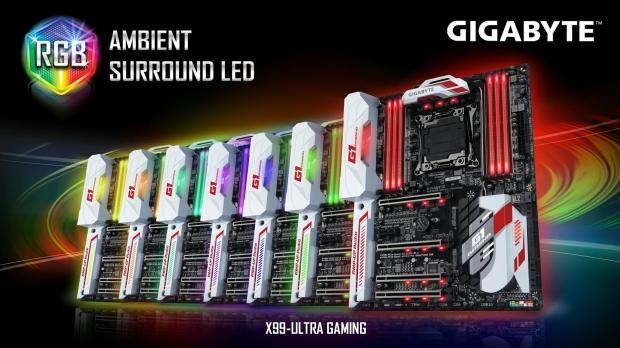 GIGABYTE X99 Designare EX, X99 Ultra Gaming and X99 SLI Phoenix motherboards will have various features and abilities - with the biggest feature of them all being that they'll work with the upcoming Broadwell-E processors from Intel. We'll also have updated I/O connectivity, with the X99 Designare EX motherboard taking the new flagship X99 motherboard spot.
GIGABYTE's new X99 Designare EX motherboard is a larger E-ATX form factor, with 8+1 phase PWM power, that will help power the Broadwell-E processor and its socket through a required 8-pin power connector. There are 8 x DDR4 DIMMs, with the entire motherboard being covered with a large heat sink that will keep those temps low during those all-night gaming or benchmarking/overclocking sessions. GIGABYTE has adopted an awesome-looking blue/white theme on the X99 Designare EX motherboard, with some RGB LEDs and a new feature called Ambient Surround LED that will let users customize colors on specific parts of the motherboard.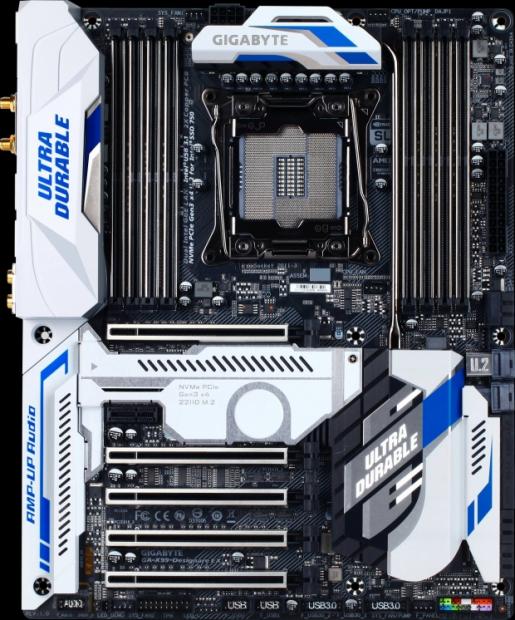 Storage wise, the X99 Designare EX motherboard will have 2 x U.2 slots, 2 x SATA Express slots, 8 x SATA 6Gbps ports, and an Ultra M.2 slot (capable of 32GB/sec) underneath the white shroud just below the first PCIe port. It'll also include 5 x PCIe 3.0 x16 ports, a single PCIe x1 slot, 4 x USB 3.0 ports, two USB 3.1 ports, and a single USB 3.1 Type-C slot. Dual LAN connectors are featured, wireless connectivity, DisplayPort 1.4 (which can do 8K) and a 7.1-channel HD audio jack.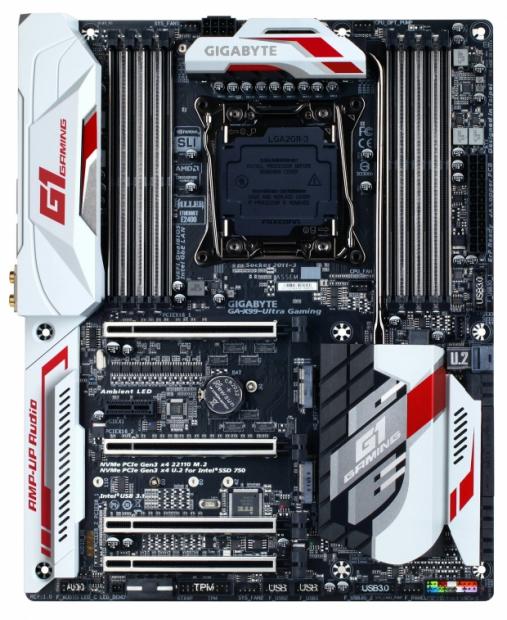 GIGABYTE's new X99 Ultra Gaming motherboard is a fast, yet afforable motherboard that takes most of the design queues from the X99 Designare EX motherboard, but taking a red/white color theme instead. We have 4 x PCIe 3.0 x16 ports with 1 x PCIe 3.0 x1 port, two M.2 slots, U.2 connectivity, SATA Express, and 8 x SATA 6Gbps ports. There's also 5 x USB 3.0 ports, 1 x USB 3.1 Type-A and USB 3.1 Type-C. The X99 Ultra Gaming board also finds itself with dual LAN ports, and 7.1-channel audio.
We'll hear and see more about GIGABYTE's new motherboards at Computex 2016 in just over a week's time.