UPDATE: Pricing info for the two collector's editions has been revealed. The Final Fantasy 15 Deluxe Edition will cost $89.99, whereas the Ultimate Collector's Edition will cost a whopping $269.99. Original story as follows.
Square Enix has officially revealed two collector's edition sets for Final Fantasy 15, showing off some awesome extras.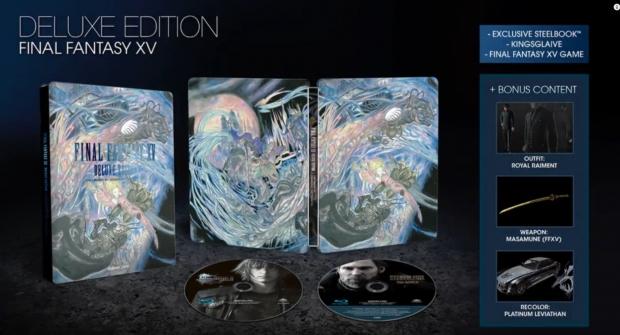 At the Final Fantasy Uncovered event, Square Enix showed off some snazzy special editions for Final Fantasy 15. First up we have the FF15 Deluxe Edition, which comes with:
A copy of the main game

A Blu-ray copy of FF15's CGI movie Kingsglaive

A beautiful steelbook stylized with artwork from Yoshitaka Amano

Three DLC items: the Royal Raiment outfit, a Masamune sword, and a Platinum Leviathan paintjob for Noctis' car
Last but not least is the huge FF15 Ultimate Collector's Edition, which is limited to only 30,000 copies worldwide. This edition includes:
A copy of the game ensconced in the same beautiful steelbook with Yoshitaka Amano artwork

An exclusive Noctis action figure from Kai Play Arts

An exclusive steelbook for a special soundtrack and the full FF15 Brotherhood anime series

A Blu-ray copy of Kingsglaive, and a hardcover 192-page artbook

The Royal Raiment outfit, Masamune sword, Platinum Leviathan paintjob

Travel pack

Camera kit

Angler set

Gourmand set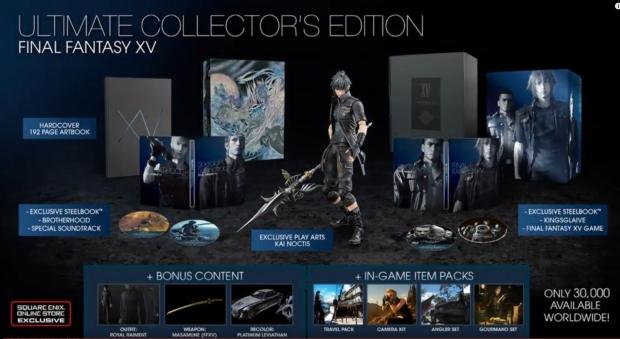 Gamers can pre-order the editions starting at 12am EST/9PM PST exclusively at the Square Enix Online Store, and pricing has yet to be announced. Both editions will release along with the game's official launch on September 30, 2016 across PS4 and Xbox One.