MWC 2016 - Samsung unveiled its new Galaxy S7 and Galaxy S7 edge smartphones yesterday, with Jeff calling them a "surprising refinement" from last year's Galaxy S6 and S6 edge.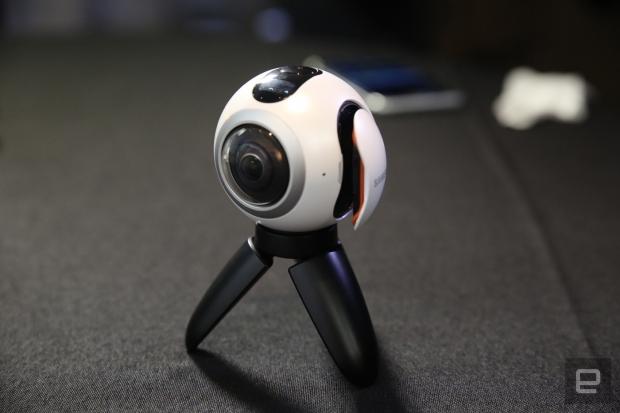 Included in the announcement was the new Gear 360 camera, which captures 360-degree videos and photos to playback through the Gear VR - which comes free if you pre-order the Galaxy S7 or S7 edge smartphones. The Gear 360 features two 15-megapixel sensors, which are both find behind a fisheye lens, accompanied by a small 0.5-inch display.
Samsung's Gear 360 camera captures 3840x1920 @ 30FPS - which isn't exactly 4K, but it's damn close. As for images, it captures 30-megapixel images, with a resolution of 7776x3888. With no on-board storage, you'll need a sizable microSD card to keep the Gear 360 happy during those video-taking or photo-taking sessions. You can sync your new Galaxy S7 or Galaxy S7 edge to the Gear 360 with remote control features, and you'll be able to preview the video or images from the Gear 360, in real-time on your Galaxy S7 smartphone. Any videos taken on the Gear 360 can be viewed, stitched together, or saved directly to a Galaxy S7 smartphone.