Bethsoft teases Fallout 4 DLC and huge Survivor Mode changes
Fallout 4's DLC will be unveiled 'soon', and Survival Mode is getting a 'complete overhaul'

Published Thu, Feb 11 2016 5:32 PM CST
|
Updated Tue, Nov 3 2020 12:01 PM CST
Bethesda has delivered a few delicious teases on the future of Fallout 4, getting Commonwealth survivors all excited about DLC and in-game tweaks.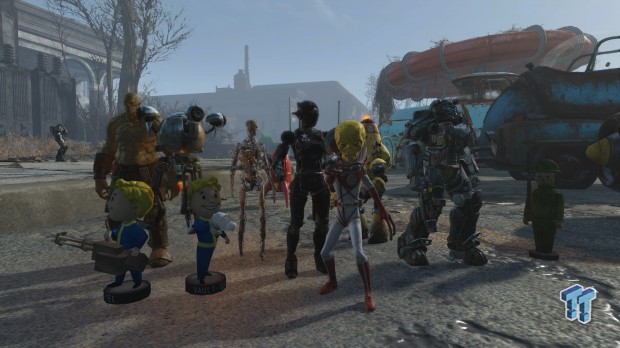 The studio has teased that DLC news will be arriving quite soon, along with a few dramatic changes to Fallout 4's hardest difficulty. That's right, we're talking about Survivor Mode. Bethsoft is going to "completely overhaul" Survivor Mode to make it much more challenging, adding in the need to eat food and drink water, sleep, and treat infectious diseases. This will add a fresh new take on the end-game experience, and add in a whole new wave of immersion to boot.
"We know you're ready to learn what's coming for Fallout 4 DLC. We're not far off, and we think you'll be excited," reads the first Tweet. "We're also doing a complete overhaul of Fallout 4 Survival mode. Food, sleep, diseases, danger and more. Stay tuned," reads the second.
While no one knows what Fallout 4's season pass DLC will be, that hasn't stopped us from coming up with a few ideas. Personally, I've toyed with the idea of a Thunderdome-type DLC that's centered (at least in part) around the Combat Zone, letting players go into the ring and fight for caps. Sure that doesn't sound like enough content for a fully-fledged DLC, but it'd be fun nonetheless.
The other idea is an underwater DLC in the vein of Sealab, maybe with a few aquatic vehicles run by the Brotherhood of Steel (or Institute) and underwater Vaults (or even biodomes!). Everyone already thinks that an underwater DLC is coming because of the secret harpoon gun, and it'd be great to put all those radioactive seascapes to good use.
As for the changes for Survival Mode, Bethesda is right on the money there. Basically the studio is baking in a feature we'd normally only get with mods. Having to actually eat all of the Cram and Dandy Boy Apples we come across will add a nice spark of realism to the game, and actually give a use to those items.
Bethesda will probably reveal DLC and console mod info all at once, and they've even said that news on console mods is "coming soon".
Related Tags