Like most AAA games, Fallout 4's game code is littered with secrets and hidden gems. Quite often we see dataminers and code-combers unearth buried treasures, and now an intrepid Nexus modder by the name of xxdeathknight72xx has dug up one of the most hilariously fun weapons Fallout 4 has to offer.
The hidden Fallout 4 weapon is a harpoon gun that uses powerful pressure to propel cruel harpoons into the faces and heads of unsuspecting baddies. Using the harpoon rifle in VATS is quite amusing and honestly I have no clue why Bethesda scrapped the gun. Maybe it's an item that will be unlocked by upcoming DLC? I hope so, because the weapon is so immensely satisfying thanks to its headshot animations, which rips an enemy's head clear off their shoulders and pins it to a nearby object to make a macabre trophy of sorts.
In order to use the hidden gun, you'll need to download an install a special mod. If you plan to start the massive journey that is mod collecting, be sure to pick up the Nexus Mod Manager to keep things organized. To enable mods you'll have to do some tinkering with the game's .ini files. Here's a quick step-by-step walkthrough on how to get started.
The hidden harpoon gun replaces the in-game Railway Rifle, so it's fairly easy to spawn. After you've downloaded and properly installed the mod, just type in "player.additem 000FE268" into the console command box and the weapon will spawn. The gun also uses Railway Spikes for ammo, so fire up the console again and type in "player.additem 000FE269 100" to get 100 harpoons.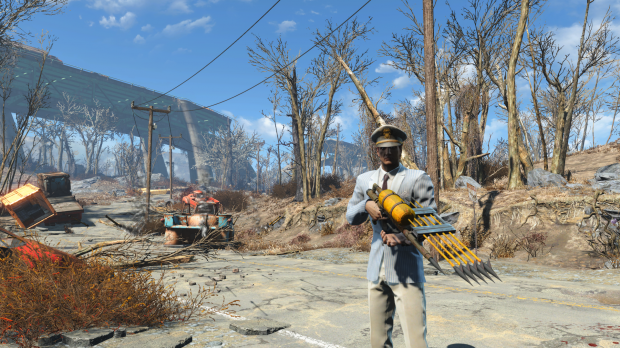 Strangely enough, the aquatic rifle emits bubbles here and there when it fires, suggesting that it might have been a weapon to use against underwater enemies. Maybe at some point Bethsoft will add underwater interactions in new DLC packs? Also, be sure to use the player.additem command instead of the spawn command when you're creating the harpoon ammo, as the spawn command just freezes them in the air.
Sadly, the aquatic rifle is exclusive to PC at the moment. Bethesda does plan to bring mod support to the PlayStation 4 and Xbox One, but that will come next year, and will likely be considerably toned down and restricted.
It'll be interesting to see what other weapons and gear that modders can dig up next, and what secrets lay waiting in Fallout 4's code. The Fallout 4 Nexus has already created a slew of awesome mods for the PC flavor, adding in extras like expanded settlements, graphical upgrades, dialogue overhauls and much more.