Could Fallout 4 be getting a Thunderdome arena DLC?
Cut Fallout 4 content shows what could have been, and hints at possible plans for the game's future DLC packs.

Published Mon, Jan 18 2016 3:49 AM CST
|
Updated Tue, Nov 3 2020 12:02 PM CST
Careful scanning of Fallout 4's files have unearthed pieces of a game that almost was...or pieces of a game that will be. Modders have dug up key details on scrapped content, with the most famous case being the cut 20 Leagues Under the Sea quest, which apparently centered around a submerged vault, and explains the game's hidden harpoon gun. Users speculate that the underwater adventure could be part of a new aquatic DLC pack, and bring something I've wanted to see for a long time: Sealab-style undersea vaults.
Fast-forwarding to the present, a new batch of cut audio files hints that Fallout 4 could be getting a Thunderdome-style arena where players duel to the death for cold, hard caps. Fallout 4's Combat Zone is the Commonwealth's answer to the Colosseum, sporting a metal cage where NPC's beat the snot out of each other. I have to admit that when I first saw the Combat Zone, I fully expected to put up some caps, crack my knuckles, and bare fist-fight a Super Mutant, but Bethesda had other plans. Sadly, the released version doesn't let you get in on the action, but at one point the Combat Zone was something more.
In a bit of cut dialogue, the arena's proprietor, Tommy Lonegan, clearly says that players can not only enter the ring to fight for caps, but will also earn rankings for their progress. "In case I'm not being clear, it's either fight in the cage, or face the collective wrath of my disappointed patrons. I'll pay you a little something for each fight. The hotter the fight, the bigger the pay; the prize will go up in size as you go up rank," the NPC says in the scrapped dialog.
We can't confirm that Bethesda will release a new DLC that makes the Combat Zone into a full-fledged arena, but the pre-release trailers and scrapped audio files deliver a tantalizing look at the possibilities. Now it's worth mentioning that the Combat Zone is a fists-only boxing arena, but I'm seriously hoping that Bethsoft injects some insane carnage into the mix, with mallets and chainsaws and other wicked tools of death. That is, of course, if the devs are planning on making a Thunderdome-style DLC at all.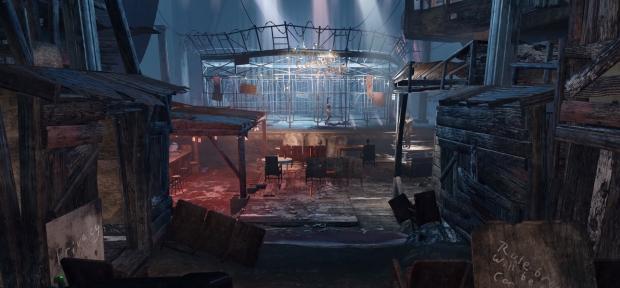 Related Tags