Console gamers can scale The Division's visuals to boost frame rates
A Ubisoft dev confirms that console players will be able to scale down visual effects to improve frame rate performance.

Published Tue, Feb 9 2016 2:31 PM CST
|
Updated Tue, Nov 3 2020 12:01 PM CST
Ubisoft is opening up new doors to help ensure fluid performance for The Division on consoles. According to a Ubisoft dev, the game will let players adjust particular in-game settings to enable more responsive controls and FPS.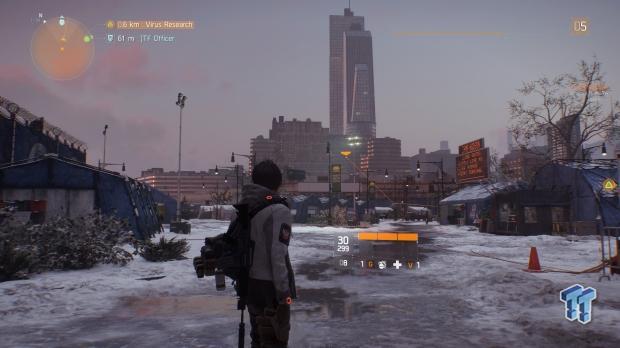 In a recent preview Q&A session, a Ubisoft dev revealed that PS4 and Xbox One users will be able to scale back certain graphical and visual settings in order to boost frame rates. "You can disable certain lighting aspects to improve frame rates in the console versions. I don't know of another game that does that. So if you want to choose frame rate over visuals, you can if you want."
The developers boast that The Division will fully utilize every bit of horsepower that the PS4, Xbox One and PC platforms have to offer. That being said, it's interesting to see that the publisher allows users to compromise on a graphics vs. performance trade-off. While the team has gone lengths to make consoles more PC-like in terms of settings, the PC flavor will reign supreme in terms of custom options and power.
"One good thing about The Division is we've always considered the PC as a separate platform," the dev continued. "We do have to keep it in check with the consoles; it would be kind of unfair to push it so far away from them. But it's been good having a dedicated PC build for this game. I'm really happy that we're pushing the PC build as much as we are; there's a lot more customized options than the console."
The Division's beta test allowed players to adjust chromatic aberration (like HDR and motion blur) and image sharpen, which has a direct affect on the game's anti-aliasing. It'll be interesting to see how the full range of settings will affect gameplay when The Division is released in March, but until then, we'll just have to wait.
Meanwhile, Ubisoft is believed to hold a second open beta test later this month, so we may get some hints then.
Related Tags