Scalpers charging up to $10,000 for Star Wars: Force Awakens tickets
Scalpers take full advantage of the surging demand for Star Wars: The Force Awakens tickets with exorbitant listings.

Published Thu, Oct 22 2015 2:12 PM CDT
|
Updated Tue, Nov 3 2020 12:03 PM CST
Just days ago millions of excited Star Wars fans crashed multiple movie theater websites with such voluminous bandwidth to secure their movie tickets, racking up record-breaking pre-order ticket sales, with AMC selling out 1,000 different showings across multiple theaters in just 12 hours.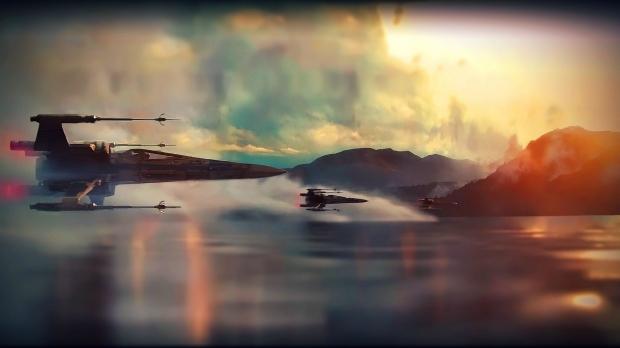 With its ultra-wide screens and immersive 3D interaction, IMAX screenings are seen as the definitive way to see a gala affair like the triumphant return of Star Wars. As a result, IMAX screenings made up a huge portion of Force Awakens ticket sales, generating a staggering $6.5 million and "breaking every IMAX record" in the process.
But not everyone got their tickets. The massive demand has led to IMAX and regular screenings being sold out all over the country, with many many fans left out on the cold. Now the inevitable scalping has surfaced, with re-sellers commanding anywhere from $1,000 for tickets to a ridiculous sum of $10,000--a number that would make Emporer Palpatine grin in delight.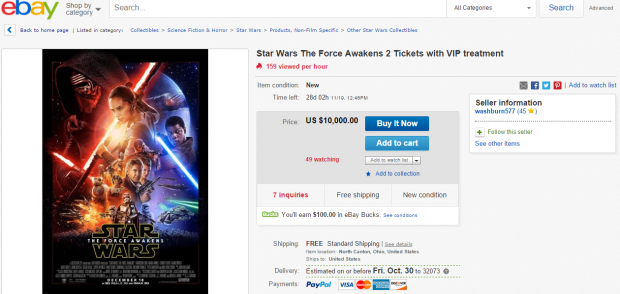 So what do you get if you spend $10,000 on Force Awaken tickets? The seller touts you'll receive the "VIP treatment", which consists of round-trip airfare for two to the North Canton, Ohio theater, dinner, one-night hotel accommodations and a ride to the theater in a limousine.
"If the tickets don't sell, I'll give them to a couple of kids that can't afford to see the movie," the eBay seller told Screencrush.
Knowing people today, the tickets will probably sell. Pushing your luck and taking full advantage of desperation and demand are a scalper's bread and butter, and there doesn't appear to be much hope for non-ticket holders catching the release premiere.
Related Tags