Star Wars: Battlefront to have dedicated servers
Server browsers are out, lobbies and dedicated servers are in.

Published Mon, Sep 21 2015 7:46 AM CDT
|
Updated Tue, Nov 3 2020 12:03 PM CST
DICE has confirmed that Star Wars: Battlefront will indeed have dedicated servers to power the game's new skill-based matchmaking system, putting the fears of a peer-to-peer system to rest.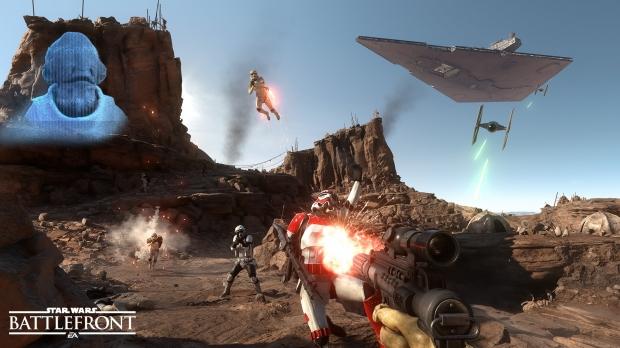 "We'll still have dedicated servers [in Battlefront], absolutely," DICE's Jamie Keen told PlayStation Lifestyle at TGS 2015. "It's one of the hallmarks of making sure we deliver an unparalled online service for the game." Given Battlefront has the 40-player Walker Assault mode, most gamers assumed DICE would go with dedicated servers. Then again the Frostbite engine has P2P support "baked in" and has been used for Battlefront 3's co-op missions.
We still don't have any concrete details on how Battlefront's new matchmaking system works, but DICE has made the extremely unpopular decision to cut out server browsers entirely on PC. This led to considerable backlash from the PC gaming community that sees server browsers as a must-have for games like Battlefront, giving users the freedom to pick and choose the type of maps and sessions they want to play.
Players will be able to try out Star Wars: Battlefront for themselves when the open beta kicks off next month, featuring a number of gametypes including offline split-screen co-op missions and the 40-player Walker Assault mode.
Related Tags