Star Wars: Battlefront beta hits in October, features 20v20 chaos
EA promises to let gamers recreate the iconic Battle of Hoth in the Battlefront beta, along with other gametypes.

Published Tue, Sep 1 2015 12:09 PM CDT
|
Updated Tue, Nov 3 2020 12:04 PM CST
DICE is planning on conducting an expansive beta test for Star Wars: Battlefront that will let players test out the iconic 40-player Walker Assault mode.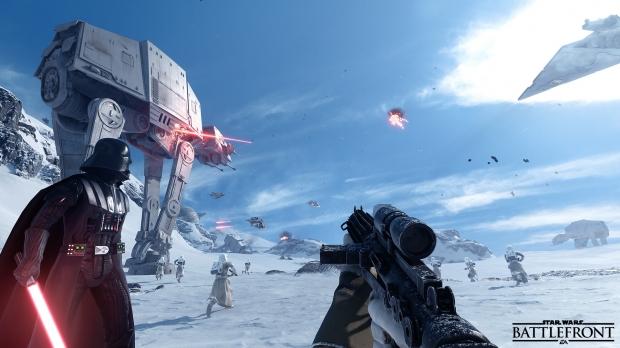 According to EA's new devblog update, the Star Wars: Battlefront beta will roll out "early October" across PC, PlayStation 4 and Xbox One.
The beta will let gamers will clash in the epic Battle of Hoth in the prestigious 20 vs. 20 Walker Assault mode, which pits the Galactic Empire against the Rebel Alliance for some old-fashioned iconic wide-scale chaos: snowspeeders tripping down AT-AT's, groundforces gunning down snowtroopers and the skies will be alight with lasers as the two sides dogfight in the clouds. Luke Skywalker and Darth Vader will join the battlefield as hero characters, wreaking havoc in the name of the Light and Dark sides of the Force.
Users can sample a new multiplayer mode called Drop Zone, which EA will unveil in the coming weeks, along with a two-player co-op survival mission on Tattooine (think horde mode or Firefight in ODST). There's no concrete launch date for the beta just yet, but we can expect it to release in the early half of October.
Sign ups haven't opened up yet and we're not sure if you have to pre-order to get in, so just hang tight and EA will spill the beans soon. Also be sure to expect some sort of console platform favoritism as Battlefront will already launch early on Microsoft's Xbox One thanks to EA Access exclusivity.
Related Tags