What you need to know about Optane and 3D XPoint technology
We go into detail about Intel and Micron's incredibly exciting Optane and 3D XPoint technologies.
Published Mon, Aug 24 2015 2:00 AM CDT
|
Updated Tue, Nov 3 2020 12:04 PM CST
What we already know about Optane and 3D XPoint: We know that Optane is Intel's brand name for storage using 3D XPoint, and we know that XPoint consists of layers (known as stacks). Each stack has wires that run perpendicular to each other (they are silver/gray in the image).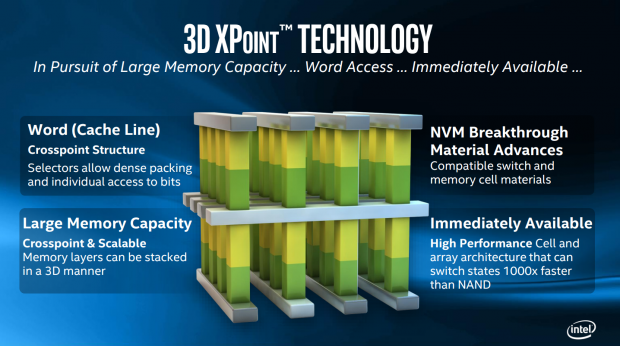 Between each set of perpendicular wires are a selector (yellow) and a cell (green). By providing varying amounts of voltage to the selector it can write or read to the cell. The benefit here is that the cells don't use transistors, and theoretically (depending on the size of the cell) you could squeeze much more of this into a given space than you could with the traditional transistor.
Cells can be written and read to at the same speed since you can find any point in space with only three points of reference. Now 3D X-Point fills a spot in the current memory market, right in between DRAM and NAND based SSDs. Its latency is 10x slower than DRAM but 1000x faster than NAND. It has similar density compared to NAND SSDs, which means its 10x denser than DRAM. All the speeds and density aside, 3D XPoint also offers non-volatility, which means it can store data even when it is powered off.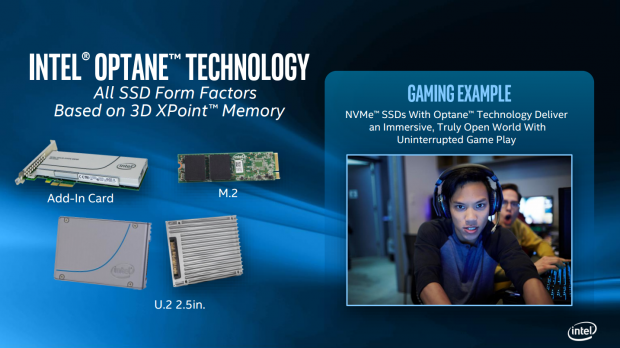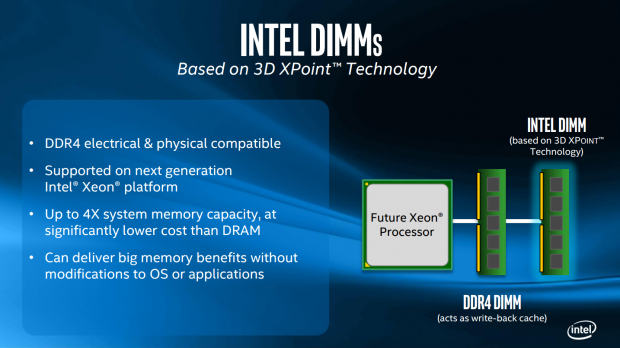 New information about Optane and 3D XPoint from IDF: Optane will use NVMe technology to communicate with devices, it will come in all current SSD form factors. The first generation of XPoint will be two decks, and economically speaking we should see solutions 4-8 decks high. In terms of data retention we should expect the same as current SSDs which means years without any power.
Thermal limits are what we would expect from current NAND and DRAM. While DRAM is 1million times more durable than NAND, 3D XPoint is 1000x more durable than NAND, which means it should last many years just like current SSDs. If there is an issue with durability, Intel and micron have implemented technologies similar to today's NAND durability technologies, but Intel says they will be simple technologies (extra cells for instance).
We will see the first devices in both storage and memory markets in 2016. 3D XPoint offers 5-7x the performance of today's NAND devices with much lower latency. The first memory solutions will be electrically and physically compatible with DDR4 DIMMs, however it will require Intel's next generation Xeon processor to work properly. Intel also said that 3D XPoint offers lower power consumption than NAND.
Related Tags