GTC 2015 - One of the things we didn't quite have the time to talk about yesterday was the 3D Memory and HBM 2.0 side of the upcoming Pascal architecture form NVIDIA. This architecture should find itself onto a new VGA card sometime in 2016, rocking a huge 32GB of VRAM.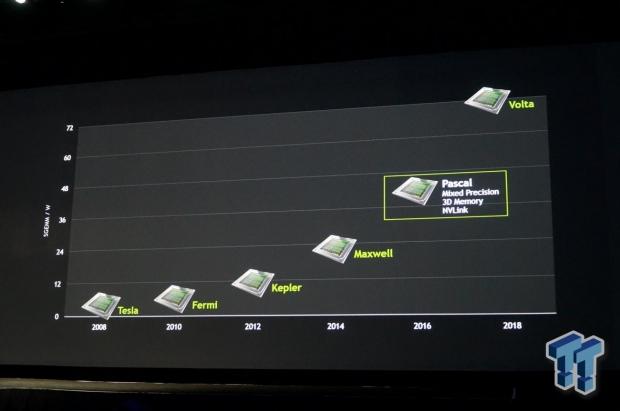 NVIDIA briefed the crowd at its GPU Technology Conference here in San Jose, California where they displayed a slide with the amount of VRAM per GPU architecture. We can see that Kepler in 2012, which the last flagship card based on Kepler was the GeForce GTX 780 and GTX Titan Black featuring 3GB and 6GB of RAM respectively, while the Maxwell architecture provides between 4GB (on the GTX 980) and 12GB (on the GTX Titan X) respectively. The slide teases that Pascal will feature 32GB of RAM, and Volta will rock up to 72GB of RAM in 2018.
The way NVIDIA will do this is thanks to SK Hynix's High Bandwidth Memory (HBM) which allows for four-layer stacks, which is also known as 4-Hi. This will come in 1GB and 2GB varieties, but eight-layer stacks will eventually arrive, which should see a huge increase in the amount of framebuffer on the next generation of GPUs.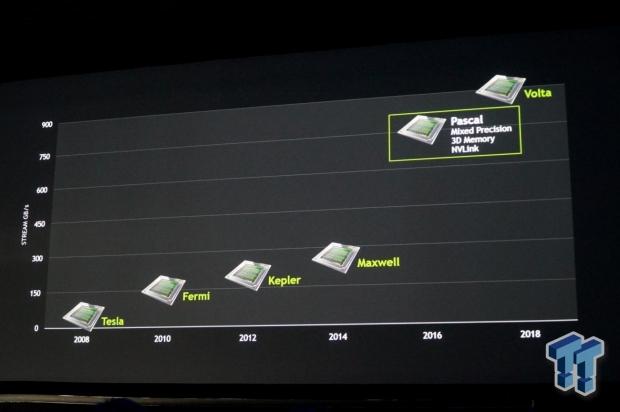 Not only will Pascal deliver more VRAM on the card, but it will have magnitudes more memory bandwidth. The Maxwell-based GeForce GTX Titan X has 336GB/sec of memory bandwidth from its 384-bit memory bus on its GDDR5 RAM, but the Pascal architecture will be capable of a huge 750GB/sec or more. This will be using a variety of technologies to achieve this lofty height of memory bandwidth, including mixed precision, 3D Memory and NVLink.
We should expect NVIDIA to talk more about Pascal later in the year, or GTC 2016 this time next year.