NVIDIA was all set to unleash its GeForce GTX Titan Z on April 29, but missed the launch. It was then meant to launch on May 8, but missed that launch date, too. Now we're seeing a leaked review of the dual GK110 beast, which seems to be slower than the much cheaper Radeon R9 295X2 from AMD.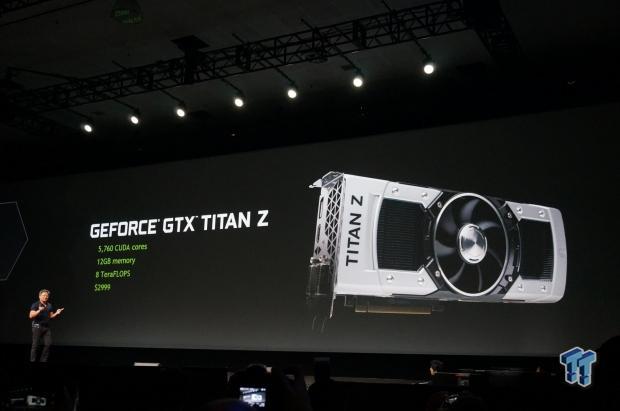 The leaked goodness comes from Videocardz, which reports that the Titan Z is a triple-slot card - but air-cooled. This is compared to the liquid cooler on the Radeon R9 295X2, which requires mounting in your case. There's dual 8-pin PCIe power, so we're looking at a total TDP of 375W on NVIDIA's dual GK110 product. But what about performance? The Titan Z doesn't beat the R9 295X2 in everything, but it comes close. When compared to GTX 780s in SLI, the Titan Z loses, with a much bigger gap.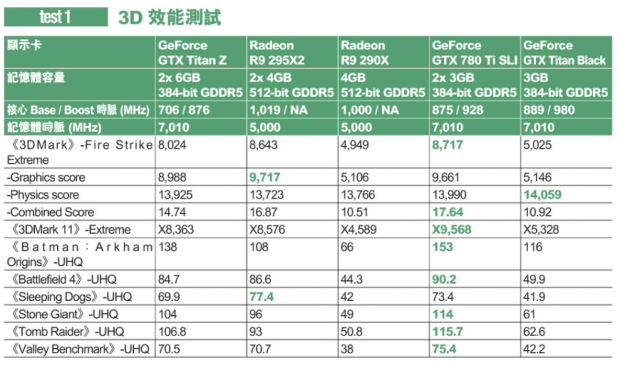 The problem here is, even if it comes close to the R9 295X2, but doesn't beat it - the Titan Z is at least $3000 (without taxes). You can go and buy a SAPPHIRE R9 295X2 on Amazon for $1536 - half the cost of the Titan Z.
It looks like AMD's path of using an all-in-one liquid cooler was a good choice, as the temperatures on the Radeon R9 295X2 are quite a bit lower than the air-cooled Titan Z.