MWC 2014 - In front of a packed house and more than 1/4 of a million live stream viewers, Samsung's CEO, JK Shin, took the stage at the company's Unpacked 5 event to unveil the long awaited successor to the unimaginably popular Galaxy S4 smartphone, the Galaxy S5. Samsung says the Galaxy S5 has been built to help enhance our daily lives, and to make every day task easier.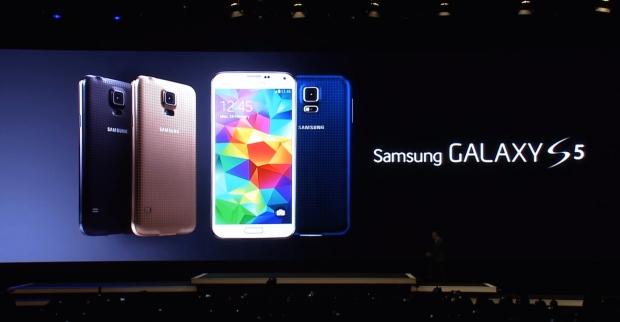 The Galaxy S5 is not the full redesigned smartphone everyone had asked for, but the new flagship smartphone is definitely an update from the Galaxy S4. The S5 features a larger 5.1-inch 1080p, Super AMOLED display that is on par with the Galaxy S4's image quality. The Galaxy S5 also still retains the familiar plastic frame, but does feature a waterproof IP7 rating, as well as an integrated fingerprint scanner.
The Galaxy S5's smooth back has been replaced by a new dimpled texture which is available in several different colors including Electric Blue, a new color designed to make the phone look more modern. The camera has also been updated with a faster auto focus, a new HDR mode, and selective focus that is bases on a larger imaging sensor that is designed for faster auto-focusing, and making your images more clear and vibrant.
Full LTE support, Wi-Fi MIMI 802.11ac and a new Download booster are on hand to ensure the fastest connection speeds available. The Wi-Fi booster technology is said to be able to download a full 1GB movie fill in less than 30 seconds. Samsung has also updated its battery to a new 2800mAh design that when combined with the phone's new super-low power saving mode gives the S5 the longest battery life of any smartphone, up to 24 hours of use.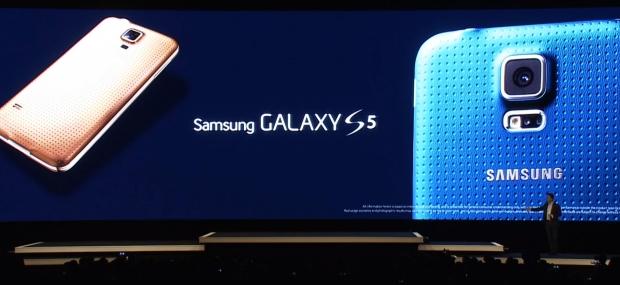 Shen said that we will learn more about the S5's hardware at tomorrows part 2 of Samsung Unpacked. If Sony's new Xperia Z2 is any indication, the Galaxy S5 will feature Qualcomm's new Snapdragon 801 quad-core processor as well a 3GB of RAM. The S5 will undoubtedly launch with Android 4.4.2 installed and will have full support for devices like the Galaxy Gear as well as the Tizen-based Gear 2. Samsung says that the built-in fingerprint scanner allows users to encrypt their most used passwords meaning that they will never have to enter a password on their phone again. A new Private Mode can be unlocked with the fingerprint scanner that allows users to hide private data, photos, and even official digital copies of identification such as passports.
Update: Samsung also unveiled that the LED under the camera on the back of the device features a built-in heart rate monitor which syncs up with ANT+ compatible devices to report your heart rate back to them for work-out monitoring. Samsing also says that the Galaxy S5 will launch on April 11th in 150 countries.